Donald Trump Threatens to Disrupt Bernie Sanders' Rallies, Blames 'Organized Thugs' for Protests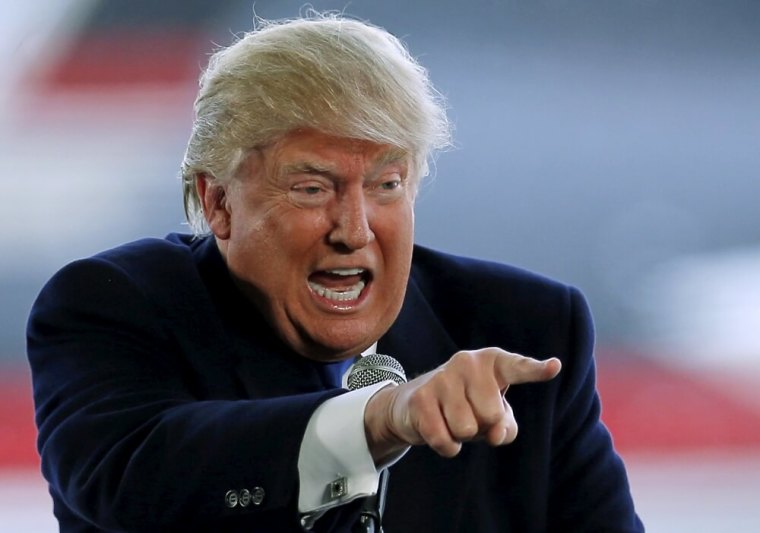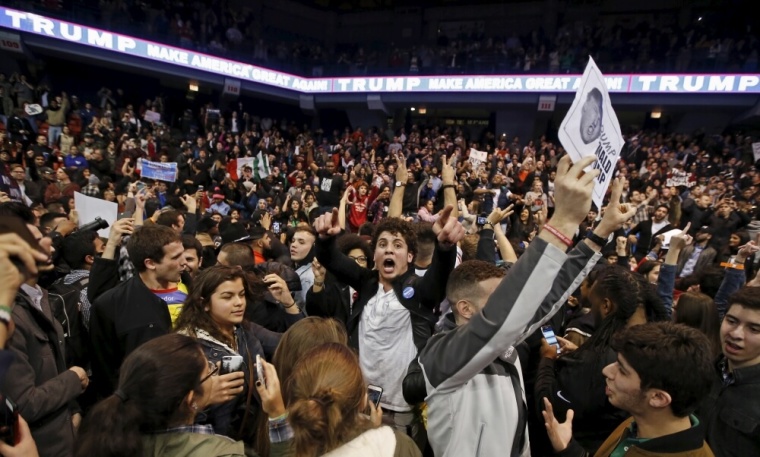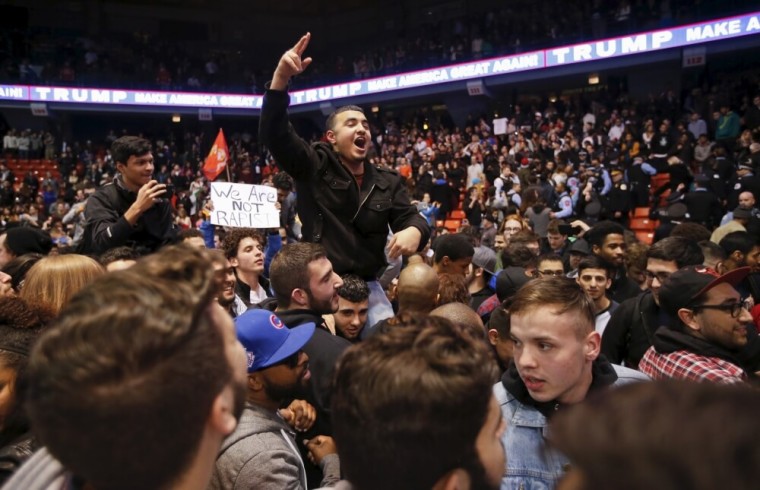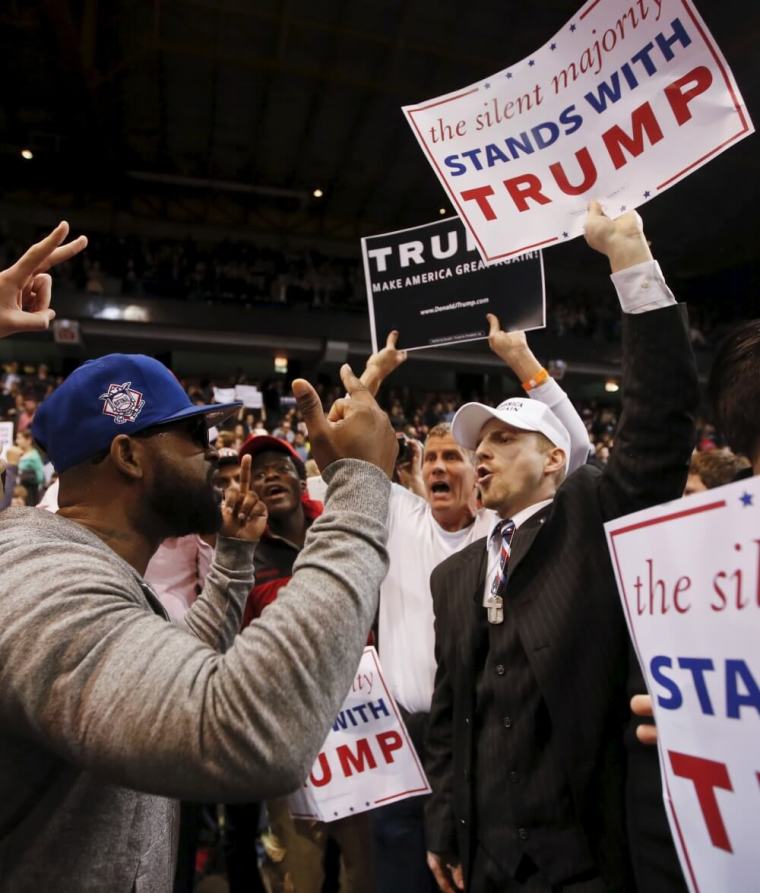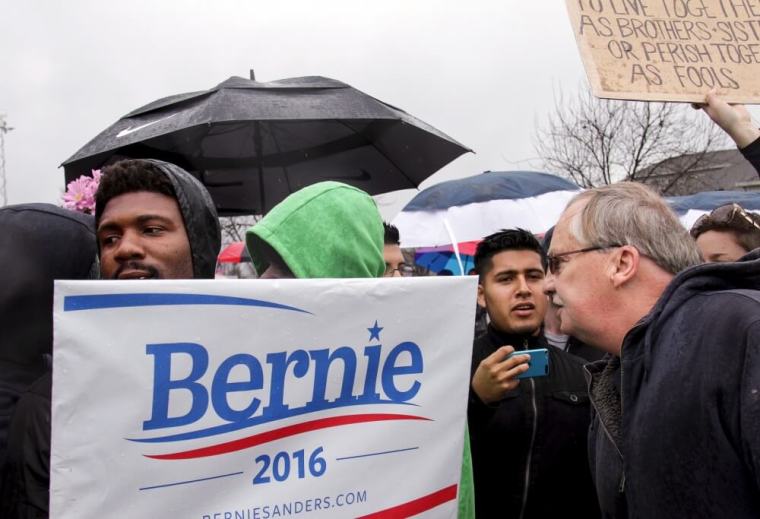 View Photos
Republican Presidential candidate Donald Trump is blaming Democratic rival Bernie Sanders for organizing people, many of whom he said were "thugs," to go to his campaign events and spark protests, and has warned that his own supporters will show up at Sanders' rallies.
"Bernie Sanders is lying when he says his disruptors aren't told to go to my events. Be careful Bernie, or my supporters will go to yours!" Trump wrote on Facebook on Sunday, following the cancellation of his rally Friday night in Chicago due to clashes between supporters and protesters affiliated with various groups, such as MoveOn.org, which orgainzed its protest on Facebook.
In a separate post, he added: "The organized group of people, many of them thugs, who shut down our First Amendment rights in Chicago, have totally energized America!"
The canceled Chicago rally resulted in the arrest of three men and one 45-year-old woman, The Chicago Police Department said on Saturday, and charged all four with participating in the disturbance.
Fox News reported that Trump's rallies on Saturday in Ohio and Missouri were also met with protests and interruptions, with the billionaire businessman again pointing the finger at Sanders.
"Send them back to Bernie," Trump shouted at yet another clash at his Illinois rally. "What happened in Chicago was a setup. … They are not protesters; They are disruptors."
Sanders and fellow Democratic candidate Hillary Clinton have both rejected the blame for the violence at Trump's rallies, with Sanders urging Trump to get his supporters "under control" in a town hall meeting broadcast on CNN.
"I hesitate to say this because I really don't like to disparage public officials, but Donald Trump is a pathological liar," Sanders said.
The Senator from Vermont added: "I would hope Mr. Trump tones it down big time and tells his supporters that violence is not acceptable in the American political process."
Clinton, who is leading the Democratic delegates race, accused Trump of running a "very cynical campaign pitting groups of Americans against one another."
"He actually incites violence in the way he urges his audience on, talking about punching people, offering to pay legal bills," she added.
Clinton suggested Trump's comments on illegal immigrants and his proposals to ban Muslims coming to the U.S. could be behind the unrest.
"He has been incredibly bigoted toward so many groups," she said. "You don't make America great by tearing down everything that made America great."
MoveOn.org, a Left-wing activist group started in part by Grorge Soros, has said it supported University of Illinois at Chicago students and local organizers who gathered for a nonviolent protest outside of Trump's Chicago rally, but rejected blame for the clashes.
"There is only one person to blame for the chaotic and often violent nature of Trump rallies: Donald J. Trump. This sort of violence does not happen at Sanders, Cruz, Clinton, Rubio, or Kasich events, despite the fact that there are often protests at their events," Ilya Sheyman, executive director of MoveOn.org, said in a statement on Saturday.
Trump's GOP rivals, such as Florida Sen. Marco Rubio, have also spoken out about the violent clashes at the canceled Trump events, and warned that if the businessman goes on to win the nomination, "this is what the Republican Party's going to be defined by."
"I think we also have to look at the rhetoric of the frontrunner in the presidential campaign," Rubio told reporters.
"This is a man who in rallies has told his supporters to basically beat up the people who are in the crowd and he'll pay their legal fees. Someone who's basically encouraged the people in the audience to rough up anyone who stands up and says something he doesn't like."
Rubio suggested that some of the people at the protests have been paid, but also said that the media bears some responsibility for the rising hostilities in the presidential race.
"For too long, those comments were ignored. Some people thought they were cute. And he's gotten an enormous amount of coverage for all the stuff he says that's outrageous," he added.
"Every time Donald Trump offends someone, says something ridiculous, says something offensive, it's wall to wall coverage … which has elevated him even more."