Donald Trump Tells Evangelical Leaders to Disobey Bible: Don't Pray for All Political Leaders, That's Politically Correct (Video)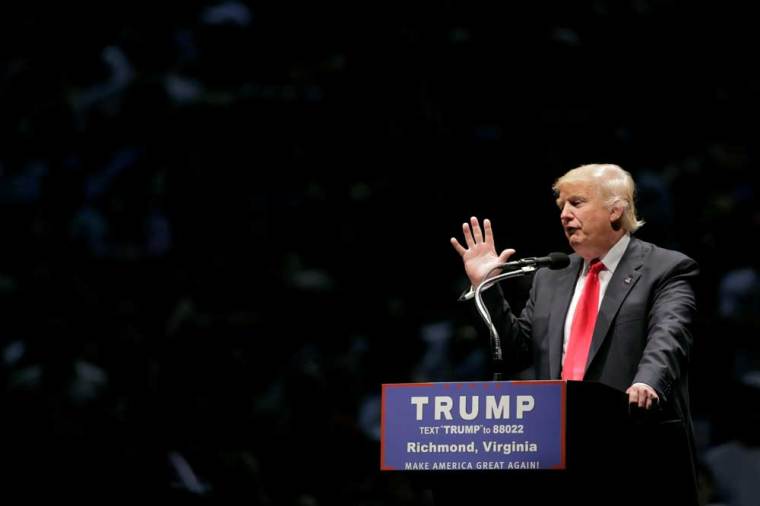 Presumptive Republican presidential nominee Donald Trump instructed evangelical leaders on Tuesday to disobey the biblical command to pray for all political leaders because that would be politically correct.
The billionaire real estate mogul met with nearly 1,000 evangelical leaders in New York City in a much anticipated "conversation" that was convened by former Republican presidential candidate Ben Carson and the nonpartisan My Faith Votes organization.
In an attempt to gain the support of pastors and other influential evangelicals who have been hesitant to support Trump after he clinched enough delegates to win the GOP nomination, Trump told the crowd he has his religion to thank for the blessings that have been placed in his life.
"Christianity, I owe so much to it in many ways," Trump said. "Through life, through having incredible children, through so many other things. But also from frankly, standing here because the evangelical vote was mostly gotten by me."
Trump pointed out how he was not the early favorite to win many of the Republican primaries held in states with heavy Evangelical populations until he surprised many pundits by winning the GOP primary in South Carolina. In the end, Trump won a number of other states with heavy evangelical populations such as North Carolina, Alabama, Louisiana, Kentucky and Mississippi.
"If you remember, I went to South Carolina and I was going to be beat in a very evangelical state," Trump told the crowd. "And, I was going to be beaten by [Texas Sen. Ted Cruz] or somebody because he [was supposed to] be very strong with the evangelical vote and I ended up getting massive majorities of the evangelical vote. And then everybody said, 'What's going on and how did Trump do that?'"
"I won elsewhere and I won the whole South and heavy evangelical and Christian votes," Trump added.
Even though Trump claims he won "massive majorities" of the evangelical vote, it should be noted that he won pluralities of the evangelical vote, not majorities.
Although the meeting with Trump was closed to the press, a video of Trump's Christianity remark was posted to Twitter by conservative Virginia pastor and founder of the S.T.A.N.D. conservative non-profit organization E.W. Jackson.
As Christians often like to pray for their political leaders, Trump told the audience that Christians should really be praying for people to vote for "one specific person," saying that political leaders have sold Christianity "down the tubes."
"Some of the people are saying, 'let's pray for our leaders.' I said, 'You can pray for your leaders, and I agree with that, pray for everyone. But what you really have to do is pray to get everyone out to vote for one specific person,'" Trump said, according to another video posted by Jackson. "We can't be politically correct and say we pray for all of our leaders because all of your leaders are selling Christianity down the tubes and selling evangelicals down the tubes and it is a very bad thing that is happening."
1 Timothy 2 instructs Christians to pray for all "Kings and those in authority."
Jackson said during a phone conference during the meeting that other Christian leaders like Franklin Graham and Liberty University President Jerry Falwell Jr. spoke and testified to the authenticity of Trump's faith.
Although Graham, the president of the Billy Graham Evangelistic Association, has toured the country encouraging evangelical Christians to vote, he has not made any public endorsements.
But according to Jackson, Graham told the gathering that Trump is a much better option than presumptive Democratic nominee Hillary Clinton.
"Franklin Graham made this point and it's a powerful one — that there will never be a perfect candidate," Jackson explained. "He made quite clear that one candidate offers absolutely no hope — Hillary Clinton. And, another candidate offers a tremendous amount of hope — Donald Trump."