Donald Trump Fudges Facts to Attempt to Convince Conservative Summit He Is a Winner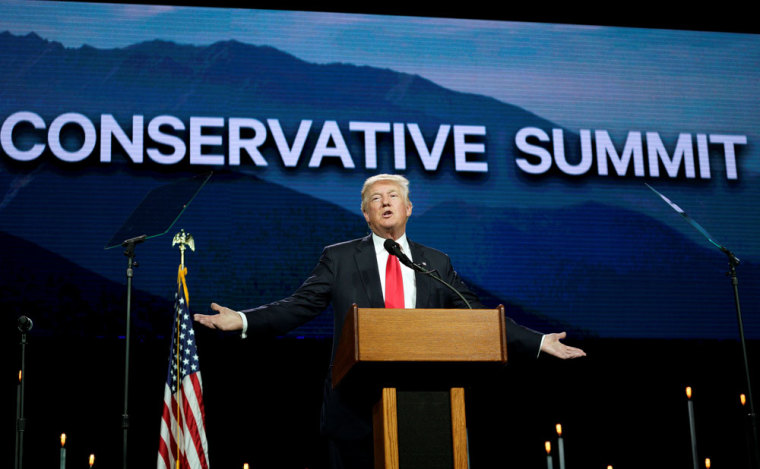 DENVER – Donald Trump is fighting for his presidential life, with almost daily news stories coming out about the grassroots movement that is trying to stop him at the Republican National Convention. He walked onto the stage at the Western Conservative Summit in Denver, Colorado, on Friday morning and spoke for nearly 45 minutes. Almost immediately, Trump launched into a renewed complaint against Colorado's caucus system that left him with no elected, pledged delegates from the state to the Republican National Convention.
Even though the rules that prevented Colorado from having a presidential straw poll were changed as far back as August, 2015, (a mere two months after Trump announced his candidacy), Trump told the attendees that delegates were "appointed" after a poll supposedly showed how high his support was. Factually, Colorado national delegates were elected through the caucus system – as they always are –where a series of votes are cast at local, county, Congressional, and state conventions.
This was not the only fact Trump fudged in his rallying speech. He also expounded on his "amazing record" for getting votes in the GOP primary, claiming, "it wasn't even close" compared to the number of votes previous Republican presidential candidates had received. He told the crowd he had received "so much more than anybody else." However, in 2000, George W. Bush received over 12 million votes, which is at least "close" to Trump's nearly 14 million.
Trump also neglected to mention that, in addition to receiving the most primary votes, he also had the most primary votes cast against him. Roughly 7 million Republicans voted against George W. Bush in 2000, while over 15.5 million voted against Trump. These numbers demonstrate something that Trump surely realizes as Cleveland nears: he is the only Republican candidate for president to be the party's presumptive nominee although more votes were cast against him than for him.
But, in a transparent effort to boost his campaign among conservative leaders, Trump discussed his recent meeting with Evangelical leaders in New York. Few details were given, but Trump assured the Summit attendees that "it was packed and it was full of love. Full of love!" He also announced, "I have a bigger heart than anybody, or as big as anybody in this room."
Trump took a few minutes to speak about his current process for selecting possible Supreme Court justices. He says he found the 11 judges he has selected through the Federalist Society, and that he talked to senators and Jim DeMint's Heritage about his choices. Trump plans to pick four more, so that he has a roster of 15 to choose from if he wins the presidency. He claimed that the next president will pick "probably three" but potentially a record number of five new justices. He said:
"We're going to appoint Supreme Court justice where you're going to be very happy. These are justices who are going to uphold the Constitution of the United States, and they're going to uphold it fully."
While Trump's speech did offer some substance on terrorism, immigration, and taxes he did not take any time to detail his positions on religious liberty, marriage, family, or pro-life issues. He took pains to litter his speech with assurances that Americans would win so much with him, and that much of what he would do would be the "biggest" ever. For instance, he claimed that under a Trump presidency, there would be "a big lowering of taxes, the biggest by far, of anyone" and that he would be "lowering your taxes bigly."
Trump was sure to inform the Summit crowd that he had been informed that his campaign is "the biggest phenomenon" that some have ever seen in their lives, and he also took credit for a NATO decision to develop a new unit on terrorism. "That's what I told them," he said. He also assured the attendees that "the last person they [our enemies] want to see become president of the United States, believe me, is Donald Trump."
In an embarrassing moment, Trump pointed out an audience member near the front. It's unclear if the attendee initiated the interaction, but Trump asked if he was from Turkey, and after a few remarks, asked if he was "a friend or a foe."
At the Summit, reports circulated among the media that protestors were below the convention center in the streets, and that there had been arrests and "brawling."
Kristi Burton Brown is a Christian, pro-life attorney. She has volunteered for Life Legal Defense Foundation and as an allied attorney for Alliance Defending Freedom. She enjoys being a stay-at-home mom and a wife to her favorite man in the whole world. She also writes for
Live Action News
.