After Trump Blasted for Calling Pregnancy 'Inconvenient,' DNC Speaker Boasts of Her Own Abortion for Convenience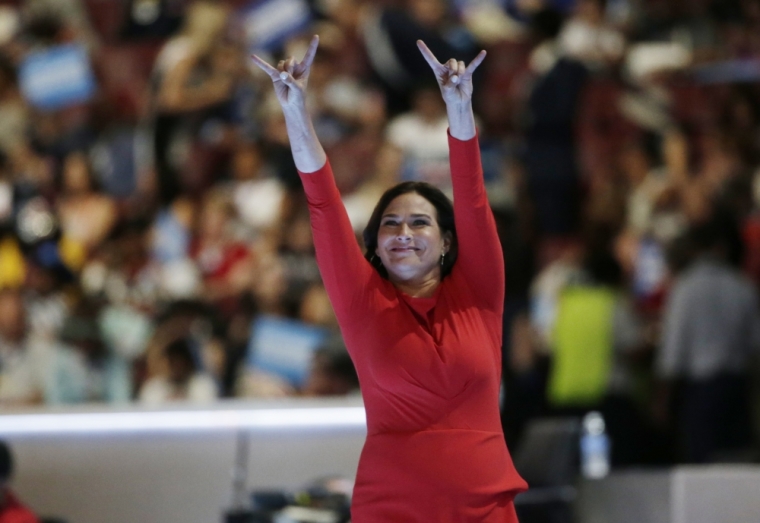 Prominent abortion activist and president of NARAL Pro-Choice America Ilyse Hogue told the Democratic National Convention on Wednesday that she got a "compassionate" abortion years ago because her pregnancy came at an inconvenient time in her life.
Hogue, who spoke the day after Planned Parenthood president Cecile Richards addressed the convention, seemingly contradicted the head of the nation's largest abortion provider, who attacked Republican presidential nominee Donald Trump during her remarks Tuesday for claiming that pregnancy is an "inconvenience."
In Hogue's speech, she not only praised women's rights to get an abortion by saying that in order for women to succeed in life they need the "tools," "trust" and "chance to chart" their "own path," but also explained her reasoning why she decided to terminate the life of her unborn child.
"I was fortunate enough to have these things when I found out I was pregnant years ago," Hogue said of "tools," "trust" and ability to "chart" her "own path." "I wanted a family, but it was the wrong time."
"I made the decision that was best for me  —  to have an abortion  —  and to get compassionate care at a clinic in my own community," she continued, followed by an applause from the audience. "Now, years later, my husband and I are parents to two incredible children."
Hogue's story "is not unique," she explained.
"About one in three American women have abortions by the age of 45," Hogue contended. "And the majority are mothers just trying to take care of the families they already have. You see, it is not as simple as 'bad girls get abortions' and 'good girls have families.' We are the same women at different times in our lives — each making decisions that are best for us."
Hogue, who heads the organization that received criticism for tweeting opposition to a Doritos' Super Bowl commercial earlier this year that dared to engage in the tactic of "humanizing fetuses," also chastized Trump and his vice presidential pick Indiana Gov. Mike Pence.
"Together, Donald Trump and Mike Pence have united to form the 'make misogyny great again' ticket," she said. "It's not abortion that bothers them. It's empowering women to live our own lives. When we have power over our own destiny, we not only strengthen our families, we honor our most cherished traditions of liberty and equality."
As abortion accounts for about 86 percent of the Planned Parenthood's profit, the pro-life group Live Action News reports that former Planned Parenthood workers have attested to the fact that abortion clinics often try to coerce patients into getting abortions by telling them how their life and dreams will be affected if they don't.
In an interview with Live Action, former Planned Parenthood worker Lavonne Wilenken described how abortion workers persuade young pregnant mothers to abort their children by playing up the cost of not getting an abortion.
"The counselor would say to the teenager, 'Well, where's the $250,000 that it takes to raise a child in society today?' And 'What are your parents going to say when they find out that you're pregnant?' And 'What is your boyfriend doing? Is he going to help you? Where is he?' and 'How are you going to finish your education if you have a baby? Don't you know you can't go to school if you have a baby?'" Wilenken explained. "Things like that, very subtle things that will push the girl over and make her decide."
Last month, Richards offered remarks before introducing Democratic nominee Hillary Clinton to give a speech before the Planned Parenthood Action Fund.
In her remarks, Richards said that for over 100 years, "Planned Parenthood has allowed people to live out their dreams, and largely because women can now access birth control and legal abortion."