Donald Trump Reverses Stand on Killing Innocent People; Agrees 'US Bound by Laws'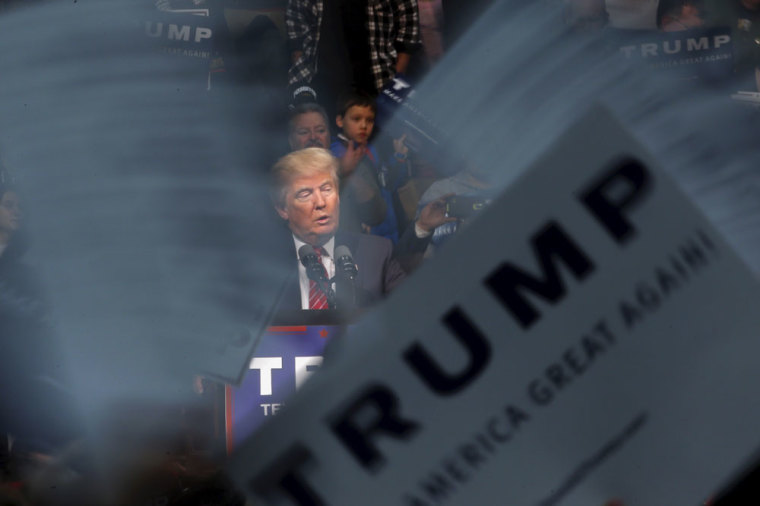 Republican presidential frontrunner Donald Trump, who earlier called for the killing of innocent family members of Islamic terrorists, acknowledged Friday that "the United States is bound by laws and treaties."
"I feel very, very strongly about the need to attack and kill those terrorists who attack and kill our people," Trump said in the statement, according to The Wall Street Journal. "I know people who died on 9/11. I will never forget those events. I will use every legal power that I have to stop these terrorist enemies. I do, however, understand that the United States is bound by laws and treaties and I will not order our military or other officials to violate those laws and will seek their advice on such matters."
On Thursday evening, the billionaire businessman stood by his comments regarding torture and killing of terrorists' families.
"A man flies into the World Trade Center, and his family gets sent back to where they were going — and I think most of you know where they went — and, by the way, it wasn't Iraq — but they went back to a certain territory, they knew what was happening. The wife knew exactly what was happening," Trump said at the Fox Theater in Detroit, Michigan, Thursday.
"They left two days early, with respect to the World Trade Center, and they went back to where they went, and they watched their husband on television flying into the World Trade Center, flying into the Pentagon, and probably trying to fly into the White House," he added.
When Fox News moderator Bret Baier told Trump the military wouldn't accept any of his orders that violate international law, he responded, "They're not going to refuse me. Believe me."
However, Trump's statement released on Friday showed him backtracking, "I will not order a military officer to disobey the law. It is clear that as president I will be bound by laws just like all Americans and I will meet those responsibilities."
On Wednesday, several GOP national security and military figures wrote an open letter to oppose Trump's presidency.
"His vision of American influence and power in the world is wildly inconsistent and unmoored in principle. He swings from isolationism to military adventurism within the space of one sentence," they wrote. "His embrace of the expansive use of torture is inexcusable," they continued. "His hateful, anti-Muslim rhetoric undercuts the seriousness of combatting Islamic radicalism by alienating partners in the Islamic world making significant contributions to the effort. Furthermore, it endangers the safety and Constitutionally guaranteed freedoms of American Muslims."
While The Christian Post has not taken a position on a political candidate prior to this week, its senior editors wrote in an editorial on Monday against Trump's presidency.
"Trump is promising many things that he cannot possibly deliver, but the most frightening part is Trump's stated willingness to ignore the authority of the Supreme Court, Congress and the U.S. Constitution if he were to become president," the editorial reads. "Trump is a misogynist and philanderer. He demeans women and minorities. His preferred forms of communication are insults, obscenities and untruths. While Christians have been guilty of all of these, we, unlike Trump, acknowledge our sins, ask for forgiveness and seek restitution with the aid of the Holy Spirit and our community of believers."