Donald Trump: 'Russell Moore Is Truly a Terrible Representative of Evangelicals'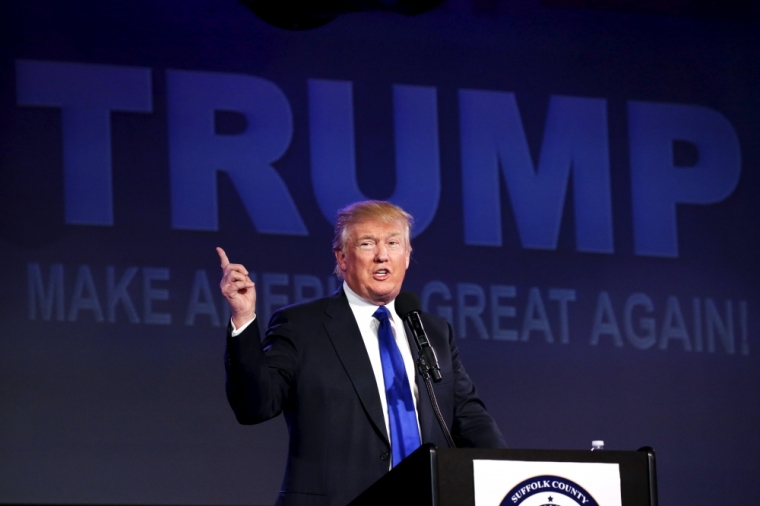 Presumptive Republican presidential nominee Donald Trump believes that leading Southern Baptist Convention ethicist Russell Moore is a "truly a terrible representative" of Evangelicalism.
The Manhattan billionaire businessman-turned-politician, who frequently takes to Twitter to attack the character of his critics and opponents, lashed out at the president of the Southern Baptist Convention's Ethics & Religious Liberty Commission with a sharply worded tweet Monday morning.
"@drmoore Russell Moore is truly a terrible representative of Evangelicals and all of the good they stand for. A nasty guy with no heart!" Trump tweeted at 5:05 a.m. EST Monday morning.
Trump's tweet comes after Moore, who has argued throughout the election why evangelicals should not support Trump, said in an interview with CBS News' "Face the Nation" on Sunday that "the Donald Trump phenomenon" is an "embrace of the very kind of moral and cultural decadence that conservatives have been saying for a long time is the problem."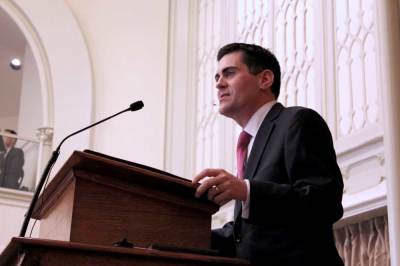 Moore added in the interview that conservatives are "now are not willing to say anything when we have this reality television moral sewage coming through all over our culture."
Moore responded to Trump's tweet by posting a screengrab of the tweet in posts on various social media platforms and cited the biblical message of "1 Kings 18:17-19," which references Elijah's challenge to Ahab to gather 450 prophets of Baal to meet on Mount Carmel for a spiritual and sacrificial showdown.
"When he saw Elijah, he said to him, 'Is that you, you troubler of Israel?'" the verse reads. "'I have not made trouble for Israel,' Elijah replied. 'But you and your father's family have. You have abandoned the Lord's commands and have followed the Baals."
"Now summon the people from all over Israel to meet me on Mount Carmel," the 19th verse states. "And bring the four hundred and fifty prophets of Baal and the four hundred prophets of Asherah, who eat at Jezebel's table."
After being labeled as "a nasty guy" by Trump, Moore responded in another tweet by posting a YouTube link to Janet Jackson's "Nasty" music video.
"Taking a break from Cash and Jones this morning," Moore wrote in the post.
This is not the first time that Trump has gone after evangelical leaders who have not supported his campaign.
In January, Trump again took to Twitter to call prominent Iowa evangelical leader Bob Vander Plaats, who was the national co-chair for former Republican presidential candidate Ted Cruz's campaign, a "phony" and a "bad guy."
As Trump is now the presumptive GOP nominee, Moore has already advised conservative Christians and others who don't want to vote for Trump or Democratic frontrunner Hillary Clinton that they don't have to vote for the "lesser of two evils."
In an op-ed published to his website in March, Moore argued that voters should not hesitate to vote for a "minor party candidate" instead of two major party candidates who are both "morally disqualified."
"As Christians, we are not responsible for the reality of our two-party system or for the way others exercise their citizenship, but we will give an account for how we delegate our authority," Moore stated. "Our primary concern is not the election night victory party, but the Judgment Seat of Christ."
A number of #NeverTrump conservatives are calling for a viable candidate to step up and run as a third-party or independent candidate to serve as a conservative alternative to Trump. Some of the names that have been thrown around are Sen. Ben Sasse, R-Neb., former Texas Gov. Rick Perry, former Sen. Tom Coburn, R-Okla. and Sen. Rand Paul, R-K.y.
"This week, Conservatives Against Trump launched a formal effort to identify an acceptable alternative candidate to run for president against Donald Trump and Hillary Clinton," Conservatives Against Trump Spokesperson Deborah DeMoss Fonseca said in a statement shared with The Christian Post over the weekend. "We are working to identify an alternative candidate, obtain the necessary ballot access through a state-by-state effort, and develop a comprehensive campaign plan to enable victory in November."
Family Research Council president Tony Perkins, a prominent Cruz supporter, told The Christian Post last week that a third-party run is not a good idea and suggested that launching a third-party run would likely lead to Clinton's election.