Donald Trump Says 'Maybe We Should Boycott Starbucks' During Illinois Rally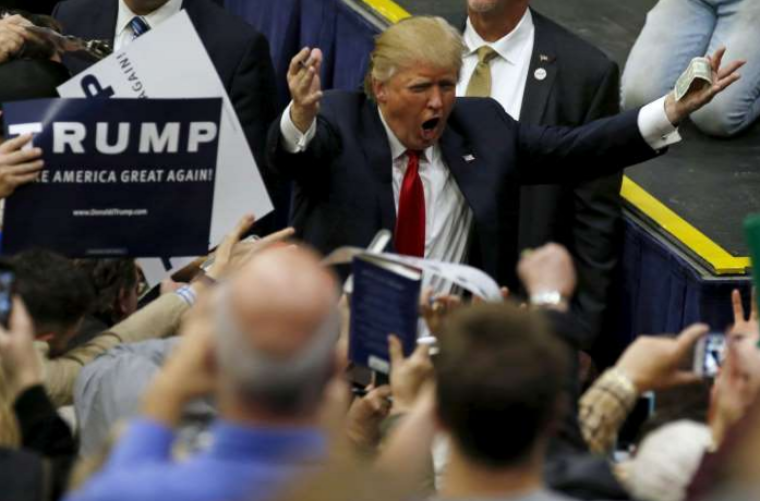 Republican presidential candidate Donald Trump has just made another statement during his campaign event in Springfield, Illinois on Monday where he addressed the day's huge Starbucks controversy.
Trump first mentioned that Trump Tower homes one of the most successful Starbucks stores before he slammed one of the world's biggest coffee shop chains. "Maybe we should boycott Starbucks?" he asked the crowd that started to shower his comments with applause and cheers.
CNN says while Trump may be speaking against himself since he obviously supported Starbucks before the controversy, his latest stint is one of his propagandas to get the Christian evangelicals' votes for next year's elections.
Iowa and South Carolina are states that favor Ben Carson, Trump's biggest rival in terms of evangelical votes. Carson is the other half of the Republican party's front-runners, in which he shares the spot with Trump.
The controversy started when Christian leaders noticed Starbucks' plain red Christmas-themed cups that they believe are promoting "War on Christmas." Secular businesses have long been targets of Christians as some have been reported to keep employees and customers from exchanging Christmas greetings.
During the hour-long event, thousands of people came to see what Trump has to say, and while some were surprised that he attacked Starbucks, many of the evangelicals who attended the rally seemed to be pleased with his comments.
He also made a vow to the people of America, saying, "If I become president, we're all going to be saying Merry Christmas again, that I can tell you."
The business mogul has either stayed on top or near the top so far in the presidential race, and while many critics have slammed his opinionated and brash style in offering insights about his co-candidates and other national and global issues, he has retained his position as a front-runner.
The neurosurgeon Carson, on the other hand, is Trump's biggest rival as Carson continues to follow closely behind in recent polls that various outlets have released.