Donald Trump-Ted Cruz Fracas Hits Fever Pitch Over Trump's 'Radical Pro-Abortion' Sister
Trump Threatens to Sue Cruz: 'Hard to Believe a Christian Could Lie So Much'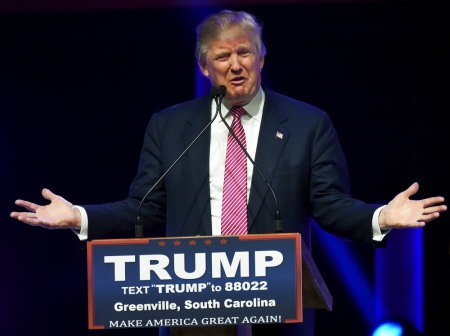 Donald Trump vented his fury and threatened a lawsuit against Texas Sen. Ted Cruz over what Trump says is a series of lies from someone who "proclaims to be a Christian."

"Ted Cruz is a totally unstable individual. He is the single biggest liar I've ever come across, in politics or otherwise, and I have seen some of the best of them," Trump claimed in a statement on Facebook on Monday.
"His statements are totally untrue and completely outrageous. It is hard to believe a person who proclaims to be a Christian could be so dishonest and lie so much."
Trump then listed a number of the "lies" he accuses his rival Republican presidential candidate of telling, the first regarding his views on abortion.
"Cruz says I am pro-choice, when in fact I am staunchly pro-life and have been for a long time. Like Ronald Reagan, on many issues, I have evolved," Trump wrote.
Cruz has said, however, that conservatives cannot trust a man that has spent a significant part of his life upholding the pro-choice position.
"A candidate who has spent 60 years of his life being very, very pro-choice and defending partial-birth abortion is not the candidate you can trust to appoint principled constitutionalists," the Texas Senator said, according to Politico.
A great point of contention concerns Trump's sister, Maryanne Trump Barry, who serves as a senior judge on the U.S. Court of Appeals for the Third Circuit. Barry was appointed to the position in 1999 by former President Bill Clinton, and has sided with abortion-providing organizations like Planned Parenthood in crucial cases that have struck down late-term abortion bans in states.
"The one person Donald has pointed to as a potential Supreme Court nominee is his sister," Cruz told reporters at an event in South Carolina. "Now, it's good to stand with your sister. But Donald's sister was a Bill Clinton-appointed federal appellate judge who's a radical pro-abortion extremist."
Trump has insisted that he was only joking about nominating his sister to fill a Supreme Court seat, one of which has been made empty now following the recent death of Justice Antonin Scalia.
"Just so you understand, I said it jokingly," Trump told "This Week."
"My sister's a brilliant person, known as a brilliant person, but it's obviously a conflict."
In his Facebook statement, Trump accused Cruz of telling lies about his choice of judge.
"Cruz said I would be appointing a liberal judge when in fact I will appoint a great conservative and I am the only candidate who has gone so far, at the debate, as to suggest two individuals I feel would best represent the conservative values we need to protect: William 'Bill' Pryor Jr. and Diane Sykes," he added.
Pryor and Sykes could also raise concerns for some conservatives.
The billionaire businessman continued by accusing Cruz of lying about a number of issues, including Trump's position on Obamacare and Second Amendment rights, threatening a lawsuit at the end.
"One of the ways I can fight back is to bring a lawsuit against him relative to the fact that he was born in Canada and therefore cannot be President," Trump wrote.
"If he doesn't take down his false ads and retract his lies, I will do so immediately. Additionally, the RNC should intervene and if they don't they are in default of their pledge to me."
On his part, Cruz has denied that his Canadian birth is in any way an obstacle for the presidency, and insisted that he qualifies as a natural-born citizen due to his American parents.
"As a legal matter, the Constitution and federal law are clear that the child of a U.S. citizen born abroad is a natural-born citizen," Cruz told CNN in January.
"The Internet has all sorts of fevered swamp theories but the facts are simple," he added,