Donald Trump Threatens to 'File Charges' Against Protesters; Man Rushes to Attack Trump in Ohio Rally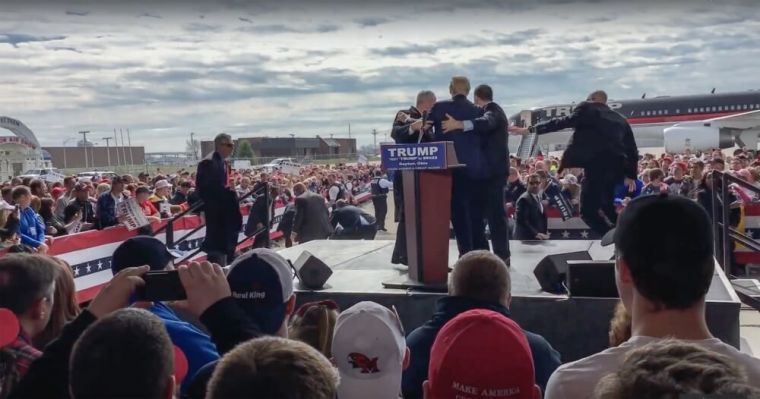 Republican presidential frontrunner Donald Trump said Saturday he will file charges against those who disrupt his rallies after a man jumped a barricade and ran toward him at a campaign event in Ohio and protesters sought to interrupt his speech in Missouri. Meanwhile, four people were arrested in the aftermath of the cancellation of Trump's Chicago rally Friday due to security concerns.
"I'm going to ask that you arrest them," Trump told the police at a campaign event in Kansas City, Missouri, as protesters disrupted his speech soon after he began addressing the crowd, according to CNN. "I'll file whatever charges you want. If they want to do this ... we're going to go strongly for your arrests."
The billionaire businessman warned that protesters would "ruin the rest of their lives" due to a "big arrest mark" that will remain. "Once that starts happening, we're not going to have any more protesters, folks."
At a rally outside Dayton in Ohio, four Secret Service agents surrounded Trump after a man rushed toward him on the stage, as shown in a video posted on YouTube. The protester was identified as Thomas Dimassimo, who was later arrested and charged with disorderly conduct and inducing panic, according to ABC News.
"I was ready for him, but it's much easier if the cops do it, don't we agree?" Trump told his supporters.
Trump also claimed supporters of Democratic candidate Bernie Sanders were responsible for a "planned attack" by "professional" protest organizers, according to Chicago Tribune. "They were taunted, they were harassed by these other people. These other people, by the way, some represented Bernie, our communist friend," Trump was quoted as saying.
Sanders responded by saying, "Our supporters aren't inciting." He added: "Our supporters are responding to a candidate who in many ways has encouraged violence when he talks about, 'I wish we were in the old days when you could punch somebody in the head.' Well, what do you think that says to his supporters?"
On Friday evening, Trump's campaign cancelled a rally in Chicago at the University of Illinois Chicago Pavilion after clashes between his supporters and protesters were reported.
Ohio Gov. John Kasich, also a Republican presidential candidate, accused Trump of being divisive. "There is no place for a national leader to prey on the fears of people," he told reporters outside Cincinnati, according to Los Angeles Times.
However, Trump remained unrepentant. "Yesterday in Chicago, we had a little bit of a problem," he told his supporters at a rally in Cleveland, Ohio. "We were not allowed to exercise our 1st Amendment rights… It just makes all of our friends and supporters more angry, and we're going to go to the polls on Tuesday, and it'll be a resounding victory."
Chicago police arrested four people and briefly detained a CBS reporter, Sopan Deb, during the tensions that followed the cancellation of Trump's campaign event and two Chicago cops suffered injuries.
The four remained in custody Saturday night but hadn't been charged, according to Chicago Sun-Times.
At a campaign rally in Florida, Sen. Marco Rubio responded to the violence in Chicago, saying, "I think we also have to look at the rhetoric of the front-runner in the presidential campaign. This is a man who in rallies has told his supporters to basically beat up the people who are in the crowd and he'll pay their legal fees. Someone who's basically encouraged the people in the audience to rough up anyone who stands up and says something he doesn't like."