Dreamers Are Not a Charity Case, They Are America's Future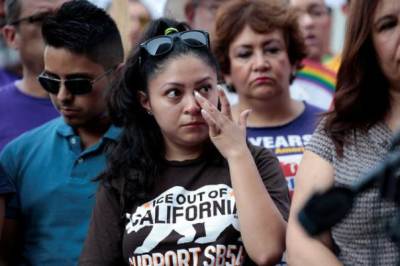 The roughly 800,000 people who have benefitted from the Deferred Action for Childhood Arrivals (DACA) program — more of whom live in Los Angeles than anywhere else in the country — are American in every way except on paper.
Now the president has decided to not renew DACA, giving Congress a six-month window to find a permanent solution, through legislation, to this complicated issue. Christians throughout our country are raising their voices, calling on this administration and on Congress to set aside differences and quickly come together to ensure that these young people can continue to contribute and thrive in the country they consider their home.
As a follower of Christ, I find myself with a moral imperative to speak out for these who are dependent upon us to advocate on their behalf.
While I understand and respect the importance of borders and security, those protected by this policy are worthy of our compassion and concern. This is not a question of border security — these individuals have already been in the country for many years, some for decades.
We know that these individuals are not a threat to public safety: each has already passed a criminal background check as a prerequisite to being granted deferred action.
They are not to be feared but embraced as immigrants who define the American spirit.
We are a city and a nation of immigrants. We are a city and a nation defined by openness and inclusion.
We have been made better as a people by our value of embracing the outsider and have stood throughout history as a place of refuge for the world's dreamers and for those who found the courage to pursue a better life.
They have come to work and contribute to a growing economy and for the opportunity to live free and productive lives. Few places in our country have benefitted from their entrepreneurial spirit more — and have more to lose were the DACA program rescinded — than the vibrant, diverse city of Los Angeles.
Having invested in the primary and secondary public education of these individuals, why would we as a society possibly choose to now deny them the opportunity to lawfully work, contribute and pay taxes?
Having allowed businesses and organizations to hire these individuals just a few years ago, investing training and development resources, why would we now force employers to layoff hardworking members of their organizations?
DACA is not a handout, or even a hand-up: it's allowing people to use the hands, feet, God-given talents, and hard-earned skills, to provide for themselves, better their families, and contribute to the common good.
Individuals with DACA are not a threat. They are not a charity case. They are the sweat and blood of America's future.
You see, some people are born as Americans; others earn it through their struggle and wear it on their callouses. They personify the very fabric of what has made our country great.
They have done everything that we have asked of them as a society, working hard in school, supporting their families, contributing to their communities, and, when given the opportunity, registering with the federal government.
They are undocumented but not un-American. Their greatest hope is to be embraced and accepted as one of us.
They love this country, and for many of the children and young adults affected, this is the only home they have ever known.
They also include many within our local churches, a reality I have witnessed as a pastor. They contribute in countless ways to our faith community. And we will be standing with them whatever happens, assuring them that their ultimate identity is not defined by an executive order or a piece of legislation but by the God who made each one of them in his image, who offers citizenship in his kingdom freely to all.
My plea to our elected officials — to President Trump and to Members of Congress, who have the authority to resolve this situation — is to act quickly with compassion, vision, and wisdom.
At a time when our nation is starkly divided along political lines, for Congress to pass and the President to sign a bill such as the DREAM Act, allowing these young people not just an interim protection from deportation but the chance to earn full citizenship, is an opportunity to unify the country. Polls show that the significant majority of both Republicans and Democrats want these young people to be protected.
My prayer and hope is that our nation will forever be the refuge and land for the dreamers of the world, wherever they come from and however they found their way to our shores.
Erwin Raphael McManus is the founder of
MOSAIC
, a church with locations in Hollywood, Santa Monica, and South Pasadena, and the author of
The Last Arrow
.