Duck Dynasty Family Members Share About Trials With Alcohol, Infidelity in New 'I Am Second' Teaser Trailer (VIDEO)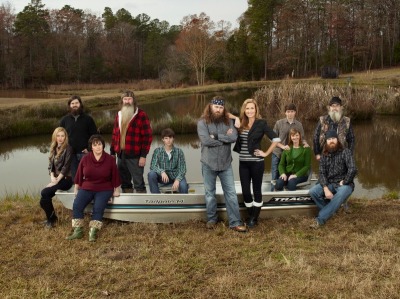 With an appearance in the Christian multimedia project, "I am Second," the Robertson family has joined the ranks of other Christian celebrities including former NFL coach Tony Dungy, former MLB MVP Josh Hamilton and one-time presidential hopeful Mike Huckabee.
The project, which highlights not only stars, but also "people like you," shares stories of individuals who have suffered from substance abuse, endured a divorce, questioned the meaning of "success," and had an abortion.
"The authentic stories on iamsecond.com provide insight into dealing with typical struggles of everyday living. These are stories that give hope to the lonely and the hurting, help from destructive lifestyles, and inspiration to the unfulfilled. You'll discover people who've tried to go it alone and have failed. Find the hope, peace, and fulfillment they found," the movement describes itself on its website.
A trailer for the Robertson's 30-minute video suggests that the family will share stories about patriarch Phil Robertson's struggles with alcohol and infidelity.
"I owned a beer joint when some guy came in with a Bible and he wanted to introduce me to Jesus. I ran him away," Phil shares in the trailer for the video.
Phil's wife, Kay said that the days were dark in their family before Phil did turn his life around.
"The drinking got worse," Kay added, as reported in ABC News. "And I knew then but I didn't want to believe it; [he] was running around on me. And what I would tell my boys all the time is, 'That's not your daddy. That's the devil in your daddy.'"
"You can only run the sex, drugs and rock 'n' roll so far," Phil admitted later.
The Robertsons' video will debut on Thursday, November 21.