Duck Dynasty' Star Phil Robertson Warns America Will 'Collapse' If It Continues To Turn Its Back On God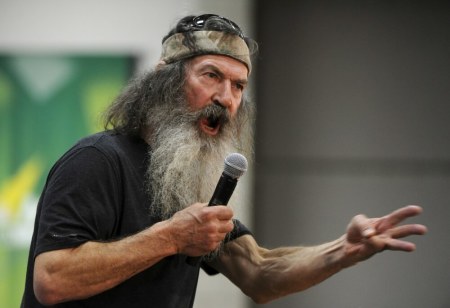 The reality show "Duck Dynasty" might have already wrapped up, but that does not mean its patriarch Phil Robertson is done spreading the message of God.
Robertson rallied for Judge Roy Moore in Alabama recently, according to Breitbart News, and during the event, he raved about Moore's Christian faith. "Roy Moore's a godly man," Robertson said, "or I wouldn't be here."
Back in the 1990s, the conservative judge decided to hang the Ten Commandments plaque on the wall of his office. Robertson approved of this act, and so did many others since Moore won the race for Chief Justice of Alabama's Supreme Court in 2000.
However, Moore was ousted after he adamantly refused to remove a 5,280-pound granite Ten Commandments monument from the rotunda of the state judicial building. Robertson is proud that Moore stood up to his faith, and he lamented that other Americans are not the same.
"When you look on our streets in America, you see people running around with signs on top of their head, all puffed up ... won't even acknowledge the flag of the United States of America – the national anthem! You say what in the world's going on? They're senseless! Faithless!" he said.
"Remember, as soon as you get God out of your psyche, He's giving you a list after list ... of what people do," Robertson added, quoting Romans. "They not only do these things, but they approve of those who practice them."
Robertson issued a dire warning for people who continue to turn their backs on God and condone abortion. "When a nation slaughters its offspring – one million a year – they always collapse those nations do – you can't do that!" he said.
The former reality star has four sons with his wife Kay - Alan, Jase, Willie and Jep. With their Christian upbringing, Robertson is proud that his sons have grown up to be respectable members of society and dedicated fathers and husbands to their own families.
"They were raised up around biblical instruction. That mixed with discipline — the discipline code, I call it," he told The Christian Post. "They just had a lifestyle of seeing their parents do good things. I think maybe me loving their mother and me loving my neighbors around me had a profound impact on them. And what came out of that was four sons who are all married to their original wives."