'Duck Dynasty' Star Willie Robertson Endorses Bobby Jindal for President; Says He Is a 'Godly Man'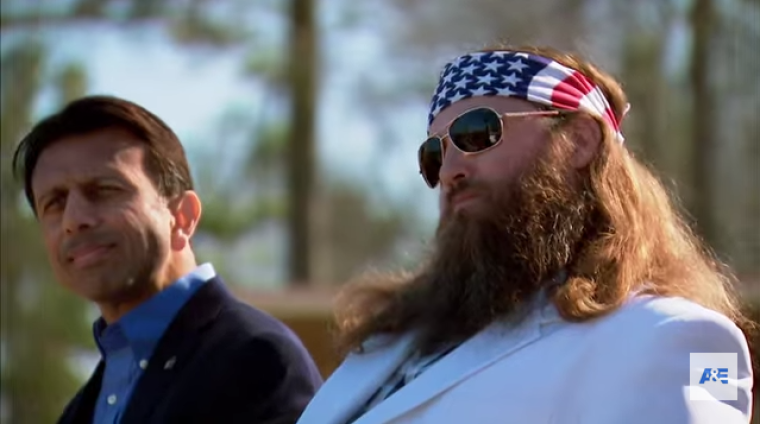 "Duck Dynasty" star and outspoken Christian Willie Robertson said he believes Republican Louisiana Gov. Bobby Jindal should run for president in 2016.
"He's a great man. He's a Godly man," said Robertson in an interview with Fox Talk Radio's "Kilmeade and Friends" Monday. "He's honest, and so I'd like to see if he makes a run at it. And, you know, if so, we'll definitely be trying to help him out."
Robertson, who made a name for himself as a Christian reality TV star on the A&E series "Duck Dynasty," considers Jindal a good friend and recognized him for being the first Indian-American governor in the U.S.
He said the first time he met Jindal he was amazed, not by his political skills but his preaching at a Louisiana church.
"[Jindal] stood up and preached. He wasn't really political, he just told about his own relationship with the Lord. It was very impressive to us," said Robertson. "I know the values he has … and that guy is one of the smartest persons I've ever known."
Robertson hails from the Church of Christ denomination while Jindal is a Roman Catholic.
Jindal discussed his conversion to Christianity during the Iowa Faith & Freedom Coalition conference last month and called it the "most important moment" in his life.
"The single most important moment in my life is the moment I found Jesus Christ and the moment He found me," said Jindal during his speech at the conference.
Jindal was raised as a Hindu and was received into the Catholic Church during his first year at Brown University.
Robertson appreciates Jindal's conservative values and so do other Christian leaders, such as Franklin Graham who recently applauded the governor's stance on gay marriage and religious freedom.
"I appreciate strong leaders like Louisiana Governor Bobby Jindal who are defending religious freedoms in our nation," said Graham in a Facebook post last month. "Unlike some other governors who have waffled on their positions and retreated, he says no matter how tough the opposition he will fight for passage of the Marriage and Conscience Act in this legislative session."
Jindal told Breitbart News last month that he would make the decision whether or not he will run for president after the upcoming Louisiana legislative session which ends around the second week of June.