'Duck Dynasty's' Phil Robertson on Gay People: 'I'm Trying to Help Those Poor Souls and Turn Them to Jesus'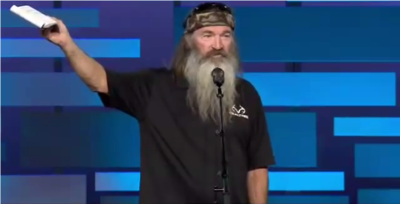 "Duck Dynasty" patriarch Phil Robertson has defended his views on homosexuality, which stirred great controversy when they were posted in a GQ magazine article earlier this year, and said that he simply wants to help "those poor souls" and "turn them to Jesus."
Al.com reported that Robertson made the comments during a Q&A at an appearance at the Rock the South festival in Cullman, Alabama, over the weekend.
"I'm actually a nice man. … I'm trying to help those poor souls and turn them to Jesus," Robertson reportedly said.
He also called on residents to make sure they vote in the next presidential elections.
"Hey, Alabama, whatever you do, register to vote for this presidential election," Robertson said. "Go vote for the House and the Senate, too. Vote this ungodly bunch out of Washington, D.C."
Robertson was initially suspended in December by A&E Network after his comments in the GQ magazine January issue, where he said: "Don't be deceived. Neither the adulterers, the idolaters, the male prostitutes, the homosexual offenders, the greedy, the drunkards, the slanderers, the swindlers – they won't inherit the kingdom of God. Don't deceive yourself. It's not right. ... We never, ever judge someone on who's going to heaven, hell. That's the Almighty's job. We just love 'em, give 'em the good news about Jesus – whether they're homosexuals, drunks, terrorists. We let God sort 'em out later, you see what I'm saying?"
He added: "It seems like, to me, a vagina – as a man – would be more desirable than a man's anus. That's just me. I'm just thinking: There's more there! She's got more to offer. I mean, come on, dudes! You know what I'm saying? But hey, sin: It's not logical, my man. It's just not logical."
After conservative Christians launched online campaigns against the network's decision, Robertson was reinstated to "Duck Dynasty."
Earlier in June, the popular TV show's producer finally spoke out on the controversy, and said that "Duck Dynasty's" crew has several gay people on it.
Deirdre Gurney, executive producer of Duck Dynasty said: "I know Phil Robertson. I know his beliefs. I know how he treats a crew that has several gay people on it, and people of different races and people from all different places."
Gurney added that Robertson does not deny who he is, and that he stands by his beliefs:
"But that isn't how he treats people – it is what he thinks. I think there's a separation between what he thinks and how he thinks people should be treated. I don't think he was saying anything about how people should be treated."
While "Duck Dynasty's" ratings have been down in its sixth season, with the second episode attracting 3.9 million viewers and obtaining a 1.5 Nielsen score for adults 18 to 49, the reality show remains the top cable telecast for Wednesday night.