Duckworth, Hirono drop threat to block Biden's nominees who aren't racial minorities, LGBT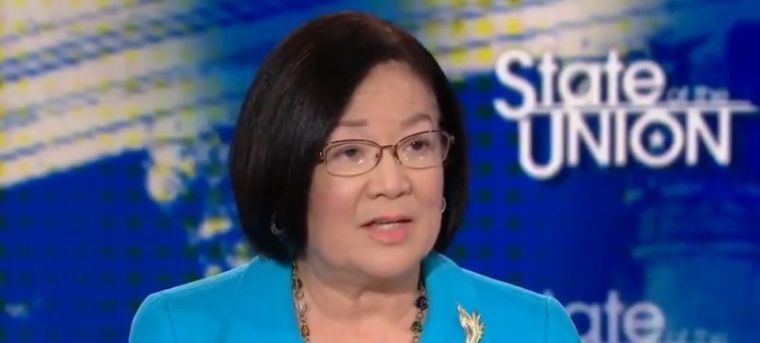 Democrat Senators Mazie Hirono of Hawaii and Tammy Duckworth of Illinois have backed off a threat to block President Joe Biden's white nominees until more minorities are nominated.
Hirono and Duckworth had initially demanded that the Biden administration include more diversity in his administration nominees, taking particular issue with the lack of Asian Americans among his nominees.
On Tuesday, Duckworth told reporters that she informed the Biden administration that she would oppose all non-minority and non-LGBT nominees until more Asian Americans were nominated to high-ranking positions in the executive branch. 
"I am a 'no' vote, on the floor, on all non-diversity nominees. ... I will vote for racial minorities and LGBTQ but anybody else, I'm not voting for," said Duckworth.
Hirono initially backed Duckworth, saying she, too, would not vote to confirm any of Biden's white nominees until his administration committed to having "more diversity representation in the cabinet and in senior White House positions."
"This is not about pitting one diversity group against another. So I'm happy to vote for a Hispanic, a black person, an LGBTQ person, an AAPI person. I'd just like to see more diversity representation," Hirono said, according to NPR. 
However, Hirono took to Twitter on Tuesday evening to announce that she was dropping the objection after speaking with the White House, which promised to appoint a high-level Asian American Pacific Islander liaison.
"I welcome the appointment of a senior level White House liaison to the AAPI community to further strengthen our voice," Hirono said on Twitter. "I had a productive conversation with the White House [on Tuesday] to make clear my perspective about the importance of diversity in the President's cabinet."
Ben Garmisa, the communications director for Duckworth, said in a statement Tuesday evening that the senator was also dropping her objections after speaking with the administration.
"Duckworth appreciates the Biden administration's assurances that it will do much more to elevate AAPI voices and perspectives at the highest levels of government, including appointing an AAPI senior White House official to represent the community, secure the confirmation of AAPI appointments and advance policy proposals that are relevant and important to the community," stated Garmisa, according to CBS News.
"Accordingly, she will not stand in the way of President Biden's qualified nominees — which will include more AAPI leaders."
Critics of Duckworth and Hirono's demands, which were unconstitutional, among them The Daily Wire's Matt Walsh, denounced their views as engaging in "anti-white racism."
"[The left has] built into the system an excuse to be racist because it is part of critical race theory, and our kids are indoctrinated into this stuff from the age of 5 on up. They are told it doesn't count if it's against a white person," Walsh told Fox News host Tucker Carlson.
"It's important for us to call this out and to also name it. To call it what it is. This is specifically anti-white racism, which is now the only acceptable form of racism in the West. That's what it is, and it's a scourge, it's evil, it's wrong and we need to call it what it is."
On multiple occasions, including last December, Biden promised to make his cabinet "the most diverse cabinet anyone in American history has ever announced."
"I'm going to keep my commitment that the administration, both in the White House and outside in the cabinet, is going to look like the country," Biden said last year, according to CNN.
"And when it's all over people will take a look and say, I promise you, you'll see the most diverse cabinet representative of all folks, Asian Americans, African Americans, Latinos, LGBTQ, across the board."