Eagles QB Carson Wentz Responds to Criticism He Receives for Expressing His Christian Faith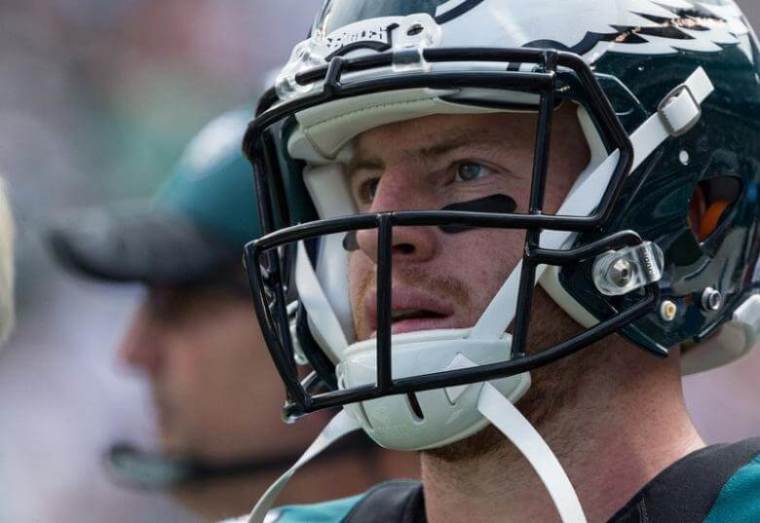 Philadelphia Eagles quarterback Carson Wentz says he's not bothered by critics on social media who chastise him when he shares his faith in Jesus Christ.
The 24-year-old Wentz, a five-time NCAA Football Championship Subdivision National Champion has been asked a couple times recently how he handles the criticism he receives for regularly sharing his faith on his social media platforms.
On Tuesday, Wentz appeared at Eastern University's Olson Field with two of his teammates to discuss their faiths with The Associated Press' sports writer Rob Maaddi and his co-hosts during a live episode of the "Faith on the Field" AM radio show.
Wentz, who was the second overall pick in the 2016 NFL Draft after a successful collegiate career with North Dakota State University, says he has no problem tolerating a few nasty tweets every time he shares his faith on social media because he realizes there are many who've paid a much graver price for their faith.
"If you're grounded in the world, criticism is hard," Wentz explained on the show. "But Christ was nailed to a cross, and Paul went to jail for talking about Jesus, so I can stand a few negative tweets."
In an interview with CSN Philly published on Tuesday, Wentz added that any criticism he receives for sharing his faith publicly will not change how he uses his platform as a professional athlete to advance God's Kingdom.
"I have seen [negative] things here and there," Wentz was quoted as saying. "It is what it is. Again, but they're still reading it, they're still following me. They're still hearing what I believe to be true, so it's a fine line."
"Without a doubt, I want to use my platform to make a difference [in] peoples' lives," he said.
Anyone who goes to Wentz's twitter profile will know almost immediately that he's serious about his faith. Wentz pinned a tweet to the top of his Twitter profile from June that reads: "You can't earn grace. It's free. It's the greatest gift there's ever been and will be. Accept it. Jesus is waiting for you and loves you #AO1."
The AO1 (Audience of One) hashtag used in the tweet refers to Wentz's AO1 Foundation, which was established this year with the mission to "demonstrate the love of God by providing opportunities and support for the less fortunate and those in need."
The foundation cares for the poor, provides unique opportunities for the physically challenged and provides service dogs to youth in Philadelphia.
Additionally, Wentz and Eagles teammates Trey Burton and Zach Ertz have also teamed up with Washington Redskins quarterback Kirk Cousins and other Redskins players to raise money and awareness for International Justice Mission, a Christian charity devoted to protecting the poor and vulnerable. The goal of the organization is to rescue victims and bring justice to perpetrators of crimes such as sex trafficking, slavery, sexual violence, property violence and police brutality.
"AO1 comes from the perspective of doing everything for the Lord, working for the Lord instead of for earthly masters," Wentz said in an interview with Main Line Sports.
Wentz is one of six Eagles who regularly participates in a team Bible study group that meets at least three times per week, The News Journal reports. Everyone on the team is invited to join the group and many times, other players who are not in the usual core Bible study group will join them.
Although not everyone on the Eagles team is a Christian, Wentz explained in an interview with The News Journal that he's not afraid to share his faith with those around him.
"I'm very open about my faith," Wentz said. "I'm not going to hide from it or back down. I also like to try to walk the fine line in being too much and hitting people over the head with the Bible — that's not what I'm about."
"It's definitely a balance, and I'm always learning how to walk that line. I always tell people that if you love something, you're going to talk about it — your wife, the Eagles, your job, whatever. I love Jesus and I'm going to talk about it," he continued. "You can't be around me for more than 20 minutes; it's probably going to come up."