Environmentalists Jump on Sexual Identity Bandwagon With 'Ecosexuality'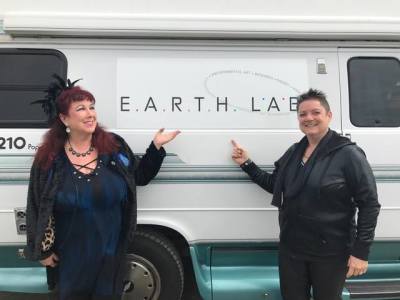 Performance artists Annie Sprinkle and Beth Stephens want to reassure you:
Anyone can be ecosexual. … you can be any gender and be heterosexual, homosexual, bisexual (and anything else) and still be ecosexual. You can have a long-term boyfriend, be married, or be happily single. All that's necessary is that "you don't look at the Earth as your mother, you look at it as your lover."
Wikipedia identifies Sprinkle as a "former sex worker, feminist stripper, pornographic actress, cable television host, porn magazine editor, writer[,] sex film producer, and sex-positive feminist."
But don't let that dampen your trust in Sprinkle's intellectual achievements.
She earned a doctorate in human sexology — from the Institute for Advanced Study of Human Sexuality, "an unaccredited, for-profit, degree-granting institution … in San Francisco." She "married" long-time partner Stephens, art professor at the University of California in Santa Cruz, in Canada in 2008. Together they wrote The Explorer's Guide to Planet Orgasm.
You've never heard of ecosexuality? Don't know an ecosexual?
Don't feel bad. Sprinkle and Stephens told Women's Health that "up to 15,000 people in the world may consider themselves ecosexual.'" That's, about 1 in every 480,000. So unless you know over 480,000 people, you probably don't know an ecosexual.
But Fox News considered it important enough to cover online.
Lookout! Ecosexuality will be a protected status soon!
Oh, it gets better.
Some examples of ecosexual behavior? Gardening — does that make all who like gardening ecosexual? Hiking naked — a great way to get disease-carrying ticks and chiggers. Having sex in the mud — gross, and a sure a way to get worms. The list goes on.
Being ecosexual supposedly makes you understand the earth's needs and how to care for it.
Yes, it's a sexual identity, but it's also another way to express that you're an environmentalist. Think about it: When you love the Earth, you want to foster its health …. You and the Earth have a mutual relationship, not one where you take, take, take.
So now we have to have a sexuality to care for the earth or be an environmentalist?
No. You can care for the earth without jumping on every environmentalist bandwagon.
Does that make me a denier?
All sarcasm aside (which is difficult!), this is a sad story. Taking care of the earth is our God-given duty. Worshiping it, "having sex with it," or putting radical Green agendas over our neighbors' good is idolatry.
As Christians, we should have deep concern for those who embrace ecosexuality.
Romans 1:21–25 says:
… although they knew God, they did not honor him as God or give thanks to him, but they became futile in their thinking, and their foolish hearts were darkened. Claiming to be wise, they became fools, and exchanged the glory of the immortal God for images resembling mortal man and birds and animals and creeping things.
Therefore God gave them up in the lusts of their hearts to impurity, to the dishonoring of their bodies among themselves, because they exchanged the truth about God for a lie and worshiped and served the creature rather than the Creator, who is blessed forever! Amen.
We can enjoy nature. We can care for the earth. But we can do it in a Biblically sound way. That means honoring God and our neighbor. It doesn't mean following every faddish sin.
Learn more about how paganism degrades sexuality at truthXchange.com. Director Peter Jones is a Cornwall Alliance Senior Fellow.
Megan Toombs is Director of Communications for the Cornwall Alliance for the Stewardship of Creation, and Editor of EarthRisingBlog.com. You can follow her on Twitter @MeganToombs.