Eric Metaxas on Star Trek, Miracles and God (Interview)
BOWYER: Because by definition, there is no possible observation of multiverses. They were completely hermetically sealed off from us.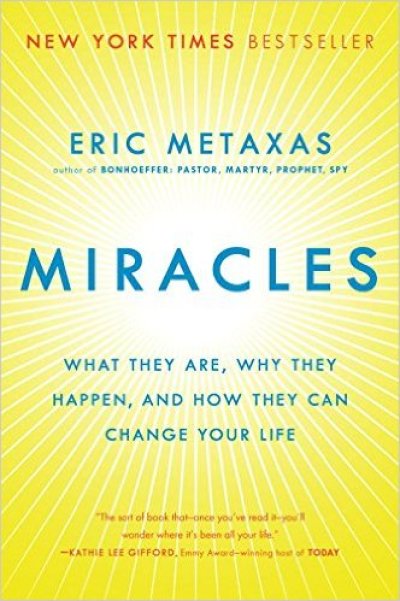 METAXAS: Right. And this is what people — people who advocate for so-called multiverse theory, themselves, say that there's no evidence for them. So it's a really tremendous speculation that makes believing in the God of the Bible look infinitely scientific in comparison.
BOWYER: Well, when we're on the topic of sort of these non-Occam's razor-ish solutions to the problem of fine-tuning and the historical appearance of miracles, in a sister publication recently, there was a column that disagreed with your Miracles book. And the premise was, well, just as good an explanation would be aliens like the alien, Q, in Star Trek who can do God-like things … And so that's where the miracles come from.
METAXAS: Yeah, I think this is such a hot button issue for some people. Not for most people. Most people really have no problem with the idea of a creator God. Their question is just what is this God like, how can I know about him, how can I know him. You know those are the logical follow-ups.
Most people have no problem with the evidence for a creator. But there are some people for whom it's so horrifying that they have to come up with a way to think of it. Anything other than [a creator].
Christopher Hitchens, by the way, who was, of course, an outspoken atheist, when he was asked what is the number one argument from the other side, he said without a doubt — and there's a video of this on YouTube; you can watch him say it. He's like in the back of a limo; he's being interviewed. And he says, without any question, it is the fine-tuned universe theory — this idea that all of these things — this is, again, science tells us that everything had to be so perfect on such an outrageous level of perfection that it doesn't make sense. He was really blown away by that, even though he ultimately couldn't accept it. He said that is the one thing that will give us atheists pause, that it has to stop us. So when somebody dismisses it cavalierly, I would say you should argue with Christopher Hitchens if he were around to argue, because he's, you know, one of the brightest atheists who ever lived.
BOWYER: Or Antony Flew… I think Antony Flew, probably the most well-known atheist philosopher of the twentieth century, at least the second half, moved to theism largely on that fine-tuning argument.
METAXAS: I met Antony Flew in Oxford, England at a conference. And he was not about to say that he was a Christian. But he said that the evidence — over the fifty years, he had been persuaded that the fine-tuned universe proved to him that there was an intelligence that had created the universe. He couldn't give you details on it … But he said that I don't think the alternative is scientifically plausible. And as you just said, he was probably the greatest atheistic philosopher of the twentieth century. So this tells you something.
BOWYER: Yeah. And just to kind of — not to flog this dead horse, but I don't see how aliens explain the fine-tuned universe … Because the aliens are in the universe; they're part of the universe, right?
I mean, I'm a Star Trek fan. Qs, in that fictional premise, came from the universe, so how did they get started? I mean, by involving aliens, all you do is push the problem back another level; you don't solve it.
METAXAS: That's precisely — see, you're being logical, Jerry — you're exactly right; that's exactly correct. And so saying that doesn't solve the problem.
I mean, listen, I would go so far as to say that in my book Miracles, it's not a huge book, but there's enough facts there, there's enough clarity there, there's enough evidence there that the fair-minded person, I think, would be compelled to say this is true even though I don't have all the details. There is a God; there's a God behind the universe who created the universe.
And then, of course, the second half of the book, I go into all these miracle stories which are much more traditional miracle stories of things that have happened to me, or friends of mine. And I say, "What do you make of these?" Surely you see that all of these thirty people aren't lying. Surely you see that they're not hallucinating. These are mostly educated people, friends of mine ... I vetted these stories; I got every detail I could. And so my question to the skeptic is, or to the doubter is, "What do you make of this?" Surely you have to be persuaded that there's something to this. I really — I do think that fair-minded people, open-minded people — and most people are — will come away saying yes, I believe — my belief has been bolstered …
BOWYER: Is there something that you wish I had asked you, some question you want to answer?
METAXAS: Yes.
BOWYER: Go ahead.
METAXAS: The answer is: "Eric, where can I get this marvelous product?"
BOWYER: Almost miraculous product, but that would be overstating it.
METAXAS: Yeah … No, in all seriousness, I say this to all my friends. I wrote this book in a way for people to give away to other people, because there's something about sharing your faith or trying to examine your faith. I think most people don't even know that they can do that. They either have this — they have this idea that either I have to check my brains and just believe, which is wrong, or I have to be intellectual and not believe.
This book is the third alternative, and I think the correct alternative that says no, you need to critically examine what you believe. And guess what, if it's true it can stand up to your critical examination, and you should examine things so that you really know that it's true, not that you hope, but that you can know there is so much evidence that even though I might not know every detail, I can know that this is true. And that really is what I want to communicate. So that's why I say that, you know, now that it's in paperback, I want people to give it to friends who are kind of saying I got questions, whatever. It's like, good, questions are good; keep going, keep thinking, keep asking. And that's really why I wrote it.
BOWYER: So it's a conversation piece, a conversation starter.
METAXAS: That's the idea.
BOWYER: Got it. Okay. Eric Metaxas, thanks so much for taking the time to be with us today to talk about your book, Miracles.
METAXAS: Always a pleasure. Thank you.