Evangelical Christian Leaders Insist Attitude Toward Fatherhood, Marriage Is Tied to Nation's Poverty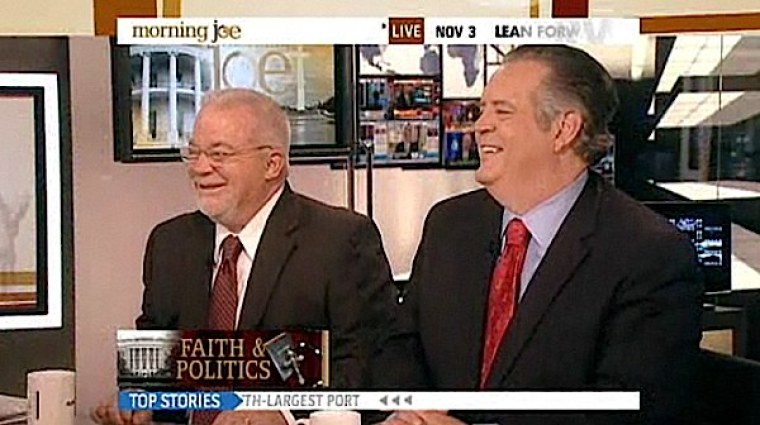 Dr. Richard D. Land and the Rev. Jim Wallis appeared on MSNBC's "Morning Joe" program Thursday to discuss the role of religion in politics, with both men, who do not always see eye-to-eye, agreeing that the nation's economic crisis is a moral crisis.
Land is President of the Southern Baptists Convention's (SBC) Ethics and Religious Liberty Commission. He is also Executive Editor at The Christian Post.
Wallis is President and CEO of Sojourners and also serves as a spiritual adviser to President Barack Obama.
When asked by Joe Scarborough, co-host of the program, what the "big moral issues" would be as the 2012 campaign season progresses, Land noted that the economic criss cannot be separated from the moral crisis.
"We spend $750 billion a year on means-tested programs trying to make up for absent fathers. We have another $250 billion in state money that goes. This is a crisis. We need to revalue fatherhood, revalue marriage. Marriage absence, single parenthood is costing the government, costing the taxpayers billions and billions and billions of dollars," Land said.
The SBC leader expressed the belief that "no-fault divorce" needed to be done away with.
"We need to say to the men of America, you can no longer get away with an extended adolescence. When you make promises to women and when you father children, you're going to be responsible for them and we are no longer going to pick up your mess," Land said.
Wallis expressed agreement with Land on the subject of fatherhood and marriage, which he called an "anti-poverty measure."
He also noted that "50 million Americans are now below the poverty line. Three-quarters of them work. They have jobs. They just don't make enough to support a family."
If Christians could join hands to focus on the issue of poverty, a lot of suffering could be relieved, Wallis said, noting "Matthew 25" Christians.
"Evangelicals and catholics, we're the Matthew 25 Christians across boundaries, and I would think it would be a powerful thing if Christians could focus together not on their own interests but other people's and say poverty is going to be a fundamental focus for both of us," Wallis said.
The reference to Matthew 25:31-41 concerns the passage in which Jesus discusses the reward for those who look after the "least of these." 
Land's latest book, The Divided States of America? What Liberals and Conservatives Get Wrong About Faith and Politics, was re-released this year. 
Wallis released in 2010 Rediscovering Values: On Wall Street, Main Street, and Your Street — A Moral Compass for the New Economy.
A video of Land's and Wallis's appearance on the "Morning Joe" show, in which they discuss other issues, can be viewed at MSNBC.com.