Evangelical Trump Supporters Show 'Evangelical' Has Lost It's Meaning, Baylor Historian Says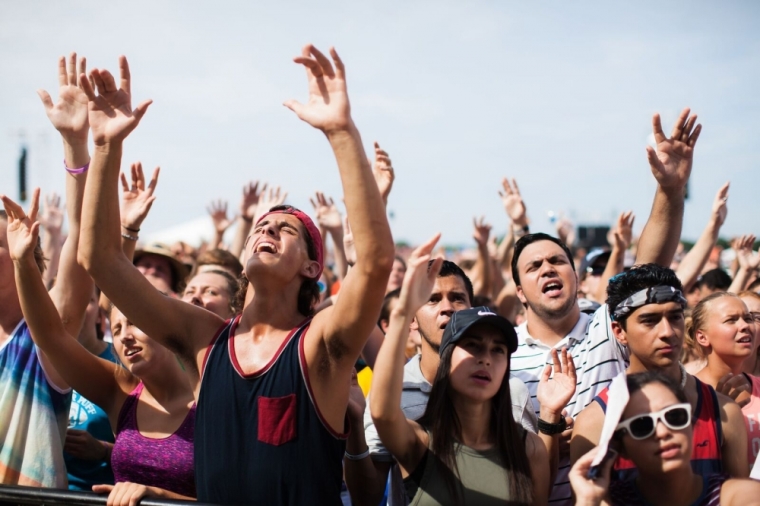 The historical meaning of the term "evangelical" has lost its context and has been watered down to represent non-church going conservative whites who self-identify as Christian but don't exactly fit the true definition of the word, Baylor University history professor and author Thomas Kidd says.
As recent polls suggest that a large majority of white evangelical Christians are now onboard the Donald Trump train, Kidd, who researches 18th century North America and the history of evangelism at Baylor – the world's largest Baptist university – wrote in an op-ed for the Washington Post that there is "something more complicated going on" with the meaning of "evangelical" in today's America and polls are doing a terrible job identifying their subjects.
A CNN/ORC poll released earlier this week states that 76 percent of white evangelicals have their minds made up in support of the Republican presidential nominee. A pew survey from earlier this month similarly found that 78 percent of white evangelicals plan to vote for Trump.
Such strong results come as many evangelical leaders have been slow in coming around to support Trump, who was the presumptive nominee for about two months before his nomination.
Although polls are showing that nearly eight out of 10 white evangelicals are ready to vote for Trump, Kidd writes that polls also indicate that evangelicals are not overjoyed to now be supporting Trump.
Although Liberty University President Jerry Falwell Jr. and Dallas megachurch pastor Robert Jeffress have supported Trump heavily during the primaries, it wasn't until last week that Cruz supporters and prominent evangelicals like Tony Perkins and James Dobson voiced their support for Trump.
A number of leading evangelical thinkers like leading Southern Baptist ethicist Russell Moore and Southern Baptist Theological Seminary President Albert Mohler assert that they will not support Trump.
As Falwell credited "rank-and-file" evangelicals for leading the evangelical support of Trump in the primaries during an interview with NPR during last week's Republican Convention, Kidd believes there is something more going on.
"I would suggest that something more complicated is going on, something that may have given a generation of Americans the wrong idea about evangelicalism – and U.S. politics," Kidd asserted. "What has happened is nothing short of a watering-down and politicization of the term 'evangelical.'"
Kidd argued that early evangelical thinkers like George Whitefield and Jonathan Edwards, who fought against the idea that people could be regarded as Christians with "no questions asked" if they were only baptized as a baby, would be "utterly perplexed" by the way the word "evangelical" is used today.
"Swimming against the stream of culture, the evangelicals of the Great Awakening of the 18th century preached against the idea of an in-name-only affiliation, declaring you must be born again," Kidd explained. "Much has changed since the 1700s, and the change seems to have accelerated since the 1980s."
Kidd lists three reasons how and why the context of the term has changed.
The first reason is that the evangelical movement during the 1800s was so successful that evangelicalism "turned into the de-facto established religion of many parts of the South and Midwest." By the mid-20th century, Kidd states that many Americans in some parts of the country believed they were evangelicals because the term grew to the equivalency of "Protestant Christian" or "American."
"You were now born an evangelical, not born-again as one," Kidd wrote.
Kidd states that another reason is that during the 1970s and 1980s, a tendency grew for evangelical voters to get behind candidates who were not evangelicals but maintained relationships with evangelicals, knew how to talk like evangelicals and vowed to protect the interest of evangelicals.
"This tendency culminated in the election of Ronald Reagan in 1980, who knew many evangelicals but who was not one himself. Reagan mastered the art of talking like evangelicals and promising progress on issues such as school prayer and abortion," Kidd explained. "But when he got into office, actual progress on those issues was fairly meager, with notable exceptions such as the appointment of Antonin Scalia to the Supreme Court in 1986."
"From then on, self-identifying white evangelicals have often been okay with candidates who learn evangelical lingo, and who promise good Supreme Court appointments, whatever the candidate's other positions and background," Kidd continued. "This meant that the public could disassociate evangelicals from theology, or affinity with other evangelicals, and link them inextricably with GOP politics."
The third reason that Kidd highlighted is how polling organizations are using the word and letting respondents define their own religious affiliation.
"Time-strapped pollsters just let people tell them that they are evangelicals, without probing what that means," Kidd stated. "In the primaries, some evidence suggested that 'evangelicals' who did not attend church were more likely to support Trump. For those who have a deeper understanding of the term's historic meaning, there can be no such thing as a non-churchgoing evangelical (unless the evangelical in question is imprisoned, incapacitated or similarly detained). But polls can't account for these sorts of nuances."
Kidd added that polls also don't seem to correctly identify non-white evangelicals, saying that evangelicals of other races are often grouped in categories like "Historically Black Protestant" or "Protestant."
"But I suspect that many of these supposed evangelicals in the polls have no clear understanding of the formal definition of 'evangelical,' which calls for true conversion and a devout life," Kidd wrote. "They figure, 'I'm conservative [another ill-defined term] and a Protestant, therefore I am an evangelical.' Or maybe they think, 'Well, I watch Fox News, so I must be an evangelical.' Or, 'I respect religion, and I vote Republican, so I must be an evangelical.'"
"These vague associations have turned "evangelical" into a term that luminaries like Edwards and Whitefield would not recognize," Kidd continued. "And, more problematically, they represent a faux gospel of moralism, nationalism and politicization. That is a gospel that certainly cannot save."
Last November, LifeWay Research and the National Association of Evangelicals consulted a diverse group of theologians to develop a standard definition for determining whether or not someone is an evangelical. The guideline listed four statements that need to be true in order to be an evangelical:
The Bible is the highest authority for what I believe.
It is very important for me personally to encourage non-Christians to trust Jesus Christ as their Savior.
Jesus Christ's death on the cross is the only sacrifice that could remove the penalty of my sin.
Only those who trust in Jesus Christ alone as their Savior receive God's free gift of eternal salvation.