Not Letting Evangelicals, White Working Class Express Their Opinions 'A Recipe for Social Division,' Scholar Says
White Evangelicals Most Pessimistic, Poll Finds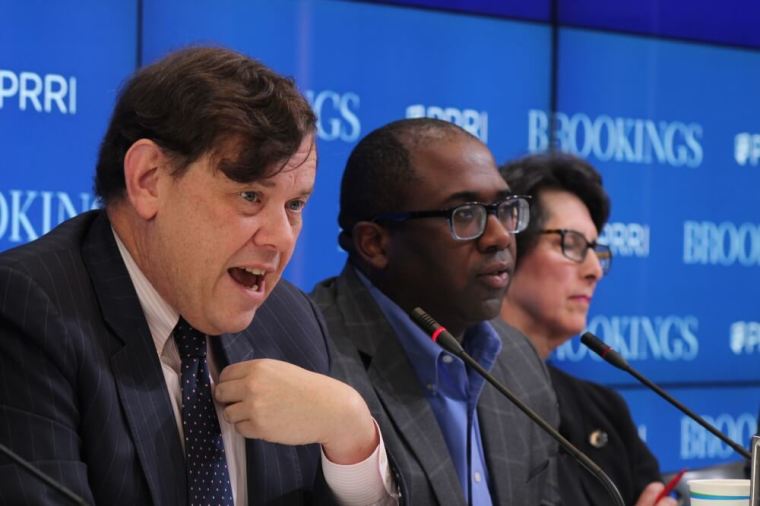 WASHINGTON — White evangelical Protestants are more likely to hold a negative view of today's American culture than any other social demographic, an extensive new survey released by the nonpartisan Public Religion Research Institute has found.
The Washington-based PRRI, a nonprofit research firm, unveiled its 2016 American Values Survey at the Brookings Institution on Tuesday.
The survey, which is based on interviews with 2,010 randomly sampled adults from all 50 states between Sept. 1 and Sept. 27, finds that there is great divide when it comes to how different ethnic groups and social classes view the direction of America and the societal changes that have occurred since the 1950s.
As major societal changes, like the legalization of abortion, rise of no-fault divorce, national legalization of same-sex marriage, have occurred in America over the last six decades, the survey, which has a margin of error of +/- 2.8 percentage points, finds that 51 percent of Americans feel that the American culture has changed for the worse since the 1950s, while 48 percent said that American culture has changed for the better.
Over 7 out of 10 (74 percent) white evangelical Protestants feel that the American culture has changed for the worse since the 1950s. Meanwhile, 68 percent of Republicans, 65 percent of white working class citizens, 59 percent of white mainline Protestants, 57 percent of white Catholics and 56 percent of all white people agreed with that statement.
On the flip side, 66 percent of Democrats, 65 percent of Hispanic Catholics, 62 percent of African-Americans and 57 percent of all Hispanics feel that American culture has changed for the better since the 1950s.
When broken down by age, 60 percent of adults aged 18-29 said that the culture has changed for the better, while 57 percent of Americans 65 and older said that the culture has changed for the worse.
With the election just weeks away, 72 percent of likely voters supporting Donald Trump say that they feel the culture has changed for the worse, while 70 percent of likely Clinton voters say that the culture has changed for the better.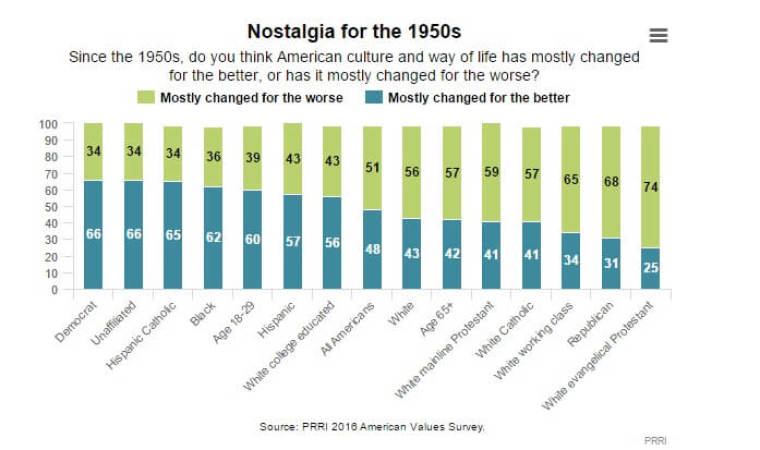 "Its understandable, when looking at these groups, why they would feel that America has changed for the worse," Henry Olsen, a senior fellow at the D.C.-based Ethics & Public Policy Center, said during a panel discussion on the survey's findings.
Olsen explained that when it comes to white evangelical Protestants, they are people that tend to politically define themselves by their culture and religious beliefs, which today go against the grain of the predominant American culture.
"[White evangelicals] can easily look back and say, 50 years ago most Americans shared our viewpoints — our viewpoints on sex, our viewpoints on marriage, our viewpoints on religion were at the center of America. Today, we are not only out of the center of America but we wonder if we are going to have any safe spaces left,'" Olsen explained.
"That is what religious freedom and religious liberty are about," Olsen continued. "It's not so much what people were concerned with 30 years ago and whether they will exert their control over us. Rather, 'Will you give us safe spaces where we can live our own lives?' And they feel that is not going to happen."
Olsen added that it is imperative for those who find themselves on the wrong end of the trending culture, such as white evangelicals, be able to freely express their concerns and opinions without being silenced, censored or punished.
"One of the problems and challenges we face is if the answer to the future is to 'lean in without listening,'" Olsen said. "It is one thing to say that 'we are going to have a debate and you lost.' It is another thing to say that 'it is not even proper to express your concerns, your concerns that are so far out of my understanding.' … That is a recipe for social division. That is a recipe, if not for violent revolution, [suggests] that the system is rigged and that the appropriate response is to burn the place down."
"It is incumbent on us to look at others who think differently from us and ask, 'How do I bring them into a conversation that they can be a part of?'" he continued. "If the answer to our future is to 'lean in without listening,' we will see a violent revolt that will shock everyone in a way that 'Leave' shocked Britain."
Olsen concluded by suggesting that if "the face of the new America includes no representatives of the old America, you are creating social division."
PRRI CEO Robert P. Jones said during the discussion that it is astonishing how fast the American culture has shifted away from a more white-Christian-dominated viewpoint. He mentioned that in 2008, 54 percent of the country was white and Christian. Today, that number is just 43 percent.
Additionally, he pointed out that in 2008, only four in 10 Americans supported same-sex marriage. But now, about 62 percent of the nation supports same-sex marriage.
"Just in the last two election cycles, there is an enormous amount of demographic, religious and cultural change," he said.
Jones also warned that America now faces the threat of becoming a more "tribal America," where people of different races, genders, social classes come together to form "fight-to-the-death-factions." He stressed that it is important for political dialogue to "reach across the lines."
"The sense of vertigo among many who on the losing side of this change, the feeling of being left behind, is not so surprising," Jones stated.
"Once something becomes a tribal identity, you can't really debate it. It is a part of who I am and that is a part of who you are. The question is really, 'Who will win?' It is not a matter of compromise anymore," Jones added. "I think that is the real danger facing the country and finding some ways to diffuse that sense of tribalism and trying to find a way to put things back on the table as issues and actually talk about them."