Ex-Episcopal Bishop Heather Cook Gets 7 Years for Death of Cyclist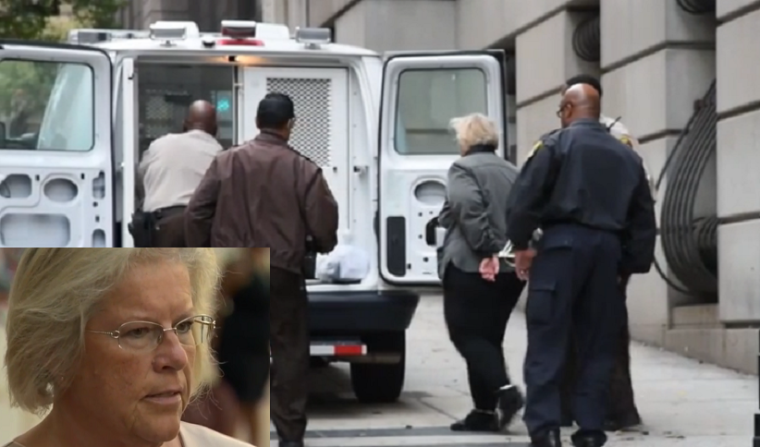 Former bishop of The Episcopal Church of Maryland, Heather Cook, 59, who caused the death of a 41-year-old father in a drunken hit-and-run incident two days after Christmas in 2014, said "sorry" as she was sentenced to seven years in prison Tuesday.
Cook, who was relieved of her position with the church earlier this year, made history in 2014 when she became the first female bishop and second-highest ranking official of the Episcopal Church of Maryland.
Less than a year after she made history, however, life started going downhill when she hit Thomas Palermo, the married father of two and software engineer as he cycled in Baltimore on Dec. 27, 2014.
Cook reportedly fled the scene twice and was later found to have been drunk and texting as her struggle with alcoholism made national and international headlines.
On Tuesday, sentencing judge Timothy J. Doory reminded her of how she walked away from Palermo as he lay dying at the scene of her crime.
"Your leaving the scene at that time was more than irresponsibility, it was a decision," he told Cook, according to The Baltimore Sun.
Prosecutor Kurt Bjorklund noted that when Cook returned to the scene of the accident a second time she left to take her golden retriever home before turning herself in.
"She made sure her dog was OK, but didn't care about another human," Bjorklund said.
After admitting to police that she had caused the accident Cook's breathalyzer test showed she had a blood alcohol level of 0.22, nearly three times the legal limit.
During the sentencing hearing, Cook had reportedly sat down with relative composure until Thomas Palermo's mother, Patricia Palermo, addressed the court. She said she had repeatedly asked God why He took her son until she finally had a revelation.
"God didn't do this," she said, according to the Sun. "Heather Cook killed Tom."
The ex-bishop broke down and later apologized to the cyclist's family.
"I am so sorry for the grief and the agony I have caused," she said. "This is my fault. I accept complete responsibility."
She then turned to Doory and said: "I believe God is working through this, and I accept your judgment."
Cook pleaded guilty last month to one count of automobile manslaughter, which carries a maximum penalty of 10 years; leaving the scene of a fatal accident, which also comes with a maximum penalty of 10 years; and driving while under the influence and texting while driving, which both bring a maximum penalty of one year.
Cook could have been imprisoned for a maximum of 20 years.
Thomas Palermo's family members said the seven year sentence meted out to Cook was "lukewarm" and felt the court could have issued a sterner warning to drunk drivers.
"While no amount of prison time would ever seem sufficient, we feel the court today could have sent a stronger signal that our community takes driving while under the influence and driving while distracted seriously," Alisa Rock, one of Palermo's sisters-in-law, said.
Marilyn Mosby, Baltimore City States Attorney said she believes the sentence reflected "some measure of justice."
"Today, we are here to offer our support for the Palermo family. It's a tragedy in every sense of the word. I believe that there was some sort of measure of justice that was imposed today. This tragedy speaks to why it's so important that we get drunk drivers and individuals who think that they can text while they are incapacitated. It's just absolutely absurd," said Mosby.