Exclusive Sneak Peek at 'Bringing Up Bates' New Episode: Family Meets Spitting Llamas at the Zoo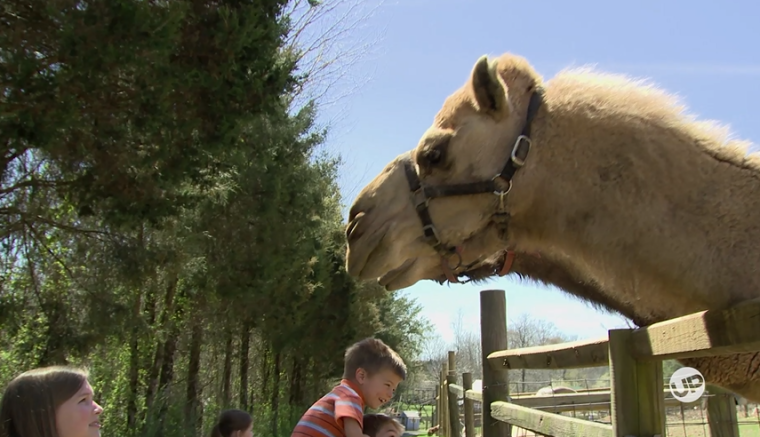 "Bringing Up Bates" returns to UPtv on Thursday with a new episode featuring Gil and Kelly Jo Bates joining their 19 children at a local zoo.
In a clip from the new episode exclusively available at The Christian Post, the Bates' children visit the Ponderosa Zoo, an exotic animal rescue zoo in Clinton, Tennessee. Along the way Whitney, Bradley, Kelly Jo and the rest of the Bates family carry pails around to feed the animals including camels, ostriches, baby goats, a lion, and a spitting llama.
"Ponderosa is a great zoo just because it's hands-on and the kids can get right up close and personal," Kelly Jo explains in the sneak peek. "It's really entertaining for the kids."
Katie Bates, 11, adds: "Definitely the coolest animal there was the spitting llamas, they said they wouldn't spit on anybody. I talked to it and asked it to spit and it still didn't obey."
Also during the clip, younger Bates family members Ellie, Callie and Addallee share their zoo experience.
"The camel almost ate my hand off," notes Callie, age 4, in the clip.
Thursday's episode, titled "Movin' in with Meema," will also see Kelly Jo's mother, Meema, announce that she wants to live closer to the kids, and Kelly Jo takes her house hunting. The task, however, proves tougher than anyone predicted. Later, Gil and Kelly Jo take Trace and Josie to the orthodontist for braces, and Gil reveals how he can afford braces for so many kids.
The highly-anticipated second season of "Bringing Up Bates" kicked off on UP earlier this month. Fans will see major milestones for the Bates family in the new season, including Michaella and Brandon's engagement and Erin's challenging first pregnancy as well as the joyful birth of baby Carson.
"Bringing Up Bates" airs at 9 p.m. ET Thursdays on UPtv.