Biden is making false claims about Georgia's voting law, fact checkers and pundits say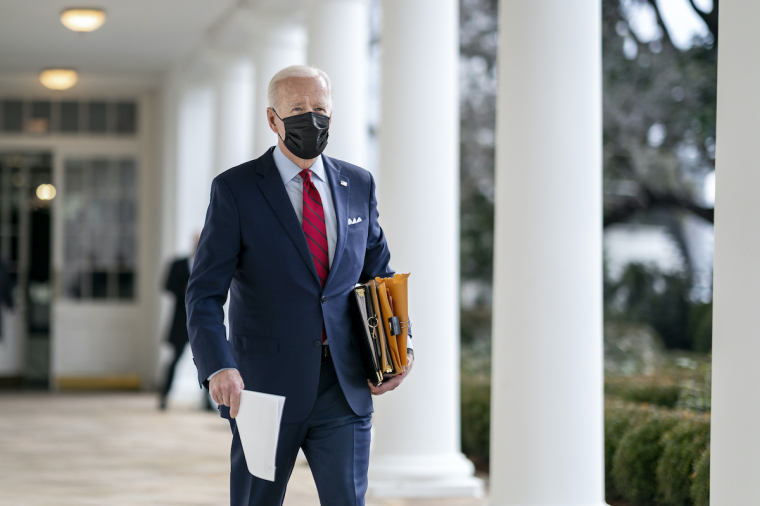 Political pundits and independent fact-checkers are pushing back on some of President Joe Biden's claims about a newly passed Georgia law that will reform the state's election laws and procedures.
Gov. Brian Kemp, R-Ga., signed into law the "Election Integrity Act of 2021" last week, much to the chagrin of Democratic politicians in his state and around the country. The measure comes shortly after the 2020 presidential election, where allegations of fraud caused many to doubt the legitimacy of the results. 
Following the passage of the bill, Biden described the measure as an "atrocity," alleging that the bill has a provision saying that "you can't provide water for people standing in line while they're waiting to vote." According to Biden, "You don't need anything else to know that this is nothing but punitive" and "designed to keep people from voting." 
As Fox News senior political analyst Brit Hume explained during an appearance on "Tucker Carlson Tonight" Tuesday, the bill "permits poll workers and others to distribute water as they so choose." He clarified that "what they can't do is walk up on the street and say 'here, have a little water,' and by the way, the water bottle says 'Vote for Joe,'" referring to such an act as an example of "electioneering."
The text of the law declares that "No person shall solicit votes in any manner or by any means or method, nor shall any person distribute or display any campaign material, nor shall any person give, offer to give, or participate in the giving of any money or gifts, including, but not limited to, food and drink, to an elector" within 150 feet of the outer edge of a building where a polling place is located, within a polling place or within 25 feet of a voter standing in line.
"This Code section shall not be construed to prohibit a poll officer from distributing materials, as required by law, which are necessary for the purpose of instructing electors or from distributing materials prepared by the Secretary of State which are designed solely for the purpose of encouraging voter participation in the election being conducted or from making available self-service water from an unattended receptacle to an elector waiting in line to vote," the law continues.
Describing the president's suggestion that the Georgia election law forbids people from handing out water at polling places as a "completely exaggerated claim," Hume said that the aforementioned allegation "wasn't even the biggest whopper that the president has publicly told about the law." Biden also claimed that the law reduces the number of voting hours.
"The voting hours are exactly the same voting hours they had in this most recent Georgia election, about which nobody complained," Hume stressed before noting that the most recent Georgia election had "record turnout." In addition to Hume, Glenn Kessler, a fact checker for The Washington Post, also flagged some of Biden's assertions about the law.
Biden maintained that the law will "end voting at five o'clock when working people are just getting off work" and "ends voting hours early so working people can't cast their vote after their shift is over."
As Kessler reported, "On Election Day in Georgia, polling places are open from 7 a.m. to 7 p.m., and if you are in line by 7 p.m., you are allowed to cast your ballot. Nothing in this law changes that." 
Stephen Fowler of Georgia Public Broadcasting outlined some other aspects of the bill, which includes an expansion of early voting for most counties, "adding an additional Saturday and formally codifying Sunday voting hours as optional." Additionally, the law will allow early voting to take place from "7 a.m. to 7 p.m., or 9 a.m. to 5 p.m."
Other changes implemented by the law include revisions to the regulations governing the use of absentee ballots. Specifically, it mandates that "neither the Secretary of State, election superintendent, board of registrars, other governmental entity, nor employee or agent thereof shall send absentee ballot applications directly to any elector except upon request of such elector or a relative authorized to request an absentee ballot for such elector." In other words, the practice of automatically sending absentee ballot applications to all registered voters will end.
In addition, those hoping to apply for an absentee ballot must "provide his or her name, date of birth, address as registered, address where the elector wishes the ballot to be mailed, and the number of his or her Georgia driver's license or identification card issued." Voters without a driver's license will be asked to provide another acceptable form of identification. The applicant is also required to sign an oath affirming that they are "a qualified Georgia elector and the facts presented on the application are true."
Critics of the bill "don't like this idea of voter ID," Hume added. "Voter ID is obviously a very sensical way to protect against people who (are) not who they say they are (from) voting and it's particularly important in an age where they're going to have mail-in balloting on a scale where we're now having it."
A Rasmussen poll released on March 17 found that 75% of Americans agree with Hume that voter ID is a "sensical way" to protect against fraud and that providing identification is a necessary prerequisite to voting.
Hume predicted that Democrats will cite the Georgia law as a reason why Congress must pass the "For the People Act," which will "federalize the rules for elections," "establish a uniform set of regulations across the country" and "cancel a lot of state regulations that are now in existence." A group of attorneys general opposed to the For the People Act warned that it would "dismantle meaningful voter ID laws."
Democratic politicians believe that "casting aspersions on the … Georgia law becomes a rationale for federalizing the rules nationwide, which then opens the door to the kind of open-ended goings-on … that these state laws are intended to guard against," Hume contended.