First-ever faith-based musical 'A Week Away' trends top 5 on Netflix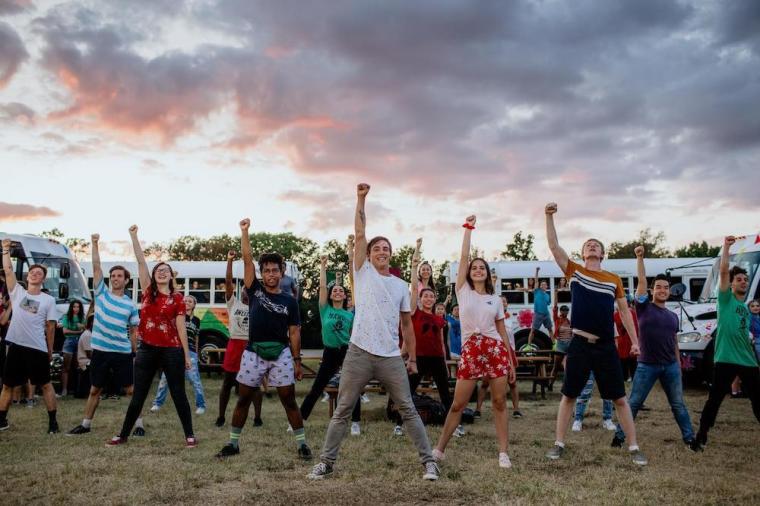 "A Week Away," the first faith-based musical ever available on Netflix, debuted in the streaming service's Top 5 over the weekend, while the film soundtrack ranked No. 1 on the iTunes Christian album chart.
Starring Bailee Madison and Kevin Quinn, "A Week Away" reached No. 4 on Netflix's list for most popular titles in the U.S. over the weekend and No. 4 on Netflix's list for most-popular movies, according to Whats-On-Netflix.com. The film also saw global success, ranking No. 4 in Australia, No. 3 in Brazil, No. 5 in Spain, and No. 3 in Germany as of Wednesday. 
On Twitter, co-writer and co-producer Alan Powell celebrated the news, writing: "This is incredible.. thank you guys for all the support.. it means so much!" 
Released on March 26, "A Week Away" follows troubled teen Will Hawkins (Quinn), who chooses a Christian camp over juvenile detention after a kind foster family offers to take him in. Feeling out-of-place, Kevin lies about his background to fit in — and impress his newfound camp crush, Avery (Madison). Over the course of the week, Kevin finds hope and healing through music and his newfound friendships.
Filmed at Camp Widjiwagan in Nashville, Tennessee, "A Week Away" features reimagined recordings of seven popular Christian songs by artists like Amy Grant, for King and Country, Michael W. Smith and Steven Curtis Chapman. 
Four new songs by award-winning producer Adam Watts ("High School Musical 3") are also introduced in "A Week Away," including the song "Good Enough." The song highlights the biblical truth that everyone, regardless of their background, is "good enough" just how God made them.
On Monday, the soundtrack ranked No. 1 on the iTunes Christian album chart and is currently Top 15 and rising on the iTunes all-genre chart.
Though biblical themes of forgiveness, compassion and acceptance are woven throughout the film, "they're not in your face," Madison told The Christian Post.
"They're just shown through the lens of humans and characters and life," she added.
She told CP that "A Week Away" is something the whole family can enjoy together. An aunt to "so many nieces and nephews," the actress, who has a co-producer credit on the film, said she tries to do projects that families can sit down and enjoy together as "often" as she can.
"We're trying to figure out what they can consume; what's a movie or a TV show out there that will teach them lessons that I don't even need to be worried about when I'm babysitting them — because that is a real thing," she said. 
Powell, the son of a pastor, told CP he's always wanted to create a musical, and bringing one to the Christian movie world is something he's proud of. 
"I love musicals in general, as I'm sure you can probably speculate, loving film and loving music. Musicals are my favorite, and I just remember thinking, 'I don't know why there's nothing in the faith-based space. There's never been a musical in a faith-based space. It doesn't make any sense to me, seeing as how music is probably, and arguably, the biggest business within the Christian culture, quite honestly," Powell said. 
"So to be a part of a movie that I feel like falls in the veins of the kind of musicals that I grew up watching and loving ... it's the most humbling. And I'm so so so grateful to have been a part of it."
The film was directed by Roman White, a popular music video director who has worked with Taylor Swift, Justin Bieber and Carrie Underwood, and produced by Powell and Steve Barnett under their Monarch Media banner along with Gabe Vasquez. Executive producers listed are Vicky Patel and Corby Pons.