Fastest Growing Refugee Crisis: Nearly a Million South Sudanese Flee to Uganda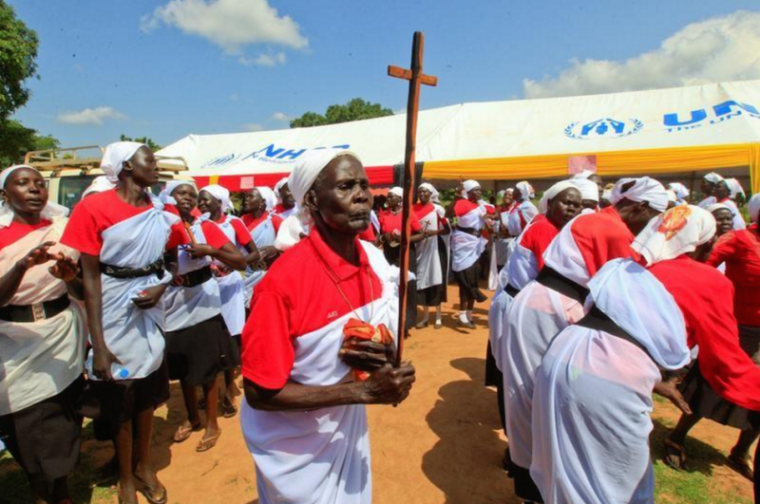 Archbishop of Canterbury Justin Welby, spiritual leader of the world's Anglicans, prayed on Wednesday with South Sudanese refugees in northern Uganda, home to a nearly million fugitives from a four-year civil war in the world's youngest nation.
Around 1.8 million people have fled South Sudan since fighting broke out in December 2013, sparking what has become the world's fastest growing refugee crisis and largest cross-border exodus in Africa since the 1994 Rwandan genocide.
Most have fled south to Uganda, whose open-door refugee policy is now creaking under the sheer weight of numbers in sprawling camps carved out of the bush.
"The Bible tells us that the refugee is specially loved by God," Welby, leader of the 85-million strong Anglican Communion, said as he joined in prayers in a camp in the northern district of Moyo.
"Which means you who are refugees are specially loved by God, that Jesus himself was a refugee and he loves you and he stands with you and the suffering that you have is the suffering that he knows. So I pray for you, I will advocate for you."
Officials from the United Nations UNHCR refugee agency say $674 million is needed to pay for the basic needs of the refugees this year, but so far only 21 percent of those funds have been secured.
The total number of refugees is due to pass a million in the next week, UNHCR officials said. Nor is there any sign of a let-up in the stream of desperate civilians.
Some days it is only hundreds. On others, it is thousands.
In the camps, refugees are already on half their standard food rations of 12kg of maize a month, and now critical services such as health and education are facing cut-backs, UNHCR officials said.
In Bidi-Bidi, the largest of the refugee camps, 180 South Sudanese died in the first six months of the year, nearly half of them small children.
"We came here to hide ourselves from death," said 31-year-old Moro Bullen, standing next to a row of 16 freshly dug graves, mounds of rust-red earth arranged in three neat rows. Half of the graves were only a meter long.
"We did not come here to die. We came here to be rescued."
Splintered Conflict
Although the roots of the war lie in the animosity between President Salva Kiir, who hails from South Sudan's powerful Dinka ethnic group, and his former deputy, Riek Machar, a Nuer, it has splintered into a patchwork of overlapping conflicts.
Machar is under house arrest in South Africa, having fled there last year to seek medical attention, but there has been little let-up in the levels of conflict, especially in the Equatoria region abutting Uganda.
"It has evolved significantly. There are many actors. Because there are many actors now it has become more violent. The prognosis is not encouraging in terms of achieving peace," said Brian Adeba of the Washington-based Enough Project.
Refugees have told Reuters of towns and villages emptied by government forces, dominated by the Dinka, with men, women and children summarily executed, and their bodies mutilated.
Rights groups have also reported widespread rape and looting that the United Nations says indicates ethnic cleansing. It has also warned of a possible genocide in a country that only came into being in 2011, when South Sudan split from Sudan.
The government has denied the reports, and said its troops are merely conducting operations against rebel militiamen.