First Openly Gay Pastor Approved by Mennonite Conference as License Approved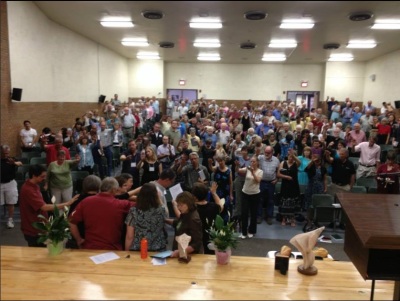 The Mountain States Conference (MSC) has approved a license for a woman who will become the Mennonite Church USA's first openly gay pastor.
In its decision to grant Rhoda Good a license, the conference empathized with those who disagreed with its decision but said that it felt it had acted in way consistent with its Christian values.
"It is the desire of the Leadership Board to function and communicate with a spirit of deep humility, joyfully acknowledging the work of God in our midst, and with a sense of sadness recognizing the pain that this causes some of the sisters and brothers that we love in Mennonite Church USA," the MSC stated in Mennonite World Review.
Good, who the MSC recognized as one "whose gifts and call to ministry are clearly affirmed," received her M.Div in spiritual formation/direction from Eastern Mennonite University and joined the pastoral team at First Mennonite Church of Denver in 2012.
Despite being in a commited relationship with another woman, Good was unanimously confirmed by the Mountain States Conference Leadership Board on Dec. 22 after a year-long process, and will receive her license on Feb. 2.
According to Mountain States moderator Rhoda Blough, in addition to following its normal credentialing interview process, it also asked the advice of the Leadership Boar and held four listening meetings across the conference with the pastor and five representatives from each member congregation.
"These were places where people could share," Blough told the Mennonite World Review. "It was not to be a place for debate; it was for prayer and listening and then eating together."
After the listening meetings, Good met with both the Ministerial Council and Leadership Board respectively who approved the pastor's request.
Following the decision, Blough said that the conference is making an effort to reach out to churches that did not agree with the MSC's decision.
"I think the Ministerial Council has kept this model of accountability in front of them to hear all the voices in our conference," she said. "We wanted to listen first and foremost to the heart of God of the people who make up Mountain States Mennonite Conference."
Whether Good will be ultimately ordained by the Mennonite Church remains uncertain as the license period can serve "as a time of testing that can, but does not necessarily, lead to ordination."
The MSC encompasses 21 congregations in Colorado, New Mexico and Texas and contains 1,708 members.