Florida Man Charged With Plotting Terror Attack on 9/11 Anniversary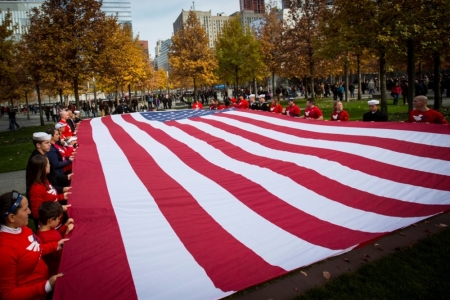 On the 14th anniversary of the Sept. 11 attacks a man was allegedly planning to set off a bomb at a memorial event. Fortunately, FBI agents were able to apprehend the suspect early Thursday morning before he caused any damage. Joshua Ryne Goldberg, 20, of Orange Park, Florida, is now facing up to 20 years behind bars for the alleged plot to bomb the Kansas City Stair Climb in Kansas City, Missouri.
Golberg was charged with "distributing information relating to explosives, destructive devices and weapons of mass detsruction," according to court documents. The man had been communicating with a group of five others online about the bomb and told one — an FBI informant — to "put as much sharp stuff as you can in there" and to "use shards of metal and nails."
A similar kind of bomb was used at the Boston Marathon bombings that killed three and injured 264 others in 2013, U.S. Attorney Lee Bentley III told station WJXT. The information, along with his instructions to place the bomb at the Kansas City Stair Climb, was enough to make an arrest.
Goldberg first appeared on the FBI's radar when he claimed online to have inspired the May 3 shooting at the Muhammad Art Exhibit and Contest in Garland, Texas, First Coast News reported. An angry, violent tweet of his was retweeted by one of the shooters, Elton Simpson.
"I'M BACK KUFFAR! DIE IN YOUR RAGE!" the message read.
The 20-year-old posed as a Lebanese Muslim refugee living in Australia, posted to Islamic state websites, and called for attacks with "weapons, bombs and knives" on the Sept. 11 memorial in Kansas City. He also had other alternate Twitter accounts that posted hateful, violent messages.
Investigators discovered his plot and believed the extremist to be from and recruiting others in Australia, CBS News reported. Then the primary Twitter account, Australi Witness, was traced back to Goldberg, who lives with his parents in Orange Park. He had been using his mother's computer to orchestrate the attacks.
Goldberg began communicating with a group of people online, one of whom was an FBI informant. He instructed the informant to build a pressure cooker bomb filled with nails and other sharp objects dipped in rat poison. The 20-year-old also sent out links to all five with instructions on how to make a bomb, as well as a map of where the Kansas City Stair Climb would be held.
"Have you decided what kind of attack you want to carry out on 9/11, akhi?" he told the informant in one conversation, according to the indictment. "We could make pipe bombs and detonate them at a large public event. ... It needs to be big."
Goldberg was taken into custody at his parents' home and appeared in court Thursday. His father, Frank, said he was "shocked" at the allegations.
"We have no information to give you," he then told First Coast News, refusing more comments. "I don't mind talking to you at a later time about what happened."
On Sept. 11, 2001, terrorists flew two planes into the World Trade Center in New York City, the Pentagon, and a Pennsylvania filed in Shanksville, destroying the Twin Towers and killing almost 3,000 people.