Former Evangelical Megachurch Leader Ulf Ekman Says Decision to Convert to Catholicism Caused 'Uproar'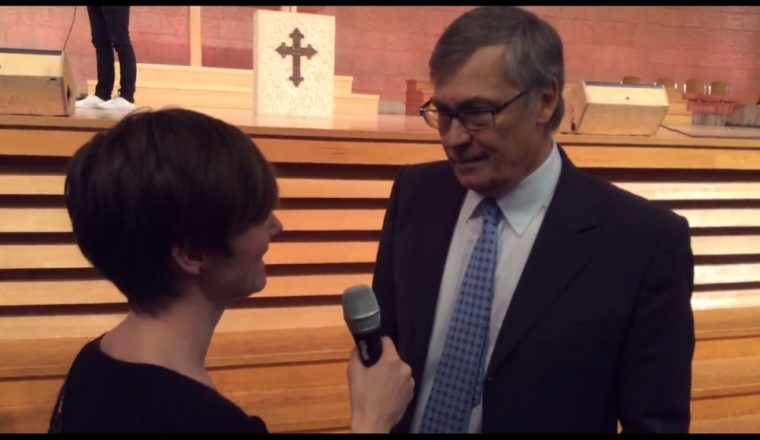 Former evangelical megachurch leader Ulf Ekman, who in March announced to his congregation at Word of Life in Sweden that he was leaving the Protestant ministry to join the Roman Catholic Church, recognized in a new article that the decision had caused an "uproar" among the faithful.
"It caused more than just a stir when I told the congregation of the Evangelical megachurch that I served as pastor since I founded it 30 years ago that my wife and I intended to become Catholics," Ekman begins in a lengthy article published online by The Catholic Herald on Wednesday.
"It caused a real uproar in my country of Sweden, which remains overwhelmingly Protestant. The period from that day, March 9, until May 21, when we were received into the Catholic Church, was marked by contention and debate. I have binders full of articles, comments and reactions that appeared in the traditional media and on the internet."
Ekman has written several explanations for the decision he made with his wife Birgitta, noting that he prayed long and hard and was influenced by "millions of charismatic Catholics" whom they saw living out their faith.
"Our conviction that we needed to become Catholics grew slowly, over a number of years, but the actual decision to take this step came rather late. Our question was: how should we communicate it? It could really not be done over a longer period of time, step by step," he wrote in the latest article, detailing the announcement in March.
"That would have caused great speculation and confusion, nationally and internationally in our great network of churches. Over the last couple of years our friends and co-workers realized that we were more and more attracted to Catholic theology, morals, liturgy and culture. Few of them, though, perceived that we would actually make the step and convert."
Ekman defended the way he made the announcement to the congregation, even though he noted that a number of them were left "stunned" by the news. He also praised the pastors at Word of Life, who were left to process the decision and its consequences.
"For us, truth was the very thing that mattered. We have always believed in the Word of God and that there is an absolute truth, revealed by God. Now, more and more, we had come to see that there is a concrete historic Church founded by Christ, and a treasure, a deposit of both objective and living faith. This attracted and drew us into the Catholic Church," Ekman said about his search.
"If we believed that the fullness of truth is embedded in and upheld by the Catholic Church, then we did not have any choice but to fully unite with this Church."
As for being officially received into the Catholic Church, the former megachurch pastor said that he and his wife "felt more than ready" and "anxious to leave no-man's-land."
"It felt like finally becoming who we really were. At last the longing for the participation in the sacramental grace came to an end," he continued.
In the article, Ekman also revealed how he and Birgitta have tried to explain the decision to their friends, and insisted that they have not rejected their background and ministerial experiences at Word of Life.
"We are forever thankful to the Lord, for all He has done. But we are immensely happy and grateful that we now understand that we really need the Catholic Church in our continued life and service to the Lord," he says.
The Swedish Evangelical Alliance has thanked Ekman for his important work, but also highlighted that "crucial dividing lines" between Catholics and Evangelicals remain.
"Ulf Ekman, despite all the controversies along the way, is undoubtedly the most dynamic and influential Christian leader we have had in Sweden during the past half century. His international significance goes far beyond what most Swedes understand; countless people around the world thank God for the ministry of Ulf Ekman," Stefan Gustavsson, general secretary of the Swedish Evangelical Alliance, stated in March as reported by IRD President Mark Tooley.
"In other matters, there are crucial dividing lines which can't be avoided," he added.
"This applies to the matter of salvation where we do not agree on the importance of justification by faith. The matter of authority where we do not agree on the relationship between Scripture and tradition and it also applies to the view of the Church where we do not agree that the body of Christ has a visible organizational structure led from Rome, to name some of the main issues."