Former Heroin Addict Recovering After Her Baby Gets Adopted by Police Officer
Police officer Ryan Holets first met former addict Crystal Champ while she was pregnant last year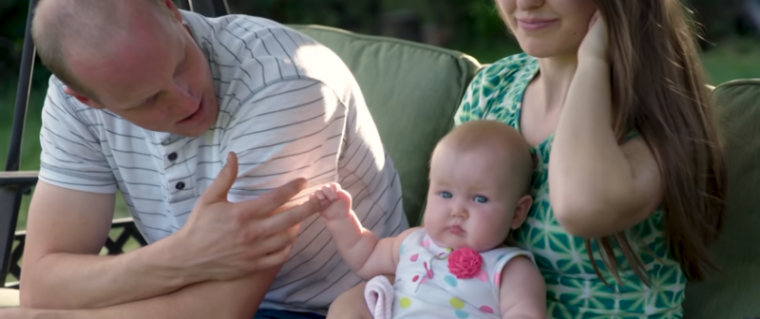 Crystal Champ and her previously unborn child were not in a good situation merely months ago, but a chance encounter with an Albuquerque police officer has changed their lives for the better.
Champ was behind a convenience store seemingly set to shoot up heroin together with a companion when Albuquerque police officer Ryan Holets walked over to them. She was pregnant at that time. The encounter led to numerous life-changing events — both for Champ and Holets.
Champ gave birth to a baby girl not long after the meeting and the baby was adopted by Ryan and his wife, Rebecca.
Holets, who already had four children, felt "led by God to take the chance." 
"God brought us all together," he said, according to CNN. "I really don't have any other way to explain it."
Rebecca told CNN that the baby, who they have named Hope, is now "very healthy" and "very strong."
As for Champ, she too has been doing well in the aftermath of her encounter with officer Holets.
The Florida treatment center Mending Fences took in Champ after seeing the initial report from CNN last year. Since then, Champ has spent most of her time receiving patient therapy and caring for injured horses at the center.
Champ has progressed remarkably at the center and has since graduated from the treatment program. She now uses her time helping others overcome the same demons she was dealing with not too long ago. She is also currently looking for work.
Champ is well aware of the progress she has made but she acknowledges that she is powerless over her addiction. But she maintains that she possesses no "burning desire" to return to the life she previously led.
She also calls the Holets couple her "guardian angels."
An emotional officer Holets told CNN that he and his wife have felt close to Champ "for a long time now" and that they celebrate every victory she claims.
The bond has grown deep between Champ and the Holets family, as they even consider each other family.
Holets is grateful for the things that have happened since he first met Champ. Holets admitted that he wished that something wonderful like this would happen and now that it has, they are looking to keep things going in the right direction.
The Holets family and Champ are still speaking regularly today and they are planning on meeting again sometime in the not too distant future.
Eventually, the couple plans to tell Hope about their story when she is old enough to understand.