Former 'Prince of the Mafia' Michael Franzese Headlines Evangelist Greg Laurie's SoCal Harvest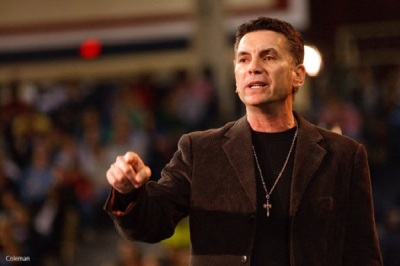 ANAHEIM, Calif. – Celebrating 25 consecutive years of evangelistic outreach by way of Southern California Harvest Crusades, the 2014 SoCal Harvest opens Friday night with Greg Laurie interviewing former mobster Michael Franzese.
The planned interview with Franzese is part of the three-night event through Sunday that includes performances by well-known worship music artists and Laurie's "trademark, straight-forward message of hope." Laurie's message on Friday is titled "The God Who Loves and Forgives."
Franzese, who has been described in the past by media as the "Prince of the Mafia," will share how he put his faith in Christ while serving time in federal prison, and how Laurie's radio program, "A New Beginning," helped him to build that faith.
The former mobster was once involved with the Colombo crime family and dubbed in the mid-1980s as one of the 50 most wealthy and powerful mafia bosses. At his peak, he was making $6 to $8 million a week. Then he ended up in prison.
GREG LAURIE RECENT INTERVIEW WITH MICHAEL FRANZESE VIDEO BELOW
While in prison, Franzese came to believe in Jesus.
"It's almost as if God was with me in that 6 by 8 cell," Franzese recalled in a recent interview with Laurie. "He said, 'You know, are your ways really pleasing to me or is this all a facade for you?'
"You know, you don't really lie to yourself when you are in that situation," he continued. "I had nothing but enemies that night. The government was against me. My father betrayed me. The boss of my [mob] family had a contract against me. I'm sitting in that cell and I'm alone. It's almost as if the Lord said, 'I know you have enemies, but you come with me and I can take care of that.'"
Franzese says that evening in the prison cell, as he was reading the Bible and feeling that he heard from God, put him on "the pathway to Jesus who is my hero and my idol in life now."
"During that time I spent 29 months and 7 days in 'The Hole,'" he said. "It was 24-7, 6 by 8 cell, [and it was just] me and God. During that time, all I did was read. I had books sent in and everything else.
"I want to tell you how I met Greg. I had a Sony Walkman, and I never heard of Greg, but I started listening to the radio and his broadcast came on and I've said this [before], from the time I got out of prison I wanted to meet him because that soothing voice, the way he interpreted Scripture, Greg brought me so much closer to the Lord during those three years … when I got out, I was blessed to meet him and we've become dear friends and he helped me so much in that jail cell, he didn't even know it. He had a big part in bringing me to the Lord."
SoCal Harvest will be broadcast live via the Internet at www.harvest.org and daily blog accounts of the crusade will also be made available. "Behind the scenes" updates about the Harvest outreach will be posted on Facebook (www.facebook.com/harvestcrusades), Instagram (harvest_org or search #HarvestSoCal) and Twitter (www.twitter.com/harvest_org).
Top Christian recording artists including Chris Tomlin, Skillet, NEEDTOBREATHE, for King & Country, Sidewalk Prophets, Phil Wickham, and Crystal Lewis (musicians vary by night) will perform.
Harvest organizers say, "With a trademark ability to present a clear gospel message in a culturally relevant format, drawing on the latest in current events, contemporary Christian music, and technology, Greg Laurie's Harvest events have been attended by more than 6.5 million people worldwide since 1990, both in-person at stadium and arena events and via live Internet broadcasts. Laurie also serves as senior pastor of one of the largest churches in America, Harvest Christian Fellowship which has campuses in Riverside and Irvine, California. He serves on the board of directors for the Billy Graham Evangelistic Association."