'Rejecting abortion doesn't mean rejecting those who've had abortions': Father Frank Pavone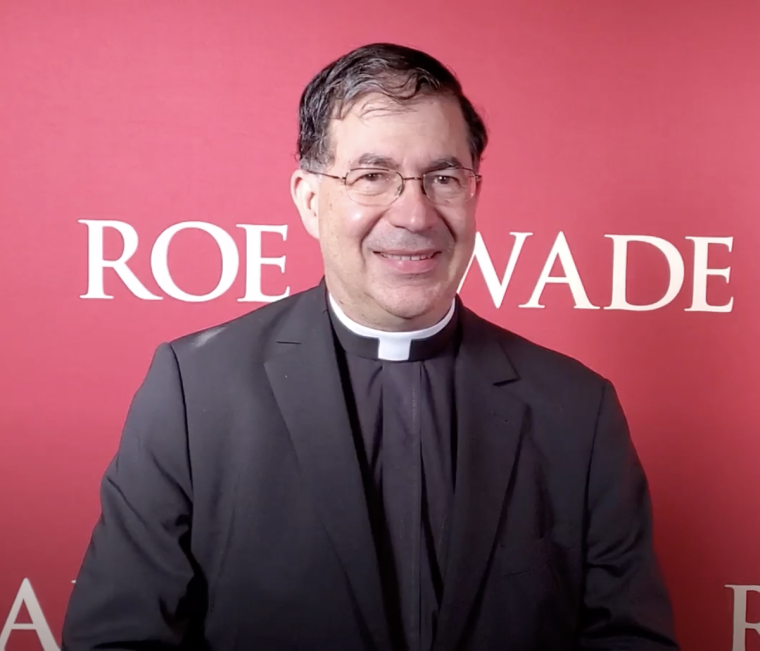 ORLANDO, Fla. — Father Frank Pavone, who was once named among the "Top 100 Catholics of the Century," served as a consultant for the new film "Roe v. Wade." While he aims to change the minds of those who are pro-choice, he said it's important for the Church not to reject those who've either had abortions or work in the abortion industry.
Pavone, who's also the national director of Priests for Life and president of the National Pro-Life Religious Council, attended the movie premiere of "Roe v. Wade" held at the annual Conservative Political Action Conference on Feb. 26.
While there, Pavone told The Christian Post that the pro-life film has a powerful message for such a time as this. 
The film is based on the lesser-known history of "what happened from 1966 through 1973" that led to the U.S. Supreme Court's decision declaring state laws banning abortion unconstitutional. 
"Roe v. Wade" will hit theaters on April 2 and features a star-studded cast, including Hollywood actors Jon Voight, Robert Davi, Corbin Bernsen, John Schneider, Stacey Dash and Nick Loeb.
"The message is very powerful," Pavone told CP. "First of all, understanding how decisions like this come about. We have to demystify the process. When people think about a Supreme Court decision, they think, 'Oh, there must be some big constitutional reasoning behind it.' [It's] very flimsy on the constitutional front, even those who support the outcome — namely illegal abortion — will admit that this is not the result of sophisticated constitutional reasoning." 
"Roe v. Wade" is told from the perspective of Dr. Bernard Nathanson, once considered the "abortion king" for reportedly performing over 70,000 abortions. He would eventually realize the human value of the unborn and walked away from performing abortions.
"There's another dynamic that comes across in the film, equally important," Pavone continued. "That is conversion. Dr. Bernard Nathanson, who was the driving force behind getting this case heard and passed, [he] converted!" 
"Through the science of the unborn child, he became pro-life. And then he had a faith conversion that came afterward, after he rejected abortion," Pavone added. "My mentor, Cardinal John O'Connor of New York, who ordained me to the priesthood, baptized Dr. Nathanson." 
It was in those early years that Pavone first met Nathanson while he was still an atheist. 
"I saw firsthand his conversion to faith in God and faith in Christ," Pavone testified to CP. 
The priest's advocacy for life has been so renowned that the Vatican asked him to help coordinate pro-life activities throughout the world as an official of the Pontifical Council for the Family. Following the Supreme Court's abortion decision in Roe v. Wade, Norma McCorvey, the "Jane Roe" of the case, reached out to Pavone and subsequently said that interaction was "the catalyst that brought me into the Catholic Church."
The Catechism No. 2271 of the Catholic Church states: "Since the first century the Church has affirmed the moral evil of every procured abortion. This teaching has not changed and remains unchangeable. Direct abortion, that is to say, abortion willed either as an end or a means, is gravely contrary to the moral law." 
Pavone assured that Catechism No. 2271 remains.
"The Church can never change her position on abortion any more than she can change her position on shooting someone in the street or terrorism. It's human life; you can never take an innocent human life," Pavone stressed. "However, he insisted that the Church should also be a support to those who have made that fateful decision."
"The welcoming part ... our ministry, for example, Priests for Life, we run the largest effort in the world to welcome people back to forgiveness after they have had abortions. We even work with ex-abortionists like Bernard Nathanson, who's featured in this film. Of course, while he was still alive, we accompanied him on his journey." 
The man of the cloth said he also helped former Planned Parenthood clinic director Abby Johnson after she walked away from that career and became a vocal pro-life advocate. 
"This is one of the key lessons that can come from this film: Rejecting abortion does not mean rejecting those who have abortions. It does not mean rejecting those who support abortion," he declared. 
Pavone concluded the interview by emphasizing, "We all have to welcome each other; we've got to treat each other right." 
"We who proclaim pro-life also proclaim [that] even the lives of those who disagree with us are precious and valuable, and we respect them. We want to change their minds, but we respect them as people," he added. 
As previously reported by CP, "Roe v. Wade," a Nick Loeb-directed film, encountered several obstacles in the process of filming, including Facebook banning their ads and losing cast members who opposed the film's mission.
The feature film tells "the untold story of how people lied, how the media lied, and how the courts were manipulated" to legalize abortion nationwide, which has led to the killing of more than 60 million Americans, Loeb previously said in an interview with Fox News host Tucker Carlson.
Despite many setbacks, the film will be in theaters nationwide on April 2.