Franklin Graham: 3 Things to Do When God Calls on You to Carry Out His Will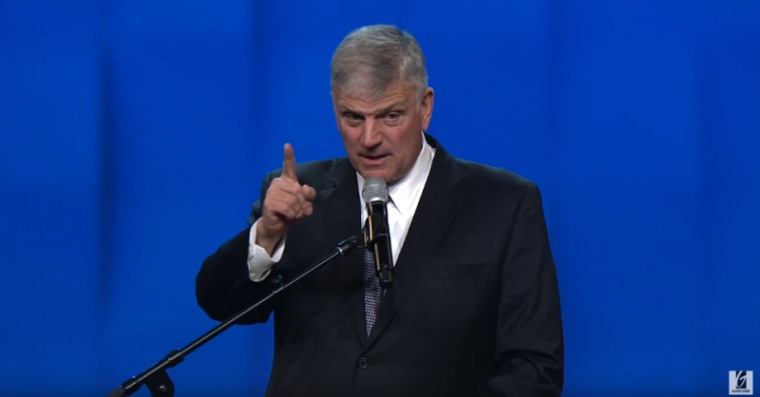 The Rev. Franklin Graham says when God calls a believer to carry out His will, they should consider the cost, offer no excuses, and be obedient.
During a sermon at Gateway Church in Southlake, Texas, on Sunday, the Samaritan's Purse president addressed the concerns of many believers who struggle with God's calling on their lives, whether it be that they feel they are too young, too old, or not prepared.
Graham went into detail about how Christians should follow Christ in the sermon at the church's First Conference, using the acronym C-E-O.
Cost 
Graham said that in order to follow Christ, believers must be so focused on Him and so devoted that they forsake all others, even themselves. He explained that Christians must consider the cost of following Christ, and be willing to carry their own cross (Luke 14:25).
"I believe that what Jesus is saying [is] if you're going to follow me, you have to give me all of it," says Graham. "I come first, I don't come second. I come first. Your love for Me has to be greater than that of your wife, your mom, your dad, your family, all of your relatives — everything else in this world. Your love for me has to be number one."
Excuses 
Graham, who is also the president of the Billy Graham Evangelistic Association, then shared a story from the Gospel of Luke that revealed the responses people gave when Jesus called on them to follow Him. When Christ was walking along a road one day, he told a man to follow Him. The man, however, said that he first had to bury his father. Another man told Jesus that he would follow Him, but he first had to bid farewell to his family.
Jesus replied, "No one who puts his hand to the plough and looks back is fit for service in the Kingdom of God (Luke 9:57)."
Graham explained that when Jesus passed through towns, he was usually followed by large crowds.
But the man who went back to say goodbye to his family never returned and may have been sidetracked by other matters. Graham said that Christ doesn't want excuses, but souls willing to follow Him.
Obedience 
To emphasize the obedience Christians must have in their daily walk with Christ, Graham recounted the story of when Simon the fisherman and his crew had been unable to catch any fish from the Sea of Galilee. Jesus told Simon to go out into the deep and cast his nets once again. Simon said that they had fished all night, and that there was no use. Simon, however, obeyed because Christ had given him instructions (Luke 5:1).
"Obedience. God wants obedience," said Graham, who explained that Simon cast his nets once again and when the men pulled their nets they were overflowing with fish, so much so that they had to get another boat to help them collect their bounty. Both boats became so laden with fish that they nearly began to sink.
Even more than the overflowing blessing, Jesus gave Simon and the others an invitation to become "fishers of men." Graham added. "They pulled their boats up on the shore and left everything and followed the Lord Jesus."