Franklin Graham Applauds Pro-Life Women's March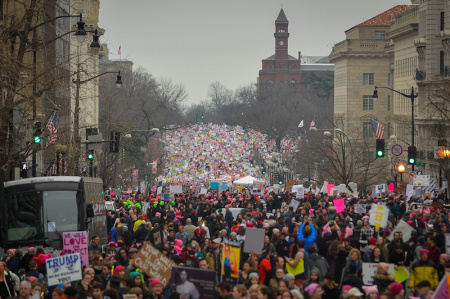 Mainstream media covered women's marches, which became a pro-abortion platform, across the country Saturday, but most of the media failed to cover women who marched for the right to life, says evangelist Franklin Graham, expressing his gratitude to them for taking a stand despite being ridiculed.
Reports indicate that anywhere from half a million to more than a million people turned out for the demonstrations, backed by pro-abortion groups like Planned Parenthood, that were held to protest President Donald Trump and raise issues related to "women's rights." "But one thing most of the media left out was that there were many women marching for the right to life—Good for them!" wrote Graham in a Facebook post.
"I'm grateful they took a stand, even though they were ridiculed. They were standing up for lives that have no voice—the unborn," said Graham, president of Samaritan's Purse and the Billy Graham Evangelistic Association.
Graham referred to the march by Students for Life of America, which sought to show that "pre-born women's rights are human rights."
"It was a brutal day," Kristina Hernandez, the group's director of communications, told USA Today. "One of our girls was spit at, someone tore my sign in multiple pieces, we had people just yell at us but the main response was people just said 'my body my choice' when they walked past us," Reagan Barklage, the Western regional director for the group, was quoted as saying.
"Abortion is a tragedy and a sin against God," Graham commented. "Every life matters and is precious in the eyes of God who created us in His image. Throughout Scripture, God declares the value of human life—from children in the womb to the elderly. 'Before I formed you in the womb I knew you, before you were born I set you apart' (Jeremiah 1:5). I hope our nation can begin to realize this value once again and better protect the unborn. Don't you?"
A few other Christians have also responded to the women's marches.
On the day of the marches, Jessa Duggar's husband, Ben Seewald, tweeted John Piper's latest blogpost, "We Know They Are Killing Children — All of Us Know."
"The point of this article is that, when it comes to abortion, we know what we are doing — all America knows. We are killing children. Pro-choice and Pro-life people both know this," Piper writes.
According to U.S.News, the organizers of the marches blocked pro-life groups from participating. Texas-based New Wave Feminists, a group of pro-life women who oppose Trump's election, was removed from the event list due to outrage over its pro-life views.
The Christian Post also reported that various groups of Christians were shouted down, spat on and had water thrown on them by participants of the Women's March on Washington.
Along Pennsylvania Avenue, a group of over 10 street preachers from various states branched off into two different huddles — each with a megaphone and signs warning that "hell awaits" those who sin and calling for people to repent. Kerrigan Skelly, a street evangelist from Kentucky, said he was spit on while speaking over the megaphone. 
Another group of Christian street preachers from the D.C. area, who warned against the sin of abortion and were stationed near the intersection of Constitution Avenue and 15th Street, also faced backlash.