Franklin Graham 'Hurt and Stunned' That Canada's Justin Trudeau Awarded Former Al-Qaeda Member $8M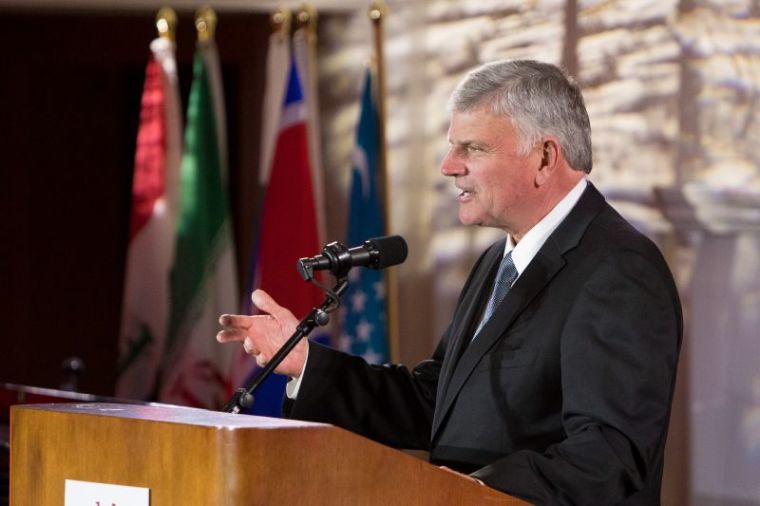 The Rev. Franklin Graham said he was shocked, hurt and stunned that Canadian Prime Minister Justin Trudeau's government awarded $8 million in damages to a former al-Qaeda member who pleaded guilty to killing a U.S. soldier.
"We have many friends in Canada and love the Canadian people. They are our neighbors and have been our closest allies. As an American, I am shocked and hurt by the action Prime Minister Justin Trudeau has taken to award millions of dollars to someone who was a member of al-Qaida and killed an American soldier and blinded another," Graham wrote in a Facebook post on Tuesday.
"I'm stunned, as I think a lot of others are as well. Why would Prime Minister Trudeau do such a thing? Does this disturb you like it disturbs me?" he asked supporters.
As Fox News reported on Monday, the Canadian-born Omar Khadr, a former Guantanamo prisoner, filed a lawsuit alleging civil rights violations against Trudeau's government.
Khadr was 15 years old in 2002 when he tossed a grenade and killed U.S. Army Sgt. 1st Class Christopher Speer, a special forces medic, and blinded Layne Morris, now a retired soldier.
Khadr, who says that he was tortured at Gitmo, sued Canada for $16 million in 2015 after he was released on bail. Canada agreed to pay half of that sum.
The convict pleaded guilty to murder, but later argued that he was coerced into making the plea.
Morris told Fox News that "it was just crazy that you would give someone like that $8 million because his feelings got hurt. I know he spent time in Guantanamo. That was due to his own actions."
Morris and Speer's widow, Tabitha, won in 2015 a $134 million wrongful-death default judgment against Khadr.
They also requested an order freezing Khadr's assets, but a Canadian judge threw out the request last week.
Peter Kent, conservative member of the Canadian Parliament, wrote in The Wall Street Journal that the payout for Khadir is "an affront to the memory of Christopher Speer, to Tabitha Speer and her children, to Layne Morris, to our U.S. allies and to all men and women in uniform."
"Mr. Trudeau made Omar Khadr a millionaire, and he didn't have to," Kent added.
Responding to the controversy, Trudeau told reporters at a news conference:
"I can understand Canadians' concerns about the settlement. In fact, I share those concerns about the money; that's why we settled. If we had continued to fight this, not only would we have inevitably lost, but estimates range from $30 to $40 million that it would have ended up costing the government."
The Canadian PM stated that "we all end up paying" when the governments fail to respect the rights of its people.
"The measure of a just society is not whether we stand up for people's rights when it's easy or popular to do so, it's whether we recognize rights when it's difficult, when it's unpopular," he said.