Franklin Graham Praises NC Gov. for Standing Up to Obama's 'Bullying and Intimidation' on Bathroom Law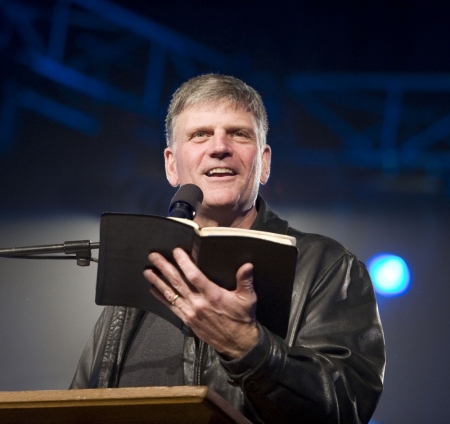 Leading evangelist and North Carolina resident Franklin Graham is thanking the state's governor and lawmakers for standing strong in defence of the state's recently passed transgender bathroom law even though the state could lose millions in federal funding.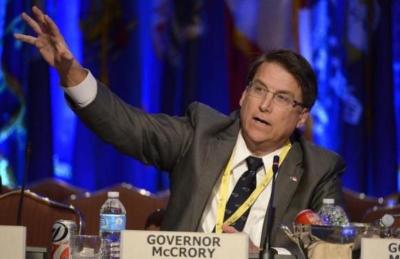 The Department of Justice sent an ultimatum last week to North Carolina Gov. Pat McCrory and other state officials arguing that the state's new bathroom law violates Title VII of the Civil Rights Act of 1964.
The department threatened legal action if the state government did not meet its Monday deadline to indicate that it is not enforcing its new bathroom law, which prohibits transgender individuals from using state-run bathrooms designated for the opposite biological sex, and allows businesses to establish their own transgender bathroom policies without coercion from local governments.
McCrory's office filed a lawsuit Monday against the federal government, asking a federal court to rule whether or not the Obama administration's interpretation that gender identity is protected under Title VII is consistent with the actual wording of the law. The Department of Justice filed a counter-suit on Monday against the state of North Carolina.
As it has been reported that North Carolina risks losing millions of dollars in federal education funding if it does not back down, Graham, the president of the Charlotte-based Billy Graham Evangelistic Association and president of Samaritan's Purse, took to Facebook to praise state officials for not backing down from federal "bullying."
"I'm thankful to North Carolina Gov. Pat McCrory & other state legislators for standing up to the bullying and intimidation of the Obama Administration over HB2, NC's bathroom bill," Graham wrote. "Our president and his appointees aren't supposed to be making laws and bypassing Congress. That's dangerous."
Graham also furthered an argument made by North Carolina's Lt. Gov. Dan Forest, who stated that the Obama administration is "obviously more concerned with its radical, leftist agenda than with the safety and security of our women and children."
"I agree with NC Lt. Governor Dan Forest," Graham added. "This is far reaching — it impacts every state and every family in our nation, not just North Carolina. Let's pray for Gov. McCrory and all those fighting this battle for what is right."
Graham has been a vocal advocate for the state's law, which came in response to a non-discrimination ordinance passed in the city of Charlotte earlier this year, which requires Charlotte businesses and other places of public accommodation to open women's restrooms in their facilities to any man that claims to be a transgender person and vice versa.
"This actually really started in Houston, Texas, with a referendum on a local ordinance in Houston, which was a mandate on all private sector bathrooms brought up by the Left, the Democrats, that was defeated by 61 percent of the vote about six months ago," McCrory said in an interview with CNN earlier this week. "Then it came to Charlotte, North Carolina — an ordinance which was passed, a bathroom bill by Democrats on all private sector employees in Charlotte and all we did was overturn that."
"It is now the Obama administration that is demanding that they have bathroom policies, not just in North Carolina but now gender-identity bathrooms for every private sector company in the United States of America with over 15 employees," McCrory added.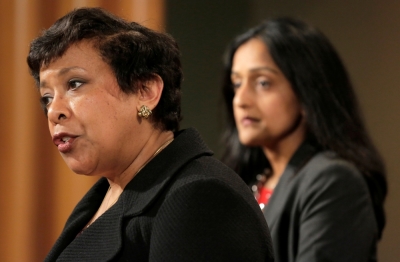 Earlier this week, U.S. Attorney General Loretta Lynch called the North Carolina law "state sanctioned discrimination" and likened the bathroom law to Jim Crow laws that enforced racial segregation before 1965.
McCrory said that Lynch's argument is nothing more than an "insult" and a "political statement" that has "no relevance to this issue."
"It's an insult toward our state and 10 million people that has no relevance to this issue regarding whether a gender-identity person or a boy can go into a girls' restroom," McCrory told CNN. "To correlate that to the civil rights marches in the 50's and 60's is totally irresponsible of our chief legal officer of the United States of America."
In fighting its legal battle against the Justice Department, the state will not have the services of North Carolina Attorney General Roy Cooper, who has asserted that he will not defend the bathroom law in court.
"The governor is pouring gas on the fire that he lit by putting billions of dollars in education funding on the line," Cooper, McCrory's Democratic challenger in the 2016 gubernatorial election, said in a recent video statement. "Instead of doing what is right for our state, he is doubling down on what he knows he did wrong."