Franklin Graham on Hurricane Matthew: We Don't Run Away From Disasters, We Run to Them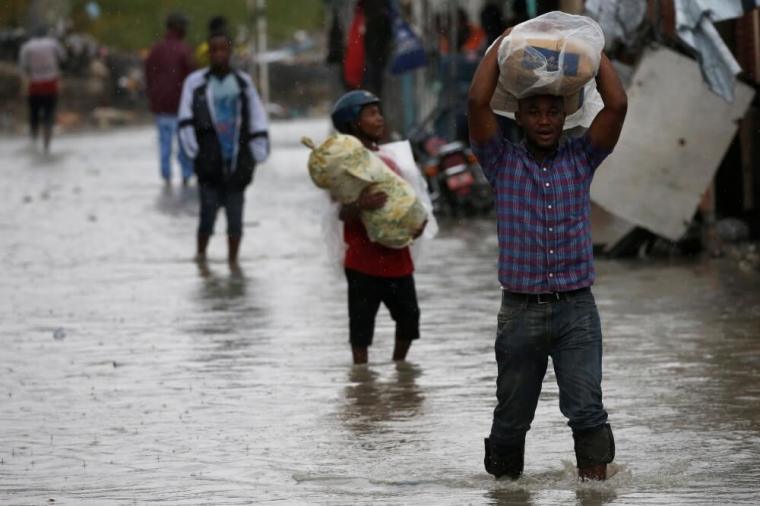 Hurricane Matthew, currently moving along the East Coast of the southeastern United States, has killed nearly 900 people in Haiti and at least four in Florida, apart from causing flooding, evacuations and destruction of homes. Christians relief agencies, along with local churches, are responding to the humanitarian crisis by sending supplies to and planning rebuilding efforts in affected areas.
Samaritan's Purse, headed by evangelist Franklin Graham, has sent 20 metric tons of relief supplies for the people of Haiti in its DC-8 aircraft, which took off Thursday, and is now preparing to send more next week.
Reuters reported Friday that the number of deaths in Haiti had jumped to at least 877 as the storm smashed through that country's western peninsula Tuesday with 145 mph winds and torrential rain.
"At Samaritan's Purse we don't run from disasters – but we run to them," Graham wrote in a Facebook post. "We go to help people in Jesus' Name… Lives have been lost – we need to pray for those hardest hit and all who are still in the path of this dangerous storm."
Virginia-based World Hope International described the situation in Haiti as "the worst humanitarian crisis to impact the country since 2010's devastating earthquake."
The group said it will be delivering 1,000 water filters and 2,520 hygiene kits to the most affected areas of Haiti as early as next week.
WHI describes itself as "a Christian relief and development organization working with vulnerable and exploited communities to alleviate poverty, suffering and injustice."
"Les Brink of Brink Trucking Lines has donated his services to ship the filters and hygiene kits to the staging point where our nonprofit partner Airlink will airlift the shipment to Haiti," the group said in a statement. "We expect supplies to land in the later part of next week and distribution to begin shortly thereafter. The distribution will take place through partnering Wesleyan churches in Haiti's Southern Peninsula, where the hurricane hit the hardest."
Maryland-based World Relief said in a statement that "Haiti needs aid now."
"We're gonna be dealing with a lot of problems for the next several months," said Joseph Bataille, Haiti Country Director for World Relief, adding that the group will empower the local church to take up the challenge of rebuilding.
World Relief "stands with the vulnerable, partnering with local churches to end the cycle of suffering, transforming lives and building sustainable communities," the group says on its website.
"Because of our longstanding relationship with church leaders in Haiti, there's a built-in system to deliver that aid," the group said. "Together, we can help the local leaders in Haiti lead their own relief efforts."
Pastor Paula White's New Destiny Christian Center said it delivered about 15,000 pounds of food to the community free of charge on their church property in Apopka, Florida days before the hurricane hit the state's coast.
Those who needed it received food that would supply a family of four for a week, the megachurch said in a statement. Enough was available to serve everyone who came, and more than 326 families were served, reaching 1,428 individuals.
"Most of all, our hearts are broken for those who have already found themselves in the path of this powerful hurricane, and we will continue to pray for protection for those still in its path," White said. "I'm so thankful that New Destiny is just one of the many churches across the beautiful state of Florida that have a history of stepping up and offering help when families need it most. We don't know what's going to happen, but we do know that we will be here for our community in its time of need."