Alabama Chief Justice Roy Moore Suspended for Rest of Term for Defying Gay Marriage Court Ruling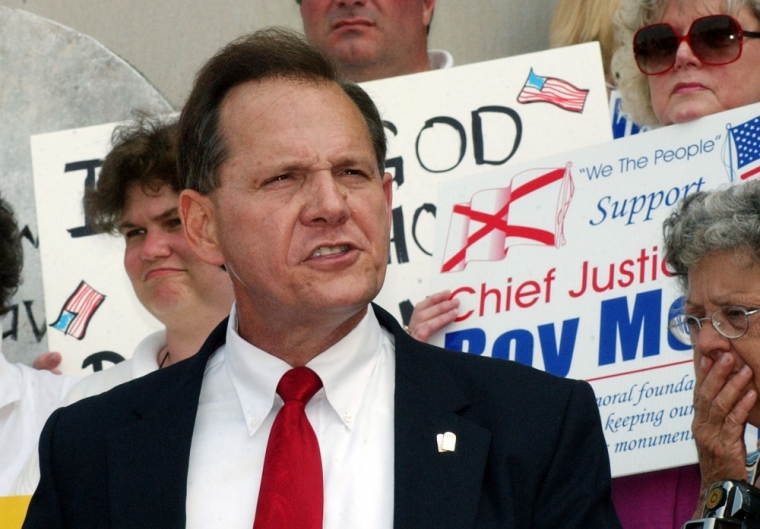 UPDATE: 12 PM, SEPT. 30: Alabama Supreme Court Chief Justice Roy Moore has been suspended from serving the rest of his term for refusing to allow probate judges to issue marriage licenses to same-sex couples, a judicial commission ruled on Friday.
As the judicial commission is set to rule on a case against Alabama Supreme Court Chief Justice Roy Moore, who was suspended in May for refusing to allow probate judges to issue licenses to same-sex couples, evangelist Franklin Graham is urging Christians to pray for the judge who "stands up for what is right."
"I have met Alabama Chief Justice Roy Moore, and I appreciate that he is a man who will stand up for what is right," writes Graham, president of Samaritan's Purse and Billy Graham Evangelistic Association, in a Facebook post, as the judicial commission is scheduled to rule on Judge Moore's case by the end of next week.
"If he is unanimously found liable, he could be removed from the state Supreme Court," Graham adds, urging his 4.5 million followers to join him "in praying for Judge Moore, and share your encouragement with him in the comments …"
The post has received about 13,000 shares and nearly 9,500 people have written comments with encouraging words for Judge Moore, who was accused of ordering Alabama probate judges to "defy" a federal injunction in "violation of his ethical duties" as the state's top judge.
"Amen! Stand up for what is right not what is popular!" reads one comment. "Thank you so much for doing the right thing concerning same-sex marriage. I admire you greatly for standing your ground. I know that you pleased the Lord and I pray that He will bless you and your family," wrote another follower.
The Southern Poverty Law Center filed an ethics complaint with the judicial commission after the judge in January prevented state probate judges from providing same-sex marriage licenses on the basis that the U.S. Supreme Court's Obergefell v. Hodges decision in June 2015 only explicitly overturned same-sex marriage bans in the handful of states whose bans were challenged in the case and Alabama was not one of them, according to The Huffington Post.
Travis S. Weber, director of the Center for Religious Liberty at the Washington, DC-based Family Research Council, told The Christian Post earlier that while the Supreme Court decision is clear, Alabama's high court had not contemplated the full impact of the decision on all pending orders.
"Chief Justice Moore has merely pointed out this lack of clarity, and noted that until the state's high court rules with finality, the administrative order to probate judges from last March remains in effect," Weber said. "What the Chief Justice has done is defend and represent the actual state of the law — his opponents just don't like the policy implications of his legal arguments."