Franklin Graham Reveals What's Written on Billy Graham's Grave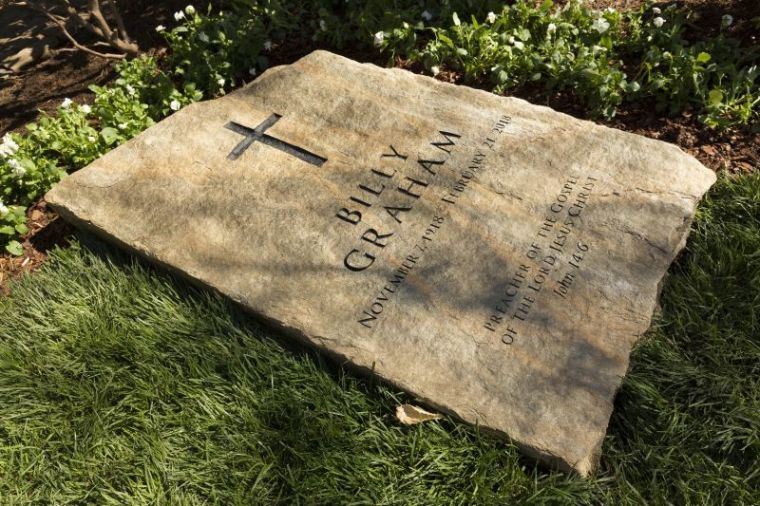 Franklin Graham, the eldest son of the Rev. Billy Graham, who died last month at the age of 99, shared with his followers on social media what's written on the "simple" marker on his father's grave.
On Twitter, Graham wrote that his father "was laid to rest on the grounds of @TheBGLibrary" beside his wife, Ruth, and the etching on the marker reads:
Billy Graham
Preacher of the Gospel of the Lord Jesus Christ
John 14:6
The verse reads, "Jesus answered, 'I am the way and the truth and the life. No one comes to the Father except through me.'"
In another tweet, Graham wrote that his father has said, "I'm prepared to die, in fact I'm looking forward to it—And when you're prepared to die, you're also prepared to live."
Earlier, he explained on the Today show the reason behind the epitaph: "When my mother passed away, we knew what she wanted on her tombstone. So I asked father so there wouldn't be any argument among us children. 'Daddy, what do you want on your tombstone?' And he thought about that. He said 'preacher.'
"He spent his life telling people about Heaven, how to get to Heaven. He wrote books on Heaven. Now he's in Heaven and he would want me to tell everybody watching that if you put your faith and trust in God's son, Jesus Christ, that you can be in Heaven too."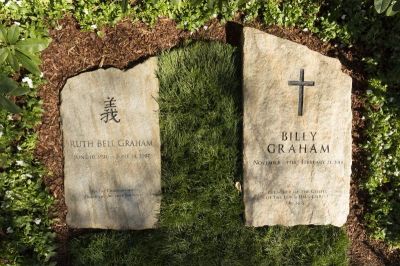 Paying tribute, country music singer-songwriter Mallory Hope quoted Billy Graham as once saying, "I am not going to Heaven because I have preached to great crowds or read the Bible many times. I'm going to Heaven just like the thief on the cross who said in that last moment: 'Lord, remember me.'"
Meanwhile, more than 62,000 people have signed an online petition calling for a national holiday to honor the evangelist, who, according to the Billy Graham Evangelistic Association, preached the Gospel live to nearly 215 million people in more than 185 countries and territories, and hundreds of millions of more people through television, video, film and webcasts.
"Mr. Graham's counsel was sought by presidents, and his appeal in both the secular and religious arenas is evidenced by the wide range of groups that have honored him, including numerous honorary doctorates from many institutions in the U.S. and abroad," reads the petition, titled "Lets get a National Holiday for Billy Graham!!"
Billy Graham, a Southern Baptist, passed away peacefully at his North Carolina home after struggling with various health problems linked to his advanced age.
At the funeral of her father in Charlotte, North Carolina, on Friday, Billy Graham's daughter, Anne Graham Lotz, urged the Church, the world, and herself to "wake up!" as she joined her siblings and some 2,000 others.
"I believe, from Heaven's perspective, that my father's death is as significant as his life. And his life was very significant. But I think when he died, that was something very strategic from Heaven's point of view," Lotz said about her father's passing.
"My father also is a great liberator. He brought millions of people out of bondage to sin and it gets us to the edge of Heaven, edge of the Promised Land, and then God has called him home. And could it be that God is going to bring Joshua to lead us into the Promised Land to lead us to Heaven?" Lotz mused.