From Arrest to Release to Rearrest: Meriam Ibrahim Timeline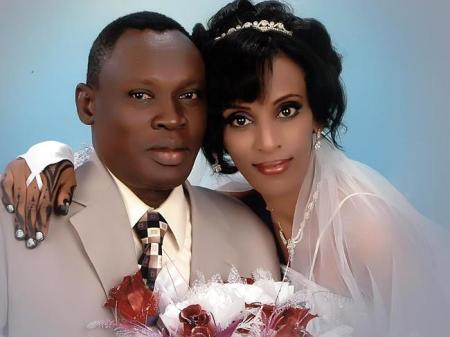 1987: Ibrahim is born in western Sudan to an Ethiopian Orthodox mother and a Muslim Sudanese father.
1993: Ibrahim's father disappears when she is 6-years-old and her mother consequently raises her as a Christian.
2011: Sudan separates into the Republic of Sudan and South Sudan in 2011, a split which enables many Christians to flee to the newly formed country in hopes of escaping persecution. However, those who remain in Sudan are now subject to harsher rules, with reports that governing authorities are applying Sharia law to non-Muslims, who are supposed to be exempt.
2011: Ibrahim, now a doctor, marries Wani after they meet after the American visits Khartoum from the United States. Her mother dies earlier that year.
August 2013: A self-identified relative of Ibrahim opens a case with Halat Kuku Court of Khartoum North alleging that her marriage to Wani, a Christian, constitutes adultery. Wani is accused of converting a Muslim, leading Ibrahim to also be accused of adultery.
February 17, 2014: Ibrahim is transferred to the Omdurman Federal Women's Prison with her 20-month-old son Martin and separated from her husband.
March 4: Sudan's Public Order Court in El Haj Yousif in Khartoum North charges Ibrahim with apostasy and adultery. According to Morning Star News, no one has been executed for apostasy in Sudan since the Sudan Criminal Code of 1991 made it punishable by the death penalty.
April 30: Ibrahim is convicted of all charges and is given 15 days to recant her beliefs.
May 11: On Mother's Day in the United States, Ibrahin, a 27-year-old mother of one who is pregnant with her second child, is sentenced by the El Haj Yousif Public Order Court in Khartoum, Sudan, to 100 lashes and death by hanging.
May 15:  According to Morning Star News, a "Muslim scholar went to Ibrahim – as has happened repeatedly since her incarceration without trial in February – and spent nearly 40 minutes trying to force her to recant."
"I am a Christian, and I have never been a Muslim," she told Al Khalifa in court.
May 21: Sens. Marco Rubio (R-FL), Jim Inhofe (R-OK), Chris Coons (D-DE), and Bob Menendez, (D-NJ) introduce a resolution that condemns the sentence and encourages Sudan to respect religious rights if it wishes the U.S. to "normalize relations or lift economic sanctions."
May 27: Ibrahim gives birth to a baby girl, Maya, in prison. According to her husband, Ibrahim's legs were kept in chains while she was in labor.
May 31: Abdullahi Alzareg, an under-secretary at the foreign ministry, reports that Ibrahim will be freed. That same day, Ibrahim's lawyer, Elshareef Ali Elshareef Mohammed, dismisses reports that his client will be released as "absurd," as her family has not been told there is any chance for her release.
June 8: Wadi announces that a Sudanese appeals court has started deliberating on Ibrahim's case.
June 12: A group of demonstrators including U.S. Congressman Trent Franks of Arizona and U.S. Senator Ted Cruz of Texas, and representing over 40 different organizations, gather outside the White House to demand Ibrahim be freed.
June 19: Thirty-eight members of the U.S. Congress wrote an open letter on Thursday to Secretary of State John Kerry, asking him to use "every legal means" necessary to rescue Christian mother Meriam Ibrahim and her two young children currently being held inside a Sudanese prison.
June 23: Ibrahim is released from prison according to her lawyer, Mohaned Mustafa El-Nour, who confirms that she will be reuniting with her husband, after the appeals court found the lower court's ruling faulty.
June 24:  Less than 24 hours after Ibrahim's lawyer, Mohaned Mustafa El-Nour, confirmed that she was free after an appeals court found the lower court's ruling faulty, he reports that Ibrahim and her husband were arrested at a Sudanese airport as they sought to leave the country with their two children. The family was detained by as many as 40 security agents.