'Game of Thrones' Actor on 'Particular Effect' He Hopes 'Paul, Apostle of Christ' Has on Nonbelievers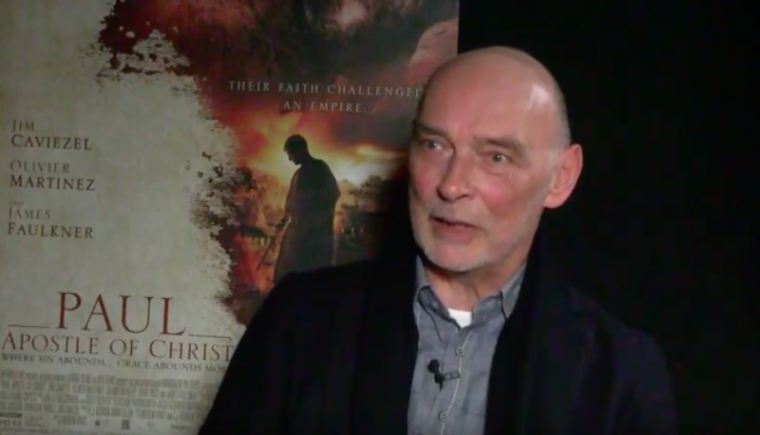 DALLAS — Hollywood actor James Faulkner said he hopes "Paul, Apostle of Christ" will be seen not only by Christians, but by nonbelievers who, like the Apostle Paul, may have their eyes opened to the truth of the Gospel.
"I would like if this film would be seen by a secular audience as much as it's seen by a Christian audience," Faulkner told The Christian Post in an exclusive interview. "This is a film for all mankind. This is a film ... about humanity and belief and what it is to be a good person, and that's what we want to see."
"Be more generous to your fellow human being," he added. "It's all here, it's all in this film. And, as you know, [that message] has a particular effect on the nonbeliever, who normally would revile and persecute Christians just as much as Saul did before ... he becomes Paul."
The 69-year-old actor, best known for his work on "Downton Abbey" and "Game of Thrones," stars alongside Jim Caviezel as St. Paul in the Affirm Films movie, which hit theaters just ahead of Easter Sunday.
The film sees Paul held captive in a Roman prison by orders of the Roman Emperor Nero, who is determined to stamp out Christianity. Seeking guidance, Luke (Caviezel) risks his life to visit Paul and begins to write another text containing an account of the famed apostle's life and ministry. Filmed in Malta, the film also includes a series of flashbacks of Paul's famous conversion, from tormentor of Christians to a believer, while on the road to Damascus.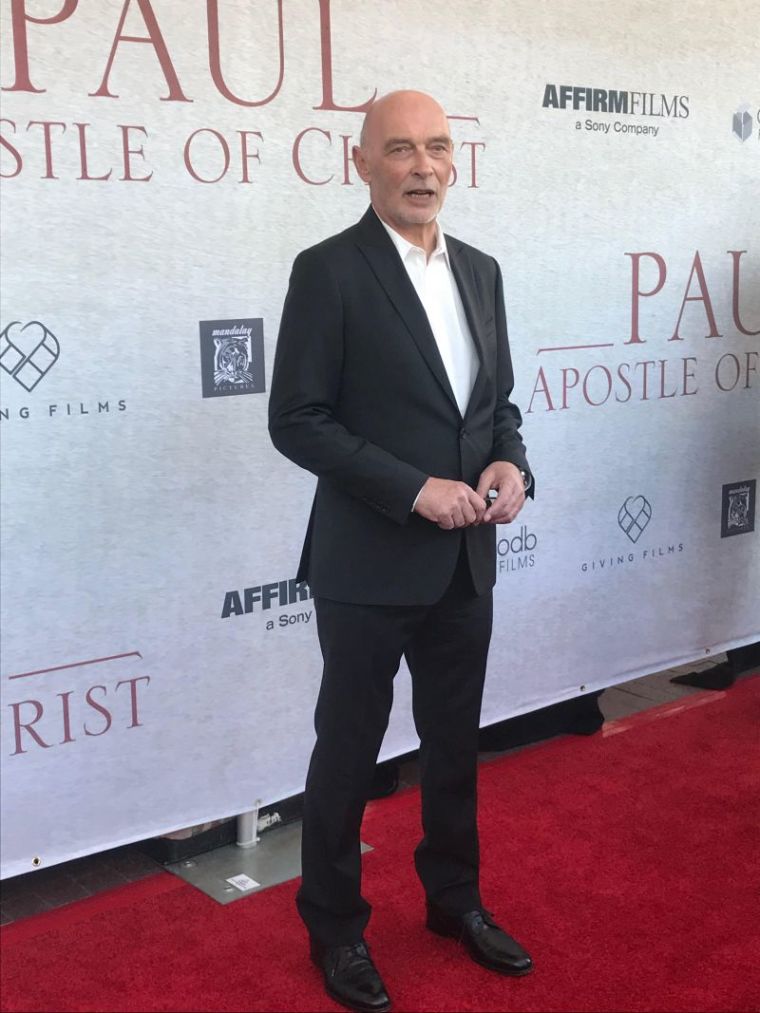 For the role of Paul, Faulkner memorized a series of Scripture verses — something he said had a tremendous impact on his spiritual life.
"You cannot not be impacted by taking those lines in and making them fresh again, making them your own lines," he said. "Paul was speaking them for the first time, and he says, with a wry smile sometimes, at the end of a particularly important passage, 'Write it down' to Luke, and Luke does write it down. Those stories, those speeches, those thoughts, become the Acts of the apostles in the greater part of the New Testament."
Showing Paul's strength in the face of countless floggings, starvation, stoning, hunger, thirst, and ultimately death, Faulkner said, wasn't an easy feat.
"It's not as if you're playing a Marvel superhero or coming out in rubber armor with nicely molded pectoral muscles and suit, you know, I'm filthy dirty," he said of his character. "So, the strength has to express itself in a different way, I guess. It's about the strength of his spirit, the strength of his soul. And I can't tell you how I did that. I don't know. But I trusted it to the director, to the script, to the director of photography, and to God to get me through it."
While set thousands of years ago, Faulkner said the film is relevant to a modern culture as it not only draws attention to the plight of Christians persecuted around the world, but urges unity in an increasingly divided society.
"In 2018, we're still persecuting people for what they think; you can be decimated, you can be judged, tried, condemned in seconds on social media," he said. "Enough of this, enough of this. If you want to talk to someone on social media, tell them how good of a person they are."
The early Christians, Faulkner said, are evidence that God can use even the most unlikely individuals to spread the Gospel.
"Amazing how [the Gospel] got out, isn't it? Just extraordinary," he said, adding that "Paul, Apostle of Christ" is a film "for all of us."
"It reminds all of us that we can live a better life, that we can be kinder to our fellow human beings, that we can express more love in our daily life and to each other and not criticize and ridicule people for their own particular set of beliefs," he said. "It's a very good moment to reaffirm the core beliefs of humanity when they are forgotten by so many in this world."
"Paul, Apostle of Christ" is directed by Andrew Hyatt ("Full of Grace") from his own screenplay. The producers are David Zelon ("Soul Surfer") and T.J. Berden ("Full of Grace"). For more information, visit the film's website.