Gay PayPal Co-Founder Peter Thiel at GOP Convention: 'Fake Culture Wars' Are Distracting America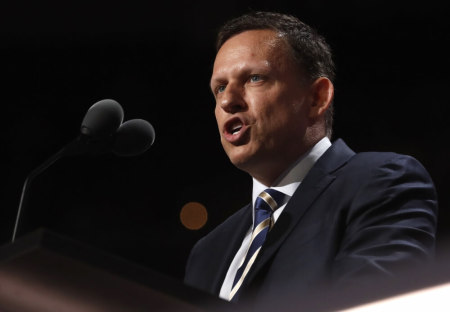 Speaking at the Republican National Convention Thursday night, Paypal co-founder and German-American venture capitalist Peter Thiel drew criticism from both sides of the political spectrum for suggesting that social issues like transgender bathrooms are distracting the country.
Thiel, who is also one of the first investors in Facebook, an influential voice in Silicon Valley and a gay Republican, took the stage on the convention's final night to address a Republican Party that is struggling to unite around its presidential nominee.
Thiel addressed the decline in the nation, saying that a government that once was the first to put a man on the moon is still relying on floppy disks, has software systems that don't work and acquires fighter jets that "can't even fly in the rain."
"That is a staggering decline for the country that completed the Manhattan Project. We don't accept such incompetence in Silicon Valley, and we must not accept it from our government," Thiel asserted. "Instead of going to Mars, we have invaded the Middle East. We don't need to see Hillary Clinton's deleted emails: her incompetence is in plain sight. She pushed for a war in Libya, and today it's a training ground for ISIS. On this most important issue, Donald Trump is right. It's time to end the era of stupid wars and rebuild our country."
Thiel shifted to a more contentious note when he said that too much emphasis is being put on social issues rather than focusing on issues he considers more important, like the economy or national security.
"When I was a kid, the great debate was about how to defeat the Soviet Union. And we won. Now we are told that the great debate is about who gets to use which bathroom," he said. "This is a distraction from our real problems. Who cares?"
"Of course, every American has a unique identity," Thiel added. "I am proud to be gay. I am proud to be a Republican. But most of all I am proud to be an American. I don't pretend to agree with every plank in our party's platform. But fake culture wars only distract us from our economic decline. And nobody in this race is being honest about it except Donald Trump."
Thiel went on to conclude that in Trump's quest to "Make America great again," he is not looking to "return to the past."
"He's running to lead us back to that bright future," Thiel said.
Ironically, Thiel's "fake culture war" comment came on the same night that the National Basketball Association declared that it is no longer going to hold the 2017 All-Star Game in Charlotte, North Carolina because of the state's law requiring transgender individuals to use state-owned bathrooms and changing areas consistent with their biological sex.
Supporters of the law view it as a protection to the conscience of business owners and institutions by letting them decide bathroom policies best for their own organizations.
"While we recognize that the N.B.A. cannot choose the law in every city, state and country in which we do business, we do not believe we can successfully host our All-Star festivities in Charlotte in the climate created by the current law," a statement from the NBA said.
Thiel's "fake culture war" comment drew fire from both liberals and conservatives.
Conservative blogger Matt Walsh took to Twitter to question which Party convention he was watching.
"Peter Thiel gets cheered for calling the culture wars fake. Am I watching the DNC or the RNC right now?" Walsh asked.
As Trump has previously voiced support for Christian conservatives in their fight to maintain religious freedom on social issues and has even gone so far as to vow to repeal a federal ban on church politicking, National Review Senior political correspondent Jim Geraghty pointed out the irony in the fact that Trump nearly called for a boycott against Starbucks when the company did away with Christmas theme cups last holiday season.
"Fake culture wars distract us from our economic decline! And now, the nominee who lamented Starbucks plain red Christmas cups," Geraghty tweeted.
Zack Ford, the LGBT Editor for the the liberal news site Think Progress, also took to Twitter to lambast Thiel's "fake culture war" comment.
"I don't know for whom the culture wars are fake, but it's not fake to the LGBT people fighting stigma/discrimination," Ford wrote on Twitter Thursday night.
Christina Reynolds, the deputy communications director for Hillary for America, tweeted: "Memo to Peter Thiel: I think the people being insulted or threatened with deportation might not think those culture wars are so fake…"