George Lopez reveals God helped him find humor in his 'darkest time', talks divine signs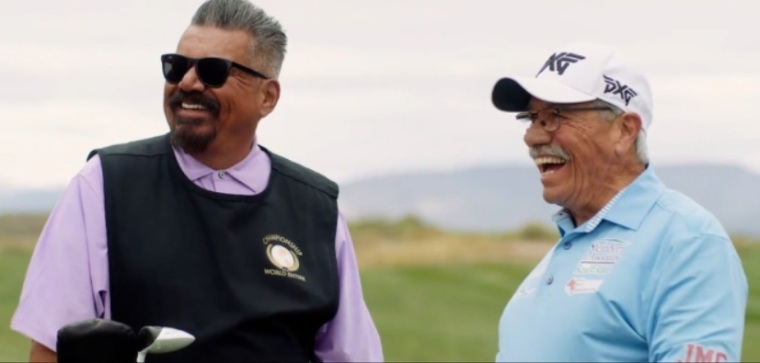 Famous comedian and actor George Lopez, one of the stars in the upcoming faith-filled movie "Walking With Herb," has revealed how faith in God has been pivotal in shaping his life and guided him through one of his darkest moments.
Exclusively in theaters, April 30, May 1, and May 3 for a limited three-night Fathom Events engagement, "Walking with Herb" is a comedy film directed by Ross Marks. Along with the 60-year-old Lopez, the film stars Edward James Olmos and Kathleen Quinlan. 
"Amid a crisis of faith, an amateur golfer receives a startling message from God on his computer screen," a synopsis of the film describes.
The movie is based on the book of the same name by Joe S. Bullock.
Lopez, known for his sometimes vulgar comedy and mainstream roles on film and TV, said Christian viewers should embrace him in this role and watch the inspiring movie with an open mind.
"I think people are gonna associate me with the past, but I think they should disassociate me and watch this with an open mind," Lopez told The Christian Post in a candid interview. "Don't come in with preconceived notions. People can be different." 
The Hollywood star plays God's messenger in "Walking With Herb" and is instrumental in helping the main character regain his faith following a tragedy.
"I didn't know my father, and my grandparents raised me, and it was just almost too much to take for any child," Lopez shared of his journey in life, which he says led him to where he is today. "My mother tried to hurt herself ... I'm an only child. It wasn't like you had anybody. But what was given to me by God was the ability to find humor in the darkest time." 
"Freddie Prince was my idol, my hero, and he committed suicide in his darkest time. I was in the 10th grade," he continued. "I knew that morning that he did that, that I wasn't going to do that. I was still in my darkest time, but I used his example of losing his life as a reason for me to want to fulfill the dream that I had of becoming a comedian really, not an actor or voice actor."
Lopez revealed that he thought, "If I can just get to the other side of that door, I'll be alright."
Once he made it to the other side of the darkness, he said he saw many places to go. 
"I think that's the beauty of having faith, for me, to see things going well and to stick with it," he encouraged. "If you wake up tomorrow, then you've already been given a gift of seeing things different than today. So we go forward like that." 
The "George Lopez Show" star said the one thing he learned through the film was that "everybody's faith is different." 
"The degree of faith is different," he explained. "If you have someone who's a real firm believer and someone who's a maybe medium [believer], you might not ever get that other person to get to that level. But that doesn't mean that having less faith as someone who has a lot of faith is a bad thing."
In the movie, 65-year-old Joe Amable-Amo (played by Olmos) loses his faith. And Lopez's character, "the messenger," is left with the task of helping to restore that faith in God by helping him see things that are already there.
"He's not an easy guy to change. But I think ... what God would do. He's put good things and good people around you," Lopez noted. "Even as simple as going to sit in the sun: I remember I would go and sit in the sun and I would feel completely different." 
"You're using the gifts that were given to you: the air, the earth. People go hiking every morning; you see the sun," he added. "I play golf, and my favorite time to play golf is when the sun is going down, for some reason. I love it!"  
Lopez said that even after a challenging year in 2020, he kept believing that things would get better. 
"In this last year, with having to guard yourself, whether it's a life and death issue, it's having faith that one day, things were going to get better as they are now," he insisted. "I didn't think they were so dire that we would never get better. I had faith that we would get better."
When describing why he chose a role with such a strong faith component, the Los Angeles native admitted he knew what an important task it was.
"This is a large piece of movie to bite off for me. And if my character doesn't work, the movie doesn't work," he shared with CP. "We read the script — everybody. And we read the script with the purpose of seeing how it sounded when actors read it. Then we trim a bit of it." 
Lopez said he and Olmos rehearsed for a month "every day," something he had never done before.
"All of those things got me to the place where I thought the experiences in my life have been tough, but I've come through them. And then with the movie, I think the combination of my own personal life and then working with somebody who I admire who has been a friend for more than 30 years, all that combination was the right combination at the right time," he gushed.
The movie is filled with mentions of divine signs and moments orchestrated by God. 
"I think in the movie, as either a messenger or God Himself, people are vessels for faith and vessels for love and compassion. You don't even have to know somebody to make them feel better," Lopez commented. 
"I've always loved to help people who are down and out."
The comedian recalled a time he was out in the rain and saw a person lying under a yellow covering. 
He walked over, and the man, who was homeless, recognized him. Lopez told him to get out of the rain and gave him some money to help find a place to stay for the night. The man was so grateful he hugged the actor with his wet clothes and thanked him. 
"Every time I drive by that place, there's nobody there. But maybe he was sent there to test me on how I would behave," Lopez supposed. "That's powerful. That's what I see."
"We can't help everybody. But be there, at least in those times, because there's so many people," he added. "You're gonna eventually run into somebody and you're going to be able to help them out. So, I didn't let that guy live with me. But I changed his day by being able to help."
Lopez also explained another time he felt like God was divinely moving while he was in Portland, Oregon, getting ready to do a show. 
"We were walking, and it was dark, and there was a woman in front of me, a homeless lady. I walked over, and I said, 'Hi, are you in need of some assistance?' And she's like, 'Oh, yes. Thank you,' and I gave her some money," he illustrated.
"I looked at the guy that I was with and said, 'Isn't that wild, that lady? When you walk, you rarely run into people who are immediately in front of you.' And he goes, 'Yeah, that was strange.' And, we turned around, and the lady was gone," Lopez remembered.
"I think all those things come to you. Maybe you get a sign. And if you don't get it, you'll get another one and you'll get another one, expect to see the sign," he continued. "I believe that there are signs out there."
"Walking With Herb" emphasizes the importance of being a "disciple of the Almighty." Despite all of his fame and success, Lopez said all of it is temporal, so people should look to what is eternal. 
"All of this stuff that is in Hollywood, the scripts, it's all man-made!" Lopez concluded. "Everything else — faith and love — is made by the Almighty. So if you think that Hollywood is the end-all, be-all, it's really not." 
"I think people start to believe that, or you believe that having 1 million-plus followers, but it's really just us in the end. You have to be good to get to the next place," he ended.