George W. Bush warns Biden's Afghanistan withdrawal plan empowers Taliban, endangers girls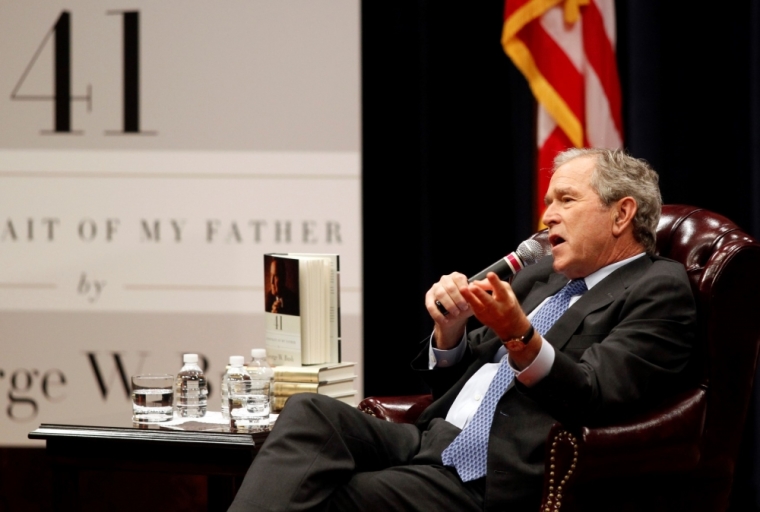 Former President George W. Bush warns of harmful implications that could result from President Joe Biden's plan to withdraw all troops from Afghanistan by Sept. 11, the 20th anniversary of terror attacks that killed nearly 3,000 Americans and sparked the U.S. war on terror. 
Biden, the fourth president to handle the conflict in Afghanistan that began during the Bush administration, reportedly went against the advice of military commanders when he announced his recent decision to remove the troops from Afghanistan by September. 
The Afghanistan withdrawal was negotiated during the Trump administration in a deal with the Taliban despite heavy opposition from Republicans. 
Biden said he spoke with former Presidents Bush and Barack Obama before making his decision.  
Democratic leaders and former President Donald Trump praised Biden's decision, while Bush, Republican leaders and leading military officials warned that withdrawing troops would bolster the Talian and destabilize Afghanistan. 
Bush expressed concern for the women and girls in Afghanistan who will face increased danger with the removal of U.S. troops. 
"My first reaction was, wow, these girls are going to have real trouble with the Taliban," Bush said in a "Today" interview. "A lot of gains have been made, and so I'm deeply concerned about the plight of women and girls in that country."
"... All I know is the Taliban, when they had the run of the place, they were brutal," Bush, who often avoids criticizing the policy decisions of his successors, continued. 
A spokesperson for the Taliban criticized the Biden administration's decision to keep troops in Afghanistan beyond a May 1 deadline agreed to last year by the Trump administration, warning that "those whom failed to comply with the agreement will be held liable."
In the interview, the 74-year-old Bush also discussed immigration, the Derek Chauvin trial, the Jan. 6 Capitol riot and his new book, Out of Many, One: Portraits of America's Immigrants.
Biden's decision to continue with a plan to remove troops and end a decades-long military presence in Afghanistan was made without the support of many top military leaders concerned it could undermine security in the region. 
Defense Secretary Lloyd Austin, a retired military commander, cautioned that withdrawing U.S. troops would further remove stability from Afghanistan, according to The Wall Street Journal. 
U.S. officials said some generals recommended retaining the current force of 2,500 troops in Afghanistan and increasing diplomacy to lead to a peace agreement instead of completely removing the troops.  
Trump praised the announcement as a "wonderful and positive thing to do," but said the U.S. should stick as close to the May 1 withdrawal deadline his administration set and advised against setting Sept. 11 as a deadline, CNN reported. 
"I wish Joe Biden wouldn't use September 11 as the date to withdraw our troops from Afghanistan, for two reasons," Trump said Sunday. "First, we can and should get out earlier. Nineteen years is enough, in fact, far too much and way too long."
"September 11 represents a very sad event and period for our country and should remain a day of reflection and remembrance honoring those great souls we lost," Trump added. 
Senate Minority Leader Mitch McConnell, R-Ky., cautioned the withdrawal of troops would lead to Afghanistan's inability to restrain the Taliban. 
"Apparently, we're to help our adversaries ring in the anniversary of the 9/11 attacks by gift-wrapping the country and handing it right back to them," McConnell said, according to Fox News. 
"The Taliban is likely to make gains on the battlefield, and the Afghan government will struggle to hold the Taliban at bay."
Senate Majority Leader Chuck Schumer, D-N.Y., said "America does not need to fight forever wars." 
"[A]fter sinking two decades of blood and treasure into wars in the Middle East, it is time to bring our troops home," Schumer said. 
Tony Perkins, president of Family Research Council, a leading conservative Christian activist organization, recently hosted Sen. Lindsey Graham, R-S.C., and Rep. Joe Wilson, R-S.C., on his radio program to discuss the implications of this decision for the Middle East.
Graham called Biden's decision "a disaster in the making."
Wilson said this decision especially puts Israel, an American ally, and other countries in the region in "direct danger."