Georgetown Univ. Takes Down Guide Urging Students to Donate to Planned Parenthood, SPLC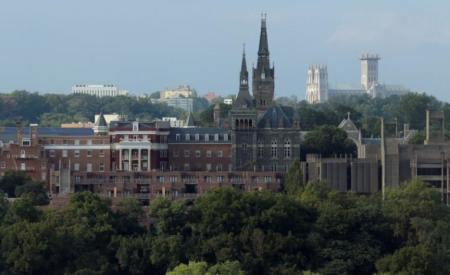 The Jesuit Georgetown University Law Center library has removed content from its website that encouraged students to donate their time and energy to far-left groups that include America's largest abortion business and some of the nation's leading LGBT activist law firms.
TFP Student Action, a Christian group founded to resist "the liberal, socialist and communist trends," launched a petition last month against the Georgetown Law Library's promotion of organizations that promote things such as abortion and same-sex marriage.
At issue is a now-inaccessible online research guide titled "A Brief History of Civil Rights in the United States" and a section called "Organizations You Can Support."
TFP Student Action notes that the organizations originally listed in the library's research guide include Planned Parenthood, Lambda Legal, The Southern Poverty Law Center, EMILY's List, the American Civil Liberties Union, the Center for Reproductive Rights and the National Organization for Women.
All of those organizations champion abortion and LGBT rights while opposing protections for people who have religious objections to either of those ideas.
According to a TFP petition signed by over 13,000, the advocacy of those organizations "trample [Catholic] Church teaching by promoting abortion and the destruction of God's marriage."
A spokesperson for the Georgetown Law Center confirmed Friday that the document had been removed from the library's website because it was "not consistent" with the library's practices on political advocacy.
"The Law Center Library has produced hundreds of research guides. One of them — a guide on civil rights — included a list of advocacy organizations," Georgetown Law Director of Media Relations Tanya Weinberg wrote in an email to The Christian Post. "This guide was not consistent with the law library's research practices and was removed. Georgetown's Law Library research practices discourage any advocacy and promote objective, fact-based research."
As the oldest Catholic university in the United States, Georgetown has taken heat from pro-lifers in the last several years because of its seeming association with pro-abortion causes.
Much backlash occurred last year after a student group invited controversial former Planned Parenthood president Cecile Richards to speak on its campus.
Although a pro-life speaker was also invited to speak on campus that day, the invitation to Richards was a move that received criticism from the Roman Catholic Archdiocese of Washington.
The archdiocese said that the decision to invite Richards lacked "an environment of morality, ethics and human decency that one expects on a campus that asserts its Jesuit and Catholic history and identity."
TFP Director John Ritchie told the conservative website Campus Reform that he believes the removal of the pro-abortion civil rights research guide from the library website is a "step in the right direction" for the school.
However, he stressed that the "underlying cause" that led to the guide's appearance on the website in the first place needs to be "seriously addressed" in order to uphold Catholic doctrine in "every face of life at Georgetown."
"You can't be a good Catholic and at the same time favor Planned Parenthood," Ritchie argued. "Catholic universities must never favor the culture of death."
Last year, the university's board of directors passed a new policy on socially responsible investing that states that the school would make efforts to avoid investing in organizations that are "substantially involved" in providing abortion services, the Georgetown newspaper The Hoya reports. 
The policy also states that the endowment "shall not be used as a tool to promote a political agenda."
However, as the The Hoya notes, the policy did not require any divestments and the school did not share if it had invested in abortion businesses in the past.
"This SRI Policy is an important step forward for Georgetown," the university's Board Chairman Paul Tagliabue, who formerly served as commissioner of the National Football League from 1989 to 2006, said at the time.
"It formalizes and strengthens the university's investment policies. Recognizing that the university's endowment is not to be used for advocating political interests, we are committed to both meeting our fiduciary responsibilities and generating resources to advance the university's academic mission in a manner consistent with our identity as a Catholic and Jesuit institution."
The school also received negative press last year when it was reported that it gave approval to a pro-choice student group called Medical Students for Choice.
However, the university later clarified that the group "is not an approved student organization at Georgetown" and was incorrectly listed on the university website. It should be noted that Georgetown University School of Medicine has approved Medical Students for Life, an offshoot of Students for Life, as a student group.