Get Rid of the Adoption Tax Credit (and Replace It With Something Better)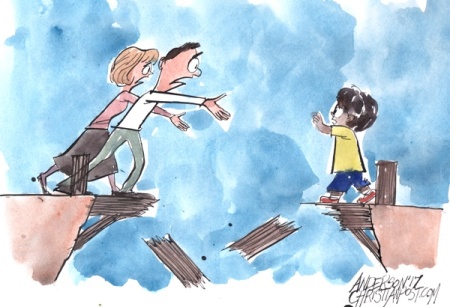 Adoption advocates successfully lobbied congressional Republicans this month to maintain the adoption tax credit in proposed tax reform legislation. They should've lobbied for something better.
The adoption tax credit is a one time credit worth $13,570 per child. As part of the effort to overhaul and simplify the tax code, congressional Republicans had proposed doing away with the adoption credit while also increasing the child tax credit, from $1,000 to $1,600, and the standard deduction, from $12,700 to $24,000 for married and joint filers.
Only families who itemize deductions get the adoption tax credit. It's also indexed to inflation and phased out for families making about $200,000 or more. This means that low income and high income adoptive families don't get the benefit.
Over time, many families would've received a greater benefit from the tax rate cuts and expanded child tax credits and standard deductions, if Republicans had gotten rid of the adoption tax credit. But adoption advocacy groups pointed out that the adoption tax credit helps offset the high initial costs of adoption. Plus, the adoption tax credit is a winner for taxpayers because it costs more to keep a child in foster care than to facilitate adoption.
However well intentioned, there is a problem with the efforts to maintain the adoption tax credit.
You can't simplify the tax code without getting rid of deductions and credits. That's the whole point. Most Americans want a simpler tax code. The whole convoluted mess costs time and money every year as we try to figure out how much we owe the government. But the tax code is hard to simplify because Americans also want to keep whichever deductions or credits they like.
To actually simplify the tax code, therefore, requires something like a social contract. We all have to agree together that we'll simplify the entire tax code and we'll each give up our personal preferences.
This is why many conservatives (and even a few liberals) have long argued that social policy should be done through appropriations (spending) rather than ways and means (tax revenue). Tax policy should be used to raise enough revenue to pay for government expenses. Nothing more. If Congress decides it wants to spend money to benefit society, it should spend the money through the spending committees, not by returning money through the tax code.
So even though the adoption tax credit is only a small part of the tax code, adoption advocates have undermined the process by breaking the social contract and insisting on their preferences. Instead of defending the adoption tax credit, these advocates should've used the opportunity to ask for something better. How useful is an adoption policy that doesn't help low income adoptive families anyway? They are the ones who need it the most.
Congress should move the adoption credit from ways and means to appropriations. Checks can be sent directly to adoptive families as soon as the adoption is finalized. Every adoptive family would get the benefit and they wouldn't have to wait until they file taxes to get the money. This solution would be a win for everyone — taxpayers, adoptive families and orphans.
Now that adoption advocates have shown their political muscle, they should put it to use. The House has passed its version of the tax bill, but the Senate still needs to pass its version and a compromise bill will need to be crafted. They should use this as an opportunity to get rid of the adoption tax credit and replace it with something better.
(Disclosure: My wife works for Upbring, a social services organization that provides adoption services.)