Glenn Beck: God Allowed Scalia to Die to Wake Up Americans to Vote for Cruz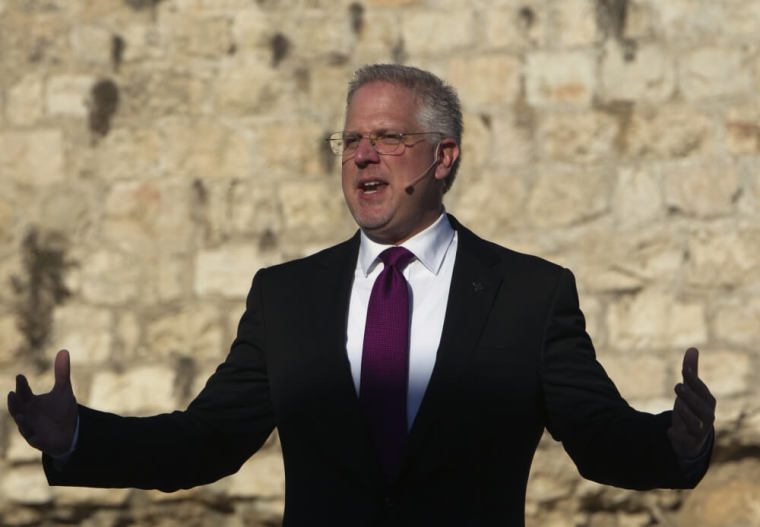 Conservative commentator Glenn Beck suggested this week that God allowed Supreme Court Justice Antonio Scalia to die before the 2016 presidential election so Ted Cruz may become the next commander-in-chief.
While Beck has been in South Carolina campaigning for Cruz ahead of the February 20 primary election, he took the time this week to call into his radio program to say he believes God took Scalia's life so Americans can realize the importance of having a conservative leader in office.
"I just woke the American people up," the conservative firebrand said, mimicking the voice of God, on the Wednesday airing of his "Glenn Beck Radio Program."
"I took them out of the game show moment and woke enough of them up to say, 'look at how close your liberty is to being lost. You now have lost your liberty. You replace one guy and you now have 5-4 decisions in the other direction. Just with this one guy, you've lost your liberty so you'd better elect somebody that is going to be somebody on [the court] because for the next 30 years, if you don't, the Constitution as you know it [is gone],'" Beck said.
"The Constitution is hanging by a thread!" the conservative commentator continued. "That thread has just been cut and the only way that we survive now is if we have a true constitutionalist."
Justice Scalia passed away at the age of 79 on February 13 at his home in Shafter, Texas. He was considered to be an important conservative voice in the Supreme Court.
Beck announced his official endorsement for Cruz in January, appearing with the Texas senator at Faith Bible College in Ankeny, Iowa, to voice his support.
The former Fox News host told the audience that he observed Cruz "relentlessly" before making the decision to support him, adding that he told the senator, "If you're not who you say you are, I'm going to be your worst nightmare."
"Iowa, I beg you," Beck told the audience in his January speech, which took place days before Cruz won the state's Caucus vote. "My children's future depends on what you do a week from Monday."
"We have to start raising the bar," Beck added, pointing to the close leads of other Republican candidates like Donald Trump.
While Beck served as a major endorsement win for Cruz, other presidential candidates have also had big supporters, with Donald Trump earning the backing of former 2008 vice presidential candidate Sarah Palin.
Trump has denounced Beck's decision to support Cruz, calling the radio host a "wacko" and suggesting that Cruz would have much preferred Palin's endorsement.
"Wacko @glennbeck is a sad answer to the @SarahPalinUSA endorsement that Cruz so desperately wanted," Trump tweeted in January. "Glenn is a failing, crying, lost soul!"
Beck has shot back, taking to Twitter on February 13 to call Trump a "boorish narcissist bully" and a "psychopath."
"The hatred and anger inside of Trump is breath taking. He is truly frightening.I would worry about safety if I were alone w/him," Beck added while watching the most recent GOP debate in South Carolina.