'God Loves You': Chris Pratt's 5 most powerful Christian quotes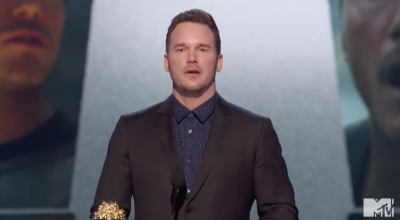 Chris Pratt has had no shortage of public moments during which he has openly shared his Christian faith, with the actor telling young people and adults, alike, that God loves them, wants the best for them — and that he personally seeks a relationship with the Almighty.
And that's not all. The A-lister also believes his faith helps sustain him in an industry that often has a slew of pitfalls for megastars like him. So, we decided to pull together five of Pratt's most powerful and inspirational faith quotes.
READ ALSO: 6 Powerful Bits of Life-Changing Wisdom from the Apostles
Listen to us explain these excellent quotes at the 26:30-mark:
Chris Pratt's Powerful Message About Handling Fame
Pratt recently responded to "The Late Show" host Stephen Colbert when Colbert asked if intense fame ever has the actor feeling as though he's living in a metaphorical lion's den. Here was his response:
"If the spotlight that's shining on you is brighter than the light that comes from within you — it'll kill you. And you see it all the time. People in our position, people that are actors, you see a lot. It's this real bright spotlight."
Actor Chris Pratt Tells MTV Fans That God Loves Them
Speaking last year at the 2018 MTV Movie & TV Awards, Pratt took to the stage to tell the audience that God loves them and wants the best for them. Here was his powerful message:
"God is real. God loves you, God wants the best for you. Believe that. I do."
The Actor's Message About Perfection Went Viral
In a world that encourages selfies and "all-about-me" attitudes, Pratt also reminded the MTV audience that no one is perfect — and that God designed each and every person. The actor also said that "grace is a gift."
"Nobody is perfect. People will tell you that you are perfect just the way that you are, you're not! You're imperfect. You always will be, but there is a powerful force that designed you that way, and if you are willing to accept that, you will have grace. And grace is a gift. Like the freedom that we enjoy in this country, that grace was paid for with somebody else's blood. Do not forget it. Don't take it for granted.
READ ALSO: 10 Bible Lessons on Self-Improvement
Chris Pratt Has a Passion for Young People
Speaking at last year's Teen Choice Awards, Pratt told the young audience that he always makes an effort to thank God when he's in front of youths. It was an excellent admission — and one that shows he's well aware of the power of his platform:
"I want to thank God. I always do that when I'm up on a platform in front of a bunch of young faces."
The Actor Says He Loves God — and Wants Others to as Well
Pratt also told the young people assembled for the Teen Choice Awards that he loves God and that they should also do the same. It's a simple message that carries a lot of power.
"I love God, that's my thing I love him! And you should too!"
Want more inspiration? Be sure to subscribe to "The Pure Flix Podcast" today.
This article was originally published on Pure Flix Insider. Visit Pure Flix for access to thousands of faith and family-friendly movies and TV shows. You can get a free, one-month trial here.
Billy Hallowell, author of "The Armageddon Code," has contributed to TheBlaze, the Washington Post, Human Events, the Daily Caller, Mediaite, and the Huffington Post, among other news sites. Through journalism, media, public speaking appearances, and the blogosphere, Hallowell has worked as a journalist and commentator for more than a decade.