Gold Star Widow Releases Audio of Trump Call After Husband Was Killed in Afghanistan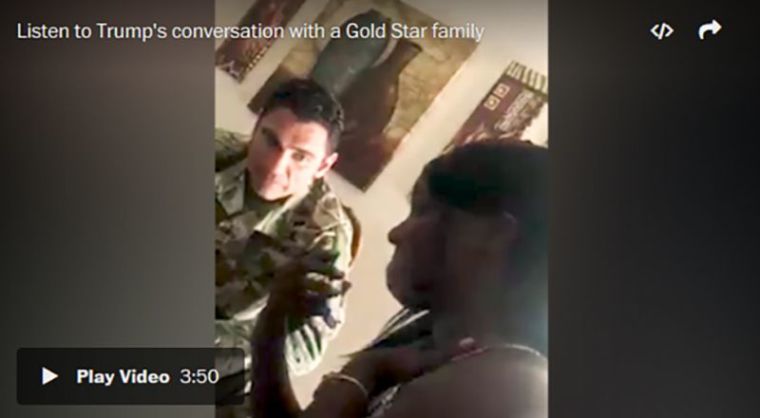 Amid claims that President Trump told the grieving widow of a U.S. soldier killed during an ambush in Niger this month that her husband "knew what he was signing up for," a widow of an Army staff sergeant who was killed in Afghanistan earlier this year has shared the recording of her call with the president, showing Trump was respectful and kind after her husband's death.
"I am so sorry to hear about the whole situation," President Trump told Natasha De Alencar, whose husband, Army Staff Sgt. Mark R. De Alencar, was killed in Afghanistan in April, according to a video recording of her conversation with the president, posted online by The Washington Post.
"What a horrible thing, except that he's an unbelievable hero," Trump continued in his conversation on phone. "If you're around Washington, you come over and see me in the Oval Office. You just come over and see me because you are just the kind of family … this is what we want… Say hello to your children, and tell them your father, he was a great hero that I respected. Just tell them I said your father was a great hero."
Natasha De Alencar, who turned on the speakerphone so that her daughter could record the conversation, tells the Post that she felt she was talking to a "regular" human.
"At that moment when my world was upside down and me and my kids didn't know which way we were going, it felt like I was talking to just another regular human," she says. "It was a moment of niceness that we needed because we were going through hell."
She added that she decided to release the recording because "the question was being asked (from reporters) … there was no better way of seeing it than showing it."
"I posted that video so that everyone could see that not only myself, not only my family, not only the people have supported, but the Commander in Chief also helped."
Rep. Frederica Wilson, a Democrat from Florida, claimed this week that Trump told Myeshia Johnson, the grieving widow of Sgt. La David Johnson who was among four U.S. soldiers killed by enemy fire during an Oct. 4 ambush in Niger, that he "knew what he was signing up for."
Wilson told CNN that the 24-year-old widow and her family were on their way to receive her husband's remains when Trump called and engaged her in conversation for about five minutes. "Basically he said, 'Well, I guess he knew what he signed up for, but I guess it still hurt.'"
Trump has denied the allegation. "Democrat Congresswoman totally fabricated what I said to the wife of a soldier who died in action (and I have proof). Sad!" he wrote on Twitter.
Wilson responded by saying she also has proof.
"Well I don't know what kind of proof he could be talking about," she told CNN. "I'm not the only person that was in the car. And I have proof too. This man is a sick man. He's cold-hearted and he feels no pity or sympathy for anyone. This is a grieving widow. A grieving widow who is six months pregnant. This is a young woman. She's only 24 years old."
White House Chief of Staff John Kelly has personally defended the president.
"It stuns me that a member of Congress would have listened in on that conversation. Absolutely stuns me. I would have thought that was sacred," Kelly, a retired Marine Corps general whose son was killed in battle in Afghanistan, said Thursday, according to The Hill.
He also described what happened when he learned his son had been killed. "He was doing exactly what he wanted to do when he was killed," he recalled. "He knew what he was getting into by joining that 1 percent. He knew what the possibilities were because we're at war."
Wilson has not responded to De Alencar's release of the video. "The congresswoman will not be making any further comment on the issue because the focus should be on helping a grieving widow and the family heal, not on her or Donald Trump," a spokesperson for Wilson said in a statement, according to The Hill.