Rep. Marjorie Taylor Greene temporarily suspended from Twitter after Easter post due to 'error'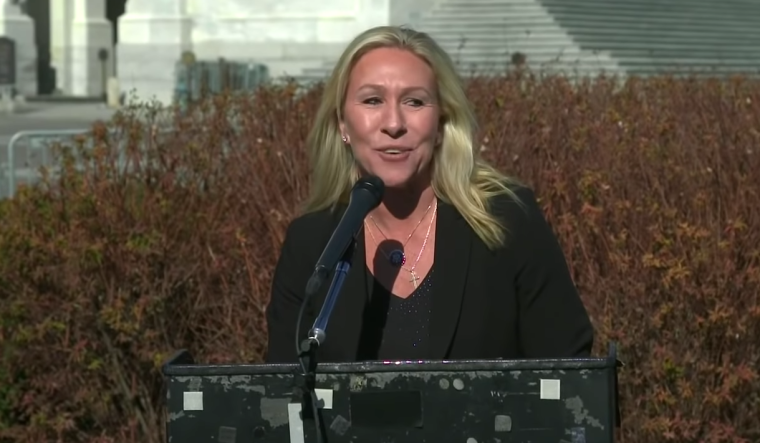 Freshman Rep. Marjorie Taylor Greene, R-Ga., was temporarily suspended from Twitter on Sunday morning shortly after posting a spiritual Easter message. Twitter reversed course and called the issue a technical error.
Not long after posting a photo of three crosses with the caption, "Happy Easter, everyone! He is risen," Greene received a notification from Twitter notifying her that she violated the platform's rules, which led to the temporary limitation of her account.
The message explained that Greene would be unable to tweet, retweet or like tweets for 12 hours.
A Twitter spokesperson told The Christian Post in an email on Monday that Greene's suspension was not due to an Easter post and was a mistake.
"We use a combination of technology and human review to enforce the Twitter Rules across the service," a Twitter spokesperson said. "In this case, our automated systems took enforcement action on the account referenced in error. This action has been reversed, and access to the account has been reinstated."
The freshman congresswoman, a conservative Christian and staunch pro-life, pro-gun Trump supporter, posted on the Twitter alternate platform Gab in response to being locked out of her Twitter account.
"Was it my Christian faith," Greene wrote on Sunday. "… Message to Big Tech: I'LL NEVER STOP!!! You can't silence me. You can't stop me. The People are with me. And so are the greatest conservatives especially President Trump!!"
Greene's post also asked if her suspension was the result of her opposition to abortion, support for the Second Amendment, desire to fire Dr. Anthony Fauci, opposition to mandated vaccine passports or her call to "stop socialism."
Greene posted on Gab in response to Twitter's explanation, claiming "no one believes" Twitter's statement that her account's suspension was an error. She argued, "they want to silence me."
Greene has been suspended from Twitter three times this year. The Easter suspension marked the second time in less than a month.  
Twitter suspended Greene from the platform for 12 hours on March 19 in an "error" that was not resolved until after the 12 hours elapsed, Greene posted.
According to Greene, the suspension came on the same day Democrats introduced a resolution to expel her from Congress.
Greene's account was previously suspended for "multiple violations" of Twitter's civic integrity policy in January.
The January suspension came after Greene had a Twitter dispute with a Georgia voting systems manager who accused her and others pushing claims of voter fraud of lowering Republican voter turnout for the Senate runoff election, Forbes reported.
Last week, Greene introduced the We Will Not Comply Act to allow people to sue if they are discriminated against because they didn't get a COVID-19 vaccine and the Fire Fauci Act to cut the salary for the federal government's leading infectious disease expert. 
House Democrats and some Republicans voted to remove the Georgia businesswoman from her two committee assignments — Committee on Education and Labor and the House Budget Committee — due to previous comments involving QAnon conspiracies, anti-Semitic and anti-Muslim views, among other controversial posts, according to Fox News.
"These were words of the past, and these things do not represent me," Greene said in a floor speech regarding her past views and statements. "They do not represent my district, and they do not represent my values."
Twitter, Instagram, Facebook, Snapchat and YouTube permanently banned President Donald Trump following the U.S. Capitol riot on Jan. 6. Trump has since promised to return to social media with his own platform in the coming months.
In a later post on Easter Sunday, Greene said she is looking forward to Trump's platform. 
Facebook removed an interview with Lara Trump and her father-in-law last week and said any content "in the voice of Donald Trump" would be removed, Fox News reported. 
As more conservatives have been censored by the leading social media platforms for expressing their views, websites such as CloutHub, Parler and USA.Life are emerging as alternative options for free speech.